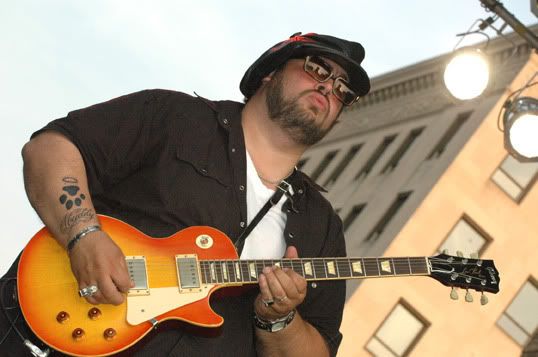 I've tried to do my part to alert you all to the coming of Nick Moss' new album Here I Am, talking about the album artwork, tracklisting, the origins of the first single "It'll Turn Around," and streaming that and the follow-on single "Candy Nation." With all that talk, there are still SO MANY THINGS you need to know about this record and it comes out next week! We've got a lot of catching up to do, and we'll begin the process by introducing you to another song from the record, live!
The first track from the album is the snarling "Why You So Mean?" and here we have Moss and The Flip Tops jamming on this brand new track like they've been playing it for years.
The album cut of the song is a blunt force riff with guitar leads that scorch with the same intensity Moss excoriates a former lover in the lyrics. This live version is a little looser and doesn't play with the same brute force the effect is there as Moss plays with dynamics throughout this extended performance. His vocals vary in intensity as do his guitar leads and keyboard/organist Travis Reed takes the song to a different place entirely with some fast, fancy playing and then he takes the band and the song to church.
After Reed plays his piano solo, Moss brings the song down and talks about exercising his demons not through punching walls or pillows but playing his guitar. Listening to his performance and the ones on Here I Am, there are a lot of walls and pillows that should count themselves lucky Moss takes his frustrations out on a guitar instead of them.
Here I Am comes out Tuesday, Nov. 22. Be ready. We're going to talk more about this one. Get comfy. We're gonna be here for awhile. In the meantime, enjoy some incredible live music by Nick Moss & The Flip Tops, live from Daytona, FL.