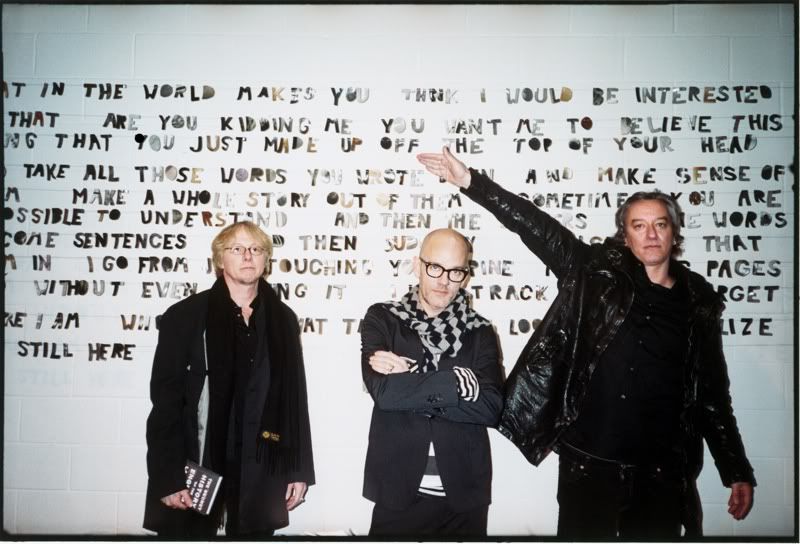 R.E.M. is bringing their incredible 31-year run to a close with a career-spanning retrospective featuring the final three recordings they'll ever produce, and of those three songs they selected "We All Go Back To Where We Belong" as their farewell single.
It's a great title with which to say goodbye but the song itself explains why the commercial fortunes of the band have fallen so far from their glory years. They think this is a single?
It's so R.E.M. to choose a song like this as their final salvo to the world, a song with no commercial prospects. They didn't tour their two most successful albums at the height of their popularity and they're not going to cash in on the goodwill and buzz their retirement has generated. They're going out not with a whimper but with a whisper, because I quite like this song even if it in no way resembles a single.
"We All Go Back To Where We Belong" is a gentle, melancholy piece with a gorgeous melody but without a big hook. Michael Stipe executes a fabulous vocal, showing us just how far he's come. He blossomed from a shy teenager mumbling opaque lyrics while staring at his shoes and grew confident enough to open his mouth and sing and the daring to share himself through his words.
I doubt seriously Stipe would concede this is about the band's end and it may well not be but there are passages that lend themselves to that interpretation. He sings "I will write our story in my mind/ and write about our dreams and triumphs/this might be my innocence lost." After twice singing the title words "We all go back to where we belong" he asks, "Now is this really what you want?"
Since you asked, no. I'm not ready to let them go and I wish they wanted to stay just a little longer. I'm going to miss them.