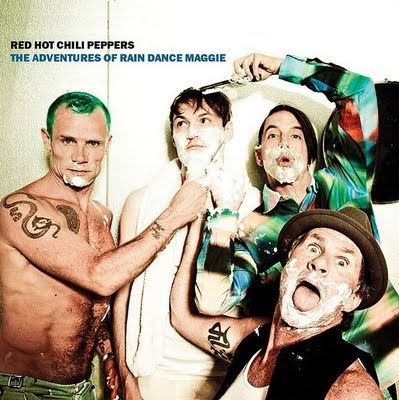 Just yesterday I reviewed the single for Red Hot Chili Peppers' "The Adventures Of Rain Dance Maggie" (which has become the band's record holding 12th number one single on Billboard's Alternative Songs chart) and today the video has premiered; so much Peppers goodness in such little time. I loved the single, it wasn't the best thing I have ever heard butwas consistent with what we expect from the boys and it certainly made me happy.
The video continues in the same vein as the song and has an '80s feel which has always been the vibe of the band, it opens with the Peppers on a rooftop at Venice Beach, California giving a (seemingly) impromptu concert to the locals and tourists who are roller skating, sunning themselves, swimming and unbeknownst to them, being a part of a RHCP video.
There are lots of good aerial shots of the band and we get to see drummer Chad Smith hit the cowbell! Frontman Anthony Kiedis is prancing and stutter-step dancing all over the roof like a windup toy that's gotten stuck. I'm still processing what to think of his "I'll snatch your kids and shove them in my windowless Econoline van" creepy-stache. Flea is all business, head down, assaulting his bass and doing his trademark jumps, even perching precariously on a ledge at one point. New lead guitarist, Josh Klinghoffer (who is John Frusciante's doppelganger, by the way) is lying low but moving rhythmically with the guys. You can tell he's logged some time on stage with band and looks right at home. It's a rooftop party and I'm pissed I wasn't there!
This was actually the second video treatment the guys were given for "Rain Dance Maggie" as rapper Kreayshawn ("Gucci, Gucci") had the original concept which had the band down in a basement and reportedly there were drinks being laced, fantasy sequences, indoor rain, and a goat. They instead went with tried and true video producer Marc Klasfield who has done videos for Foo Fighters, Kid Rock, Katy Perry and Avril Lavigne.
I think going for the more experienced producer worked more than they could have imagined- it's the first video in decades that I've watched in its entirety 10 or more times, even after I wrote the meat for this review. This is the perfect love note to California from this quintessential, So Cal band. Although, I'm itching to see the goat-in-the-basement version! The Chili Peppers' tenth studio album I'm With You is available August 30, check back for my review and thoughts.