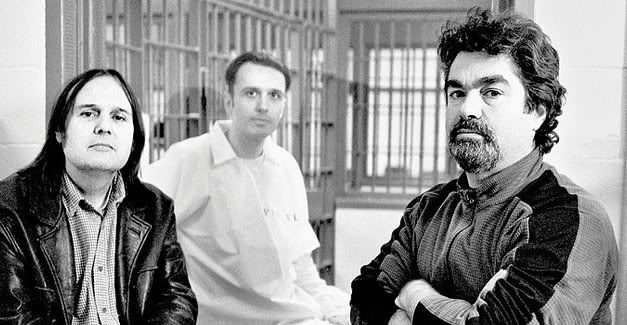 I first became aware of the case of The West Memphis 3 through a benefit album that coincided with a documentary about three young people were controversially convicted of the brutal killings of three 8-year old Cub Scouts in 1993 in Arkansas.
I'm not a legal expert and while I'm known to have an opinion on a great many things, I don't feel comfortable saying much about the guilt or innocence of Damien Echols (36), Jason Baldwin (34) and Jessie Misskelley Jr. (36). The reading I've done over the years and documentary clips I've seen make me wonder how on earth 12 people could say there wasn't reasonable doubt.
Three guilty men may have been freed because there wasn't sufficient evidence to keep them in prison to serve the sentence such atrocious crimes demand. No one paid more dearly than the three 8-year old boys and the families who will never see them grow to become men. A nightmare may have ended for three young men and their families but it will never end for the family of three boys.
I don't know how I feel about what happened today. Three men may have spent 18 years of their life in an Arkansas prison for a crime they didn't commit. They essentially plead no contest to the crimes in order to gain their freedom but they'll never get those years back and I'm not sure how one re-enters society after what they've been through. I pray for the families of the victims. I'm still not sure if there were three or six of them. I don't know if any of us will ever truly know the answer, and that compounds the feelings of futility in the face of it all.
Mark Lanegan's "Untitled Lullaby" audibly distills my feelings of anger, disgust, confusion, and fatigue into three harrowing minutes. I pray that Damien, Jason, and Jessie take advantage of their hard-fought freedom and lead good lives. I don't know how I feel, how I'm supposed to feel. I don't know if there were any winners today.
I'm not a big fan of these "videos" on YouTube that are essentially mediocre rips of the audio with no actual video content but the song is haunting, chilling, and topical so I'm making an exception.