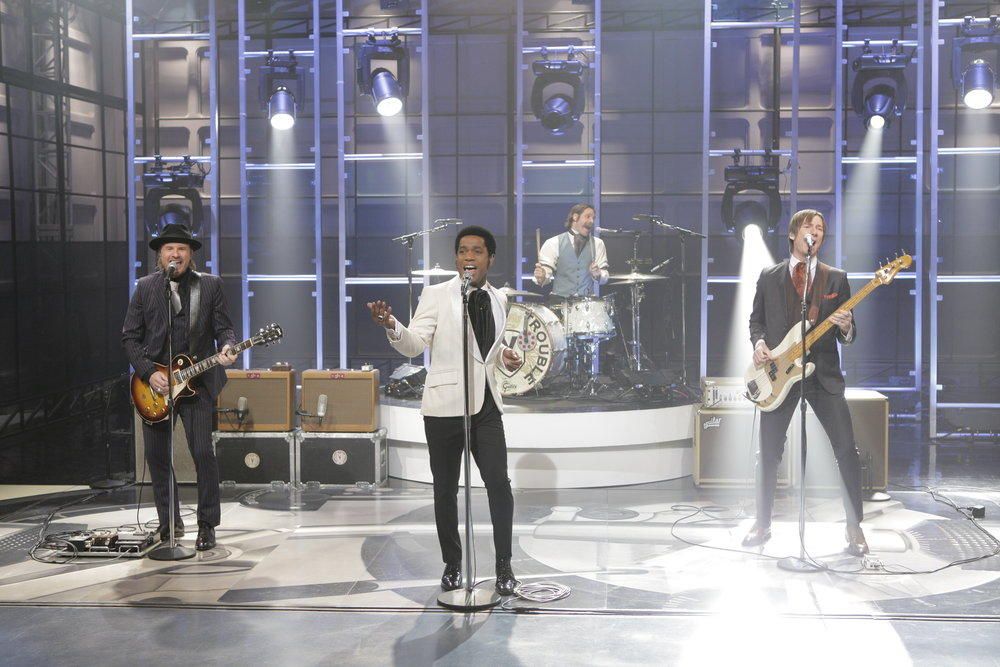 Vintage Trouble wowed the crowd at the historic Ed Sullivan Theater on Late Night With David Letterman with a fiery performance of "Blues Hand Me Down" and earlier this week they took their energetic stage show to the West Coast for an appearance on The Tonight Show with Jay Leno and brought the heat with another of their great songs, "Total Strangers."
Both songs are high points on their incredible debut The Bomb Shelter Sessions. Ty Taylor's presence and energy are on full display and it's easy to get lost in how infectious that energy can be and how effortless it all seems but beneath thosez moves and all the fun are some seriously great tunes. This, boys and girls, is how you win over a crowd, and it's a good thing they have the songs and the show to do it because VT is going on tour with The Who. They're about to take the stage in arenas filled with people who probably haven't heard of them but they're not going to forget about the openers when the headliners have left the stage at the end of the night because these crowds at these shows are about to get a dose of youth gone wild!
It's no surprise to me that Pete Townshend and Roger Daltrey wanted these guys on the road with them. VT are not the musical progeny of The Who but there is an undeniable shared spirit. Go listen to The Who's Live At Leeds and the sheer danger and maximum volume and then watch the propulsive performance of "Total Strangers" from Tuesday night. It's not the same thing (and that's part of the beauty of it) but it originates from that same big bang.
This is a badass performance by a band I've come to dearly love and they came along for me at just the right time. The end of last year was a struggle for me. I lost my way for awhile and that time spent wandering led me astray from writing about my passion for music and the music that fires that passion. I needed a jolt. I needed a reminder. I got the jolt and the reminder from within and Vintage Trouble and their Bomb Shelter Sessions took that tiny spark and turned into an inferno. The bomb has exploded and there's no shelter from this storm. Check out the video below and remember, kids, none of us will ever be cool enough to wear that white suit. Remember that.