Despite being a lifelong Chicagoan, I did not listen to house music until about ten years ago. Back in the day,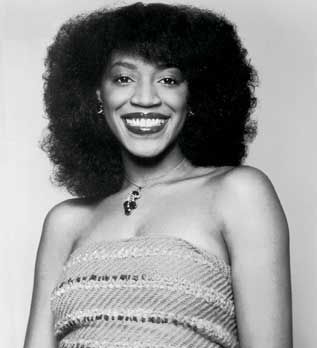 house music was not played on radio or MTV—if you wanted to hear it, you had to go to the clubs. But several years ago I heard a soulful, heartfelt tune with a killer beat, and later learned it was one of house's first hits. Alicia Myers' "I Want to Thank You," an irresistible blend of R&B and gospel, entices people onto the dance floor even today.
Although her breakthrough solo single occurred in 1982, she was by then a music veteran; she had been singing and touring with bands since 1972. Her big break came when she joined AI Hudson & The Soul Partners, which later became One Way (best known for their 1982 single "Cutie Pie"). She sang lead on One Way's 1979 dance hit "You Can Do It," then left the band to forge a solo career. Technically, her biggest chart success was with the single "You Get the Best From Me (Say, Say, Say)," which reached the top five on Billboard's R&B charts in 1984. But Myers remains best known for "I Want to Thank You" due to its enthusiastic acceptance in the clubs.
Due in part to the "Disco Sucks" movement, disco toppled from grace in 1979. But rising out of the ashes was a new kind of dance music, one that amped up the bass and incorporated more synthesizers. Before artists began producing original house tracks, DJs such as Frankie Knuckles and New York's Larry Levan would take more obscure disco and dance tunes and incorporate them into set lists. Soon Chicago clubs such as the Warehouse (where Knuckles presided, and supposedly where house music derives its name) and the Muzic Box began popularizing these previously buried gems. "I Want to Thank You" is ranked among these early tracks, now considered classic house songs.
What makes this Myers song a classic? It contains all the ingredients of a house track: emotional, powerful vocals; a driving, bass-heavy beat; and an old-school sound reminiscent of 1970s soul. According to the History of Chicago House Music page, early house "pioneered a form of orgasmic gospel, which merged the sweeping strings of Philadelphia dance music with the tortured vocals of soul singers like Loleatta Holloway." While not of the Philly Soul school, "I Want to Thank You" engulfs most of these elements, with a little gospel thrown in for good measure. Myers sings the lyrics as though she's lived every single word: "It took a long time for it to happen/But I knew those nights I prayed/That you would send me someone who's real," she belts out. The song reaches a climactic moment when she wails "The Lord will shine his light your way/Thank you Father/For shining your light on me." Her vocals reach great heights, punctuating the deep emotions present in the lyrics.
While "I Want to Thank You's" lyrics may contain religious references, they apply to anyone who refuses to give up on finding one's soulmate. The funky beat and keyboards keep crowds on the dance floor, encouraging everyone to lose themselves in this powerful music. After hearing this track, it was official: I'm a classic Chicago house fan.
Alicia Myers' standout track can be difficult to find, although it is (strangely enough) included on the compilations Best of One Way and Back to Back: Alicia Myers and One Way.