Of all the 80s soul divas, no one personified the triple threat--singer/producer/songwriter--like Angela Winbush.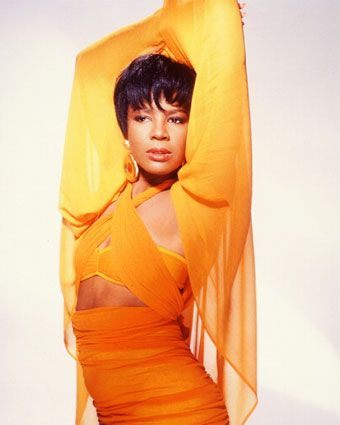 Her vocal range still astounds, and her gospel-tinged inflections elevate even average songs into intense performances. Documentaries such as Unsung posit that Winbush was simply "too soulful" to cross over into the pop mainstream, which is a puzzling claim. Powerful singers should transcend genres, and Winbush is one of those artists who deserves more success. Nonetheless, she remains an R&B favorite and an example of a strong woman who maintained complete control over her sound and image.
Born in St. Louis, MO, Winbush grew up singing in the church chorus. While attending college at Howard University in Washington, D.C., she formed a group which opened for such acts as Al Jarreau and did some session work to pay the bills. In the late 70s she gained the attention of Stevie Wonder, who hired her for his backup band Wonderlove. During this time she learned about songwriting and production and further developed her vocal range. Her Wonder connections led her to form a musical partnership with singer/songwriter René Moore; as René & Angela, they recorded their 1985 R&B landmark album Street Called Desire, which featured the funk classic "I'll Be Good" as well as the slow jams "Your Smile" and "You Don't Have to Cry." The disc fared well on the soul charts, but inexplicably had a modest impact on the Billboard 100. Neo-soul artists such as Erykah Badu and Avant have covered its songs, exposing the album to younger generations.
After the duo ran its course, Winbush embarked on a solo career with 1987's Sharp; its R&B hit single single, "Angel," demonstrates her sophisticated singing technique. Before that, she produced the Isley Brothers' 1986 album Smooth Sailin', later becoming romantically involved with frequent collaborator Ronald Isley. But her next effort, 1989's It's the Real Thing, epitomizes her confidence and unique ability to not only ride, but own a groove. While the title track contains typical 80s overproduction and an over reliance on electronic drums and synthesizers, her ebullient vocals sound just as fresh and sassy today as they did over 20 years ago.
Winbush growls, snarls, and struts through lyrics such as "It's the real thing/ And it's my thing." "Hold on tight and make it last," she sings with conviction, the heavy, funky beat never overwhelming her powerful voice. Two amusing samples from Tone Loc's "Wild Thing" add a touch of hip hop to the proceedings. Isley may have co-produced the single, but when Winbush ends the song by roaring the word "boy," she leaves little doubt who really owns the song. Her Chaka Khan-reminiscent performance lifts "It's the Real Thing" from a typical piece of 80s danceable funk into a tough, somewhat gritty, irresistible single. Delve into her all-too-brief catalog and discover an incredible and, yes, soulful singer.
On a side note, keep an eye out for one special dancer in the unfortunately corny video below: Don Cheadle!