Reggae pioneer, activist, icon--these words and more perfectly describe Bob Marley, who to this day remains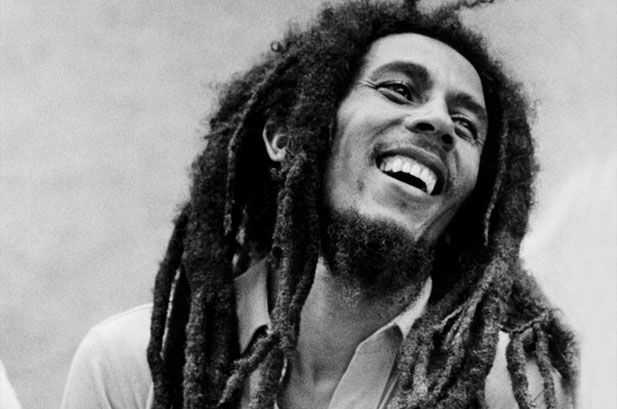 unparalleled in his genre. He took the basic elements of reggae--syncopated rhythms, slower tempo, and that trademark guitar skank (that "chuck chuck" sound)--and added sophisticated lyrics and melody as well as incorporated other musical genres. In short, he transformed reggae and expanded its reach to broader audiences. One example of such a crossover, 1980's "Could You Be Loved," combined R&B and dance to illustrate how reggae can move people on the dance floor.
According to Marley's official website, the singer "had openly courted an African American listenership throughout his career," and therefore purposefully crafted a danceable track that would play in clubs as well as in his concerts. Thus he composed what his page labels "danceable reggae-disco fusion," but still managed to inject his ideals of freedom and equality into the lyrics. "Don't let them fool ya/ Or even try to school ya! Oh, no!/ We've got a mind of our own," Marley chants over the driving beat.
Before arriving at his message, he introduces the song through a driving, guitar-based rhythm, followed by the introduction of drums. In fact, drummer Carlton Barrett and bassist Aston "Family Man" Barrett function as the track's backbone, making Marley's brand of reggae remarkably danceable. But his uplifting words elevate the song from just being about dancing. Don't let them change ya, oh/
Or even rearrange ya, oh, no!/ We've got a life to live," he declares. When he cries "They say/ Only the fittest of the fittest shall survive/ Stay alive!" one senses Marley is addressing more than just busting a move.
Arriving at the bridge, Marley and backing singers the I-Threes chant the title phrase rhythmically, vocally imitating the skank of the guitar. Then the female vocalists add their own thoughts: "You ain't gonna miss your water until your well runs dry/ No matter how you treat him, the man will never be satisfied." Does this represent Marley's attempt to inject a female perspective into the song? Who is "the man" in this line? The artist leaves listeners to interpret the meaning for themselves, which is a typical feature of Marley tracks. He wants people to enjoy the songs, but leaves them with broad ideas to consider.
At another point, the singers and Marley intone the lines "The road of life is rocky and you may stumble too/ So while you point your fingers someone else is judging you/ Love your brotherman!" In the guise of a danceable beat, Marley communicates a clear message here, and ties in the chorus: "Could you be loved/ and be loved?" One could interpret this thought as, to paraphrase the Beatles, "the love you take is equal to the love you make." In other words, only those who love are worthy of being loved themselves. That's a heavy message to deliver to clubbers, yet Marley achieves this goal with sophistication, style, and simple good time vibes.
Obviously Marley has recorded numerous memorable songs, but "Could You Be Loved" represents what he did best: transforming reggae into something that everyone could relate to. This track derives from 1980's s Uprising; he would pass away less than year after the album's release. Despite his untimely death, Marley is revered today for taking reggae to new heights and writing lyrics that do indeed, as he sings in "Could You Be Loved," "say something."
Deep Soul is on vacation for a few weeks, but will return in late May with more R&B gems.