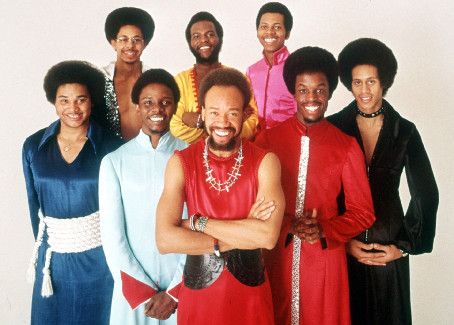 It's Thanksgiving in America, that yearly holiday where we sit down with family and friends, enjoy a bountiful meal, and give thanks. What better way to celebrate than to play "Gratitude," a hidden Earth, Wind, & Fire track from their 1975 live album of the same name. Featuring Verdine White's funky bassline, a healthy dose of horns, and vocal interplay between singers Maurice White and Philip Bailey, "Gratitude" stands as a classic EWF jam.

1975 marked a banner year in EWF's history; their breakthrough album, That's the Way of the World, spawned the hits "Shining Star," "Reasons," and the title track. Between that and their previous jazz-infused discs, the band had amassed enough material to release a live album. Their now-legendary concerts featured elaborate costumes, choreography, and lengthy jams. Amazingly, Gratitude remains among the few live recordings by the band, an amazing fact considering their hit-making prowess. Nevertheless, Gratitude served as a thank you to fans who stuck with them since their 1971 debut. In addition to their live show, they offered fans new songs, including the sexy "Can't Hide Love" and bouncy "Sing A Song." The album fared extremely well on the charts, topping both the R&B and Billboard 200. The title track--another new song--contains another message EWF often delivered: gratitude for life and love.

Cowritten by Bailey, Larry Dunn, Maurice White, Verdine White, "Gratitude" is about giving thanks to fans and a higher power. The track begins with Verdine's popping bass, Maurice's howling voice accented by Phillips' smooth falsetto. "Wanna thank you," he and others croon, with Maurice joining in in with his swaggering style: "We just wanna give gratitude/ Got plenty love we want to give to you," he sings. As with many EWF songs, this one refers to music itself, much like "Sing A Song": "With good music and we're trying to say/ That the Good Lord's gonna make a way," Maurice adds, the horns chiming in to set the celebratory mood.

The songwriters return to another familiar EWF motif: freedom of mind and body. "Open your heart, let your body find/ Freedom in your stride, love, and peace of mind," Maurice sings. Emphasizing their primary purpose--giving thanks to God--they end the lyrics with the lines "One more time and we got to say/ That the Good Lord's gonna make a way." The rest of the track simply gives the band room to jam, the horns blaring and Verdine's bass laying down some of the funkiest lines you'll hear. The track ends with Bailey and Maurice trading lines, ad libbing and almost scatting along with the beat.

"Gratitude" may not be one of EWF's most well-known tracks, but it represents how they could establish a groove, add some sophisticated chord changes and beautiful harmonies, and combine these elements into some of the most soulful tunes ever recorded. Whether you're celebrating Thanksgiving or just want to celebrate life's riches, put on "Gratitude" and set the thanks-giving mood.