One of R&B's most underrated groups, Heatwave amassed an impressive number of late 1970s singles: "Always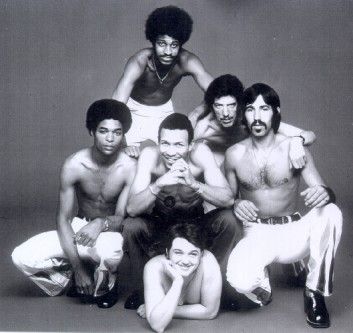 and Forever," "Boogie Nights," "Mind Blowing Decisions," and their final hit "Gangsters of the Groove," just to name a few. Led by the charismatic Johnnie Wilder, the group proved themselves to be excellent showmen and world-class songwriters, particularly Rod Temperton. Various tragedies put an abrupt end to Heatwave's success, but brother Keith Wilder reformed the band in the 1990s. While difficult to choose just one of their memorable songs, "The Groove Line" particularly exemplifies Heatwave's gift for creating sophisticated funk that soared above the increasingly overproduced disco of the era.
An international band in every sense, Heatwave formed in West Germany, where the Wilder brothers were finishing their stint with the US Army. After playing in a variety of local bands, they relocated to the UK, where they met composer and keyboardist Rod Temperton. Soon the trio assembled a group, which originally included Spanish bassist Mario Mantese, Czechoslovakian drummer Emest Berger, and American guitarists Jesse Whittens and Eric Johns. Johnnie Wilder relentlessly rehearsed the band while he and Temperton began penning tracks. Their sophisticated, smooth brand of funk earned them fans on the UK club circuit, which gained the attention UK label G.T.O. (Epic in the US). Signed to the label in 1976, Heatwave began work on their debut album. The sessions ground to a halt, however, when Whittens was murdered while visiting family in Chicago. Roy Carter then joined the group, and they finally resumed work on a number of singles, including the international 1977 smash "Boogie Nights." Fueled by that success, Heatwave finally released their debut album, Too Hot to Handle, that same year. Their followup, Central Heating, spawned the singles "The Groove Line" and "Mind Blowing Decisions." With both albums under their belts, Heatwave seemed to be a group on the rise, one which appealed to broad audiences and elevated dance music to a more mature level, similar to Chic. But 1978 brought a series of challenges that almost derailed the band.
First, Rod Temperton decided he wanted to concentrate on songwriting, not performing. He continued writing for Heatwave, but Quincy Jones quickly commissioned him to write songs for Michael Jackson and other Jones proteges. In a short time Temperton transitioned into an in-demand songwriter, penning the now-classics "Rock with You," "Off the Wall," "Thriller," and "The Lady in My Life." Tragedy then struck anew when Mantese almost died after being stabbed by his then-girlfriend; while he survived, he could never perform again. Carter soon departed the group; by 1980, Johnnie Wilder had hired new band members and felt ready to reenter the studio. But the cruelest blow of all came shortly after, when a car accident left Johnnie paralyzed from the neck down. He trained himself to sing again, and tried touring with Heatwave to promote their fourth album Candles. But he simply could not handle the rigors of touring, thus he became the group's producer and songwriter, guiding them behind the scenes. Despite his determination, Heatwave failed to recapture their early momentum, releasing their final album, Current, in 1982. In 1989 and 1990, Johnnie released a two solo albums, but health problems prevented his full return to the spotlight. He died in his sleep in 2006, but his brother Keith has kept the band's memory alive by touring with a new lineup.
Heatwave's 1978 hit "The Groove Line" may be classified as disco, but its smooth yet funky sound distinguishes it from some of the assembly line quality of some dance music of the time. The distorted keyboard introduction imitates a train chugging along, with a scratchy guitar riff establishing the song's rhythm. Johnnie's falsetto reigns throughout the track, handling some tricky chord changes during the chorus. "Leave your worries behind/ 'Cause rain, shine, don't mind/ We're ridin' on the groove line tonight," he croons, with the band emitting a "whoo whoo" sound resembling a train whistle. Tempterton's lyrics accomplish their purpose: enticing listeners on the dance floor by promising a great journey. "Check out the wheels a turnin'/ You know we won't stop," they sing during the bridge. "We got this boiler burnin'/ We're keepin' it hot." Listen for how the band harmonizes differently on the ""Cause rain, shine, don't mind/ We're ridin' on the groove line" lyrics, or how the chords change dramatically toward the end of the track. The 12 inch version features an extended instrumental section, with the keyboards and shuffling drum providing the perfect soundtrack for dancing. Finally, the occasional burst of horns add a touch of old-fashioned soul to an otherwise 1970s-steeped song. In general, "The Groove Line" takes unexpected twists and turns that results in an enjoyable listen.
"The Groove Line" may not contain world-transforming lyrics, but it demonstrates that disco can be executed in a smooth, sophisticated way. Indeed, its effortless sound foreshadows L.A. Reid and Babyface productions, which virtually dominated 1990s R&B. Temperton, of course, became an essential architect of '80s contemporary soul through his work with Jackson and Jones, blurring genres and audiences to create a broader type of R&B. Heatwave's continuing influence illustrates why they remain an underrated band that should never be forgotten.