Summer 2012 has brought with it some record-breaking heat in various parts of the country. That kind of weather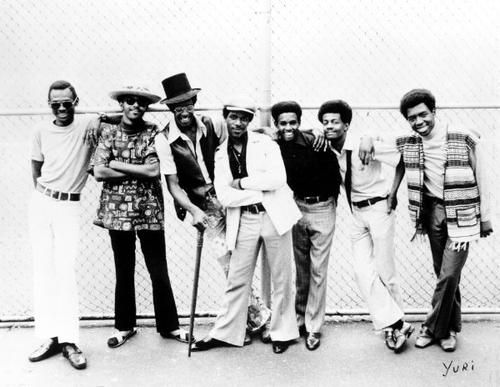 calls for mellow, laid-back grooves that require just listening, not sweat-inducing dancing. Few songs fit this bill better than Kool & the Gang's "Summer Madness," a fusion instrumental that sounds as fresh today as it did in 1974. In fact, its prominent use of the synthesizer would mark it a track ahead of its time, predicting a sound that would dominate much of the 1980s.
Younger fans know Kool & the Gang primarily from their slick, pop-inflected period with lead singer James "J.T." Taylor. "Ladies Night," "Celebration," "Too Hot"--all of these songs originate from that late 70s/early 80s span. Before that, the band gained acclaim for their funky instrumentals (some tracks included minimal vocals) that provided the perfect soundtrack for disco's early days: "Jungle Boogie," "Hollywood Swinging," and the Saturday Night Fever track "Open Sesame" best represent Kool & the Gang 1.0, but the lesser-known hit "Summer Madness" illustrates their softer, jazzier side.
According to their website, the group intentionally forged a different direction for their 1974 album Light of Worlds. For Kool & the Gang, the disc "represented a spiritual re-awakening." In addition, it demonstrated their willingness to take chances with their music: "with a cutting edge synthesizer sound, the album was a testament to change. For the group it represented a change in the way they ate, thought, and lived each day." "Summer Madness" was the second single released from Light of Worlds, and technically it was a minor hit, peaking at number 36 on the R&B charts and 35 on the Billboard Hot 100 in 1975. A total group effort in composing and recording the track, "Summer Madness" eventually gained additional exposure through its inclusion on the Rocky soundtrack.
Perhaps the song was too ahead of its time; the predominant synthesizer sounded nothing like any other Kool & the Gang tune, and it hardly invited dancing. Instead, "Summer Madness" sets a romantic mood, inviting the listener to sit back, relax, and indulge in its sultry chords. It's the ideal accompaniment for a lazy, sizzling summer evening, and its swirling synthesizer suggests that the track was recorded in the 1980s or later rather than 1975. To this day, many are surprised to learn that Kool & the Gang are the song's performers.
Interestingly, "Summer Madness" later gained new life through other artists sampling the tune. The most famous example is DJ Jazzy Jeff and the Fresh Prince's 1991 smash "Summertime," a playful ode to the season that nicely melds Will Smith's laid-back delivery with Kool & the Gang's mellow tones. But other artists as varied as Kid Rock, Donnell Jones, Erykah Badu, and Mary J. Blige have also incorporated the classic song into their tracks, ensuring that "Summer Madness" will live on in numerous forms.
Shortly after Saturday Night Fever, Kool & the Gang decided to focus less on instrumentals and concentrate on vocal-driven, radio-friendly singles. Their later period certainly produced some memorable tracks that remain popular, but their earlier, funkier phase should not be overlooked. So grab something cool to drink, sit on the porch, and immerse yourself in the smooth grooves of "Summer Madness."