Who knew that one-third of the late 80s/90s R&B group Tony! Toni! Toné! would become the torch bearer for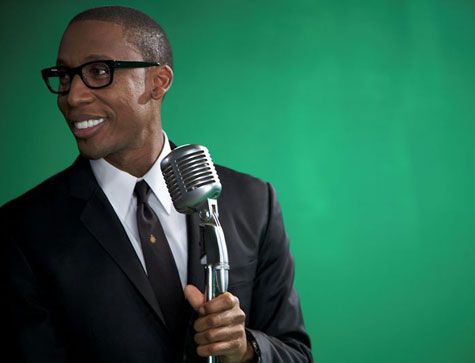 Motown soul? Indeed, Raphael Saadiq has reinvented himself as an R&B crooner in the old school style, emulating 1960s-era soul while adding a contemporary spin to such tracks. His 2008 album The Way I See It reignited his career while turning a new generation on to Detroit's 60s musical renaissance. While choosing one track from a stellar disc presents a challenge, the second single, "100 Yard Dash," truly exemplifies The Way I See It's tone and represents a well-crafted soul/pop song.
Throughout his career, Saadiq has frequently incorporated a retro sound into his music with Tony! Toni! Toné!, his subsequent group Lucy Pearl, and as a solo artist. However, his music was firmly rooted in the present. The 1993 Tony! Toni! Toné! hit "If I Had No Loot" explicitly refers to New Jack Swing, and Lucy Pearl's hits "Dance Tonight" and "Don't Mess with My Man" contain the thumping bass typical of contemporary R&B. After splitting from Lucy Pearl in 2000, he wrote and produced for other artists until releasing his first solo album, Instant Vintage, in 2002. His followup, 2004's Ray Ray, achieved critical acclaim, but like the first album did not fare well commercially. But after switching labels (and winning Columbia Records executive Rick Rubin's approval), Saadiq decided to take his music in a different direction. As he states on his website, "I just have to be myself. You've got to follow your own path. I've always gone down the road less traveled, but now I do it even more aggressively." Therefore he recruited artists like Stevie Wonder, Joss Stone, and ex-member of Motown's house band Funk Brothers Jack Ashford, wrote songs paying homage to retro soul, and recorded the tracks using equipment and mixing techniques identical to those Motown producers used.
Saadiq came roaring out of the gate with "100 Yard Dash," co-written with frequent collaborator Robert Ozuna. At only two minutes and 18 seconds, Saadiq and his band pack some power and clever lyrics into a very short time duration. As the track begins, the drum immediately forms the song's rapid heartbeat, the thumping giving way to strumming guitars. Saadiq's clear, high falsetto pierces the sonic action, crooning lyrics straight out of a Temptations track: "Girl I tried to run but couldn't get too far/ My heart is pumping/ But still I'm running in place," he sings, clearly in the early stages of love. "No matter how hard I try to ditch your touch/ When you're away too long oh girl is too much." Female backup singers coo over the chorus:
But every time I run I need you so bad

But I'm running scared my heart's beatin' so fast

I heard that you can make a man change his plans

That's why I'm running fast, I'm running the 100 yard dash.
As the song gathers steam, Saadiq modulates his voice to communicate the narrator's increasing desperation. He avoids commitment, yet no matter how fast he runs, he cannot escape true love. As the narrator flees, he reports that "I told the bartender to pour me a double face/ Then light me a smoke so I can sing some jazz," evoking images of artsy cafes. But as he anxiously sings in a higher note, "Now here come those legs, here comes those eyes/ And me the only I can never deny." The bridge kicks in, which features Saadiq singing over only drum and bass, highlighting the song's drama: "Your love gets stronger/ And it feels like every day is getting longer/ I feel your love like a monkey on my back." So will he continue running away? As the song fades, Saadiq changes into a pleading tone: "I need your loving/ I want your loving/ I got to have your loving." All too soon, the driving track completely fades out, leaving the listener wanting more.
Artists continue to revere 1960s and 1970s soul, but current stars like Raphael Saadiq prove that classic R&B continues to be created. "100 Yard Dash" and the album The Way I See It demonstrate how current music still borrows from previous decades, but can further transform the songs into something different and modern. "100 Yard Dash" provides a lesson in writing joyful, catchy pop with a healthy dose of old school soul.