Blinded by Sound writer Chris Morgan writes an often hilarious feature entitled "Songs We Wish We Could Forget,"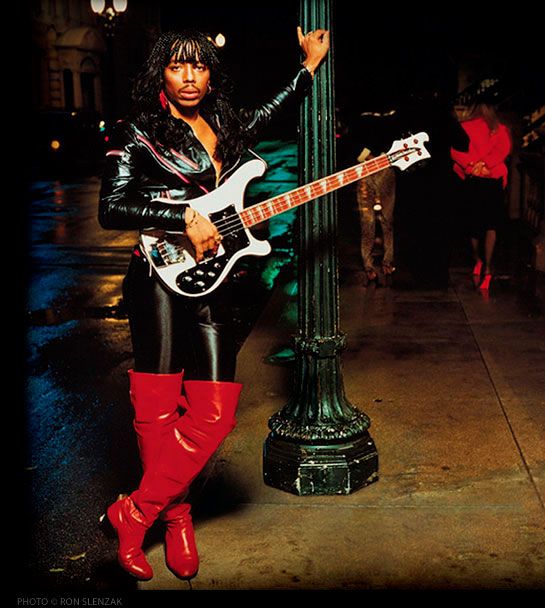 a humorous examination of past hits and their dubious quality. Last week spotlighted MC Hammer's "Can't Touch This," which the rapper based on a sample from Rick James' classic jam "Super Freak." In the article, Morgan dismisses the funk star as a "repulsive scumbag" and "massive asshole" whose was elevated to cult figure status through the Chappelle Show's "I'm Rick James, bitch!" skit. James lived a hedonistic lifestyle, to be sure, and paid for it via jail time and numerous health problems; his longtime battles with drugs hastened his 2004 death. In recent years, his other claim to fame is providing the backbone for "Can't Touch This," although he did not receive initial credit upon its 1990 release. Is it fair that James now be remembered primarily for one hit, longtime drug abuse, and becoming a punchline? Hardly, particularly since James once ruled the late '70s/early '80s R&B charts, became an early funk crossover star, and produced big hits for protégés The Mary Jane Girls and comic-turned-singer Eddie Murphy. Other than "Super Freak," 1981's "Give It to Me Baby" exemplifies his knack for making deep funk accessible.
After drifting in and out of various bands in the '60s (he famously was briefly in a group with Neil Young), he finally landed a contract with Motown Records. Eventually he wound his way to Detroit, founding the Stone City Band in 1977. Their first album, 1978's Come and Get It, spawned two successful R&B singles: "You and I" and "Mary Jane," James' ode to pot, his drug of choice. Subsequent hits followed, including "Bustin' Out (on Funk)" and "Love Gun," but they made little impact on the Hot 100 charts until James' 1981 breakthrough album: Street Songs. "Super Freak" became the massive hit James had been seeking, as it reached number three on the R&B singles chart and cracked the Billboard top 20. It also fared well in the clubs, due to its strong beat and memorable guitar riff. Street Songs' other big single, "Give It to Me Baby," was not the crossover smash like its predecessor, but it remains a great slice of early '80s funk.
Similar to "Super Freak," "Give It to Me Baby" pays homage to James' hard-partying life at the time. He sings frankly about "coming home intoxicated" and brags about "When I was high as the sky/ Out all night just dancing," then returning home to make love to his woman. He makes his sexual prowess clear, claiming that "I'll make ya hot like you had enough." Has this theme been done before? Absolutely. But that thumping bass line, James' enthusiastic vocalizations ("Oooooh HOW woo!"), and a ear-catching refrain elevate the track to new heights. Indeed, the lyrics linger in the memory: "Give it to me/ Give me that stuff/ That funk, that sweet, that funky stuff." An omnipresent horn section nods to old school R&B. Occasionally a female voice punctures his ego, asking "say what?!?" when he tries to seduce her. As the song fades out, James continues pleading "Hey girl/ Give it to me what you say?" Presumably the woman finally gives in, unable to resist James' powers. Either that, or at the very least she's impressed by his ability to lay down a serious groove. 
Street Songs proved his ability to write, produce, and perform funk that could reach wider audiences. His hit-making streak continued through the mid-'80s, writing and producing songs for other artists such as the Mary Jane Girls ("In My House," "Candy Man"), Murphy ("Party All the Time"), and former girlfriend/frequent collaborator Teena Marie ("I'm A Sucker for Your Love," ""Déjà Vu [I've Been Here Before]"). But his various drug addictions quickly overtook his life, resulting in prison time and a later massive stroke. By his 2004 death, his hedonism had overshadowed his career, turning him into a caricature. His abilities for writing R&B with a healthy dose of funk, his showmanship, and his gift for recognizing talent should not be forgotten. One may not condone his life choices, but his place in soul history canot be denied. Set aside prejudices and dive into his still fresh-sounding catalog; "Give It to Me Baby" and "Super Freak" are great starting points.