Normally one would be foolish to take on a tune made famous by the Queen of Soul. But Shirley Brown fearlessly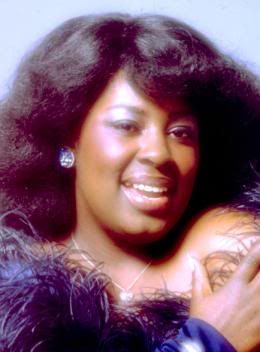 tackled three Aretha Franklin standards--"Ain't No Way," "Respect," and "Rock Steady" for her audition for the legendary Stax label. While Franklin's original 1971 recording set the bar for any subsequent covers, Brown comes close to the singer's power and conviction in this previously unreleased take on the classic.
Brown's story begins similar to many soul singers—in the church. Growing up in East St. Louis in the 50s and 60s, she started singing in the choir at nine years old. Bluesman Albert King discovered the budding vocalist, and invited her to join him on the road. After years of honing her skills, she recorded for small, independent labels until King brought her to Stax in 1974. After cutting a demo that included "Rock Steady," Brown recorded what would become her biggest single: "Woman to Woman." Topping the charts, the song proved to be Stax's last major hit; although they released her album Woman to Woman that same year, the label rapidly descended into financial difficulties. Despite Stax's dissolution in 1975, Brown persevered: she signed to the Arista label and earned a top-15 single, "Blessed Is the Woman (With a Man Like Mine)" in 1976. Today she continues recording and touring, her soulful voice remaining intact.
In 2011, the Concord Music Group began issuing the Stax Remasters series, including Woman to Woman. While the original album tracks still tantalize, it's the bonus tracks that really astound. Previously unreleased in the United States are the three Franklin songs she cut as demos; after listening to her performance, it's no wonder that Stax signed Brown. Her intense interpretation of "Rock Steady"--even weaving in lines from Sly and the Family Stone's "Thank You (Falettinme Be Mice Elf Agin)" and "I Want to Take You Higher"--render her version almost equal to Franklin's soaring original.
According to Lee Hildebrand's 2008 liner notes for the previous import-only reissue of Woman to Woman, the three Franklin songs most likely reflected the material she performed while touring with King. Backed by a rhythm section including Bobby Manuel on guitar, Donald "Duck" Dunn on bass, and Al Jackson, Jr. on drums, Brown absolutely kills in her sincere, textured vocals. When she informs listeners that she will "call this song exactly what it is," they believe her convictions. Another interesting aspect of her cover is how she constantly interacts with her backing band, instructing them on when to proceed to the bridge. Her vocal inflections dart and parlay with the rhythm section, leading to an over six-minute jam. Cleverly introducing lyrics from the aforementioned Sly and the Family Stone tracks, Brown demonstrates her knowledge and respect for early 1970s R&B, and how similar Franklin and Stone are in sound and spiritual overtones.
While Franklin's self-penned original may have set the standard, Brown's version proves that her vocals were—and still are—just as impressive. Thankfully this reissue of Woman to Woman has finally brought this hidden gem to light, and will aid in giving Brown the respect she so richly deserves.