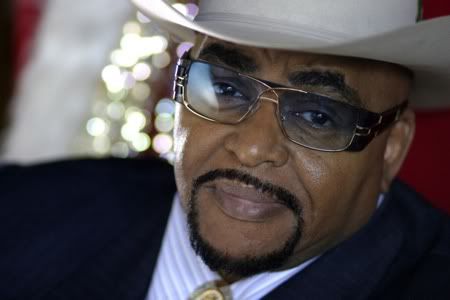 Sometimes songs can hold such universal meaning that they remain timeless--in other words, the lyrics address issues we grapple with, no matter the year. One example, Solomon Burke's 2002 single "None of Us Are Free," is a blues and gospel-soaked sermon on equality and overcoming oppression of various kinds.
The late Burke, a superb if underrated soul singer who scored minor hits in the early '60s with "Cry to Me" and "Everybody Needs Somebody to Love," made a comeback when he released the 2002 album Don't Give Up on Me. Singer/songwriter Joe Henry produced the disc and recruited friends and admirers including Elvis Costello, Brian Wilson, Nick Lowe, Tom Waits, Van Morrison and Bob Dylan to pen tracks for the project. In addition to these legends, seasoned songwriters Barry Mann and Cynthia Weil, along with singer/songwriter Brenda Russell ("Piano in the Dark"), composed "None of Us Are Free" which perfectly combines soul with Burke's church roots. To emphasize his gospel background, Henry tapped the same organist who played at Burke's church--Rudy Copeland--to lend his talents to the album. As if lining up top-shelf songwriters and session musicians wasn't enough, Henry wisely chose a singular singing group, The Blind Boys of Alabama, to back Burke on "None of Us Are Free."
As the organ swirls and the drums enter with a shuffling beat, Burke begins softly crooning the opening lines: "Well you better listen my sisters and brothers/ 'Cause if you do you can hear/ There are voices still calling across the years." Listeners have effectively entered church, and Burke is the preacher delivering the sermon. After demanding our attention, his raspy voice gradually rises as if in outrage: "And they're all crying across the ocean/ And they're cryin' across the land/ And they will till we all come to understand." The Blind Boys of Alabama closely harmonize as they deliver the chorus with Burke, summarizing the song's central message: "None of us are free/ None of us are free, if one of us is chained/ None of us are free." Burke's world-weary singing suggests that he has seen much suffering, that he has lived through it. He is a soul survivor, and "None of Us Are Free" stresses that fact.
The initial lyrics may closely resemble the blues in terms of painting a depressing picture. Yet as the track progresses, Burke's passionate vocals call upon listeners to empathize with each other and use our shared human experience for good. "We got try to feel for each other, let our brothers know that we care/ Got to get the message, send it out loud and clear," Burke pleads, his gravely voice expressing a sense of urgency. Henry's spare production style places Burke front and center, with the organ, drums, and guitar providing accompaniment. Along with The Blind Boys of Alabama's gentle harmonies, the backing creates an intimate setting that enhances Burke's deeply personal message. When he sings the lines "We've got to join together in spirit, heart and mind/ So that every soul who's suffering will know they're not alone," one hears the pain and empathy in Burke's performance. We resemble one another more than we realize, he argues, thus "I swear your salvation isn't too hard too find/ None of us can find it on our own."
As he and The Blind Boys of Alabama reach a crescendo in volume and pitch, their repetition of the lines "None of us are free/ None of us are free, if one of us is chained/ None of us are free" drums the message in listeners' heads: we cannot move forward if even one person remains in poverty, or is the victim of prejudice. In today's political climate, along with issues such as the Trayvon Martin case, "None of Us Free's" theme resounds as loudly as it did ten years ago. Listen to this track--as well as all of Don't Give Up on Me--and be transformed by Burke's voice and message.