By 1976, The Jacksons found themselves at a crossroads. Having outgrown their Jackson 5 days, they struggled to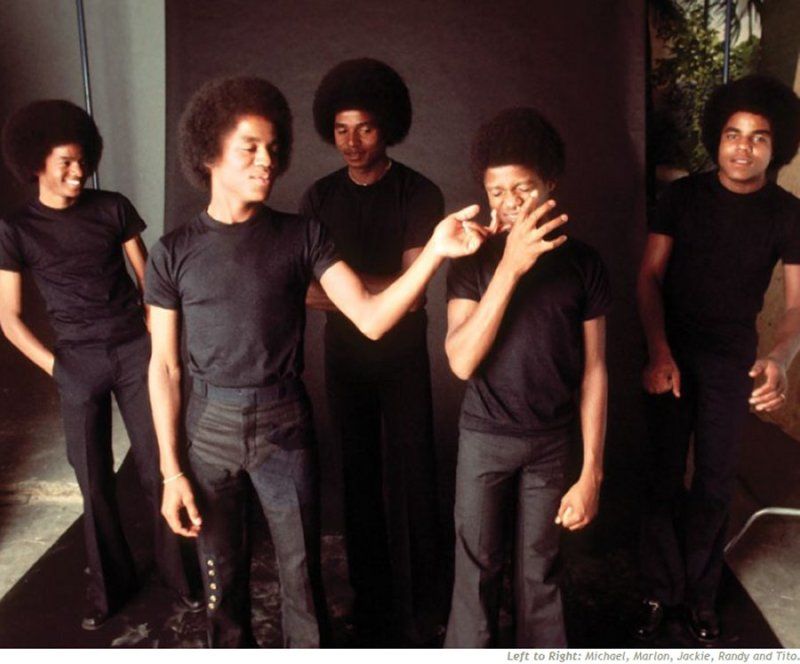 transition to more mature tunes. Thus they took the first major step: departing Motown, the only label they ever knew. This move came at a cost, as Motown CEO Berry Gordy successfully fought to retain ownership of the Jackson 5 moniker. Now dubbed The Jacksons, they signed with CBS Records but were minus one member: Jermaine, who elected to stay with Motown. The Jacksons were in need of a hit since their final album for Motown, Moving Violation, failed to make a dent on the charts. Determined to resuscitate their careers, the group brought in another brother, Randy. In turn, CBS paired the group with proven hitmakers Kenny Gamble and Leon Huff, the architects of the Philadelphia Sound and founders of the Philadelphia International label. Along with Philly International house band MFSB, they produced songs intended to revitalize the Jacksons' sound and propel them to the top of the charts. The danceable "Enjoy Yourself" did become a top ten hit, but a few other tracks on their self-titled album also effectively showcased their harmonizing talent, most notably "Show You the Way to Go."
"Show You the Way to Go" bears many Philly Soul hallmarks such as the lush string arrangement, horns, and disco-tinged beat. But Michael Jackson's light vocals marks a departure from the sensual Teddy Pendergrass or aggressive O'Jays. In fact, the entire song brims with youth, with an adolescent Michael straddling the line between his childhood and young adulthood. He sings with confidence and experiments with vocal tics that he retained for the rest of his life. Toward the end of the song, he ad-libs with a slightly raspy voice, explores his range, and injects James Brown-like grunts. His brothers provide backup with their typically tight harmonies, particularly on the chorus. Philly Soul has always been about perfectly blended voices as well as elaborate instrumentation, and "Show You the Way to Go" allows the Jacksons to show off their singing skills.
While the lyrics may not be revolutionary, they are very much in keeping with Gamble and Huff's desire to comment on current issues. Here, they plead for peace and fellowship, with Michael's hopeful voice expressing optimism. "I don't know everything/ But there's something I do know," he croons, emphasizing his youthful inexperience. "That we can come together/ And think like one." As the Jackson brothers sing the title line, Michael transitions into a leadership role, almost like a preacher. "Just put your trust in me/ I'll try not to let you down," he pleads. He convinces listeners that "only we can work this out/ 'Cause we can help each other to overcome." The lyrics conjure more religious images, calling everyone to "rejoice" and repeating the line "we can help each other to overcome" several times. It may be an uptempo tune that entices people to dance, but it also delivers an uplifting message over classic MFSB grooves.
"Show You the Way to Go" fared well on the 1977 R&B charts, peaking at number six; on the pop charts, it cracked the top 30. Years after The Jacksons' initial release, "Show You the Way to Go" received little radio airplay; instead, later, slicker albums like 1978's Destiny and 1980's Triumph took over. In recent times, the tune has apparently attracted new fans, as it is played occasionally on oldies stations and adult contemporary R&B.
While it may not rank as highly as the Jackson 5 material or bigger hits like "Shake Your Body (Down To The Ground)," "Show You the Way to Go" stands as an important transitional single in the Jacksons' career. The song displays the brothers maturing and finding their way out of their previous teen idol status. Michael's changing style comes through loud and clear, with his ad-libbing and experimenting with his vocal range serving as important elements of the track. In the end, the 1976 song stands as a feel-good anthem that delivers a positive message as well as a mandate to dance. Beginning with this track, The Jacksons soon successfully navigated this crossroads, and would go on to recapture their hitmaking prowess.
The video below is a live vocal performance from Top of the Pops in 1977.