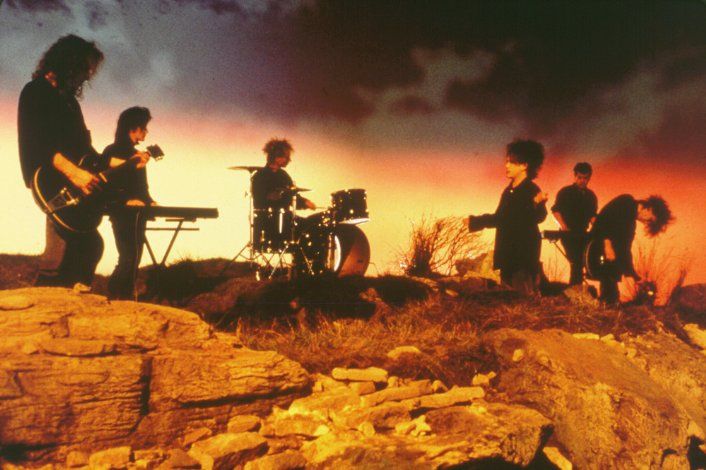 The genesis for "Friday We're In Love (With The Cure)" started when Heather tagged me in a tweet about Spotify queueing up "Burn" by The Cure, which inspired Hornby-esque banter wherein we tried to compile our respective Top 10 Favorite Cure Songs Of All-Time. We both love High Fidelity and thought it would be fun to compile, compare, and share the list with all of you but we couldn't cut the conversation.
That failure could have been a dead end but it inspired something even better. If you can't stop at 10, don't! So we kept listing songs and gushing about how amazing this band is and how much we love their discography. Rather than allowing failure to kill our idea, we decided some things just can't be limited. We kept listing songs and gushing about how amazing this band is and how much it means to us and that, boys and girls, is a conversation worth continuing. So pull on your head, pull on your pout, and join us every Friday as Heather and I share why we're in love with The Cure.
Friday We're In Love With The Cure? How about it's Anyday and I'm in love with The Cure. We all have that one band that sticks with us from the time we first discover them and beyond, sometimes coming and going or remaining a constant. That band for me is The Cure. They make me happy the second I hear the bass, keyboard or jangly guitar leading into or out of any of their songs. Many people are confused how The Cure...the Goth Godfathers...can make anyone happy and I'm confused how they're allowed to have an opinion on them at all. Listen to Kiss Me, Kiss Me, Kiss Me and report back, thank you.

Speaking of Kiss Me x3 that's where today's song choice is coming from. When Josh and I co-conceptualized this weekly venture I immediately had some panic because there is honestly no way I can pick a favorite Cure song which is kind of how this all came about to begin with...this way we don't have to! When we were compiling lists and comparing favorites, I started to mentally assemble my own list and that list changed 20 times in a weekend. I love so many, nearly all, of their songs for an infinite number of reasons. I cannot remember a time when the Cure wasn't a backdrop to my life or phase I was going through seeing as how they've been around nearly my entire life.

"Just Like Heaven" is probably a fairly obvious choice and please don't think I took this lightly or pulled one out of thin air. This is one of those great, iconic, band defining songs that you know the instant you hear that throbby, sexy bass line at the beginning. It's a song that has been under my skin for over two decades and one I can't resist singing word for word everytime it plays.
"Show me, show me, show me how you do that trick, the one that makes me scream she says" is such a vivid opening line and it paints the picture of what we're to receive with this song. It's another Robert Smith love song delivered only the way the GothFather can.
The line continues with "The one that makes me laugh she said...show me how you do it and I promise you, I promise that I'll run away with you." This can either be taken literally like a magic trick or we can be grown ups for a minute and imagine ole Robert has some other tricks that make girls scream. Further proving my point he continues: "Spinning on that dizzy edge, I kissed her face and kissed her head, And dreamed of all the different ways I had, To make her glow."
These are followed by what I thought at 13 were the most beautiful and sad lyrics I'd ever heard and nearly 25 years later they still rank high up there:
You
Soft and only
You
Lost and lonely
You
Strange as angels
Dancing in the deepest oceans
Twisting in the water
You're just like a dream
I spent years trying to make sense of that and the clarity came with age but they are still as beautiful and mystifying all these years later. Bottom line, this is just a wonderful song and one that finally put The Cure on the map for the rest of the world as their first Top 40 hit. So, here it is my first entry in this installment of what I hope is a long series here on BBS, as The Cure need to be celebrated as often and loudly as possible. Take a gander below at the video from MTV.
I don't know if it's possible to pinpoint the moment when The Cure became The Cure but "A Forest" from their second LP Seventeen Seconds is a strong candidate. Just about everything I would come to know and love about The Cure, nearly every characteristic of the songs I'll gush over in the coming weeks can be heard in "A Forest."
"A Forest" is a prime example of Robert Smith's signature guitar sound a sound few choose to or are capable of replicating bathed in moody atmospherics. It's a drenched, lush sound with great imagery in the lyrics. Smith is still searching for the vocal approach he'll later settle on but the DNA of that warble can be heard.
All of that is great and interesting but "A Forest" is more than a prototype; it's a fucking great song. It's worth repeated listens to obsess over individual components the ambient keyboard intro, liquid guitar, a tempo that feels both supercharged and languid, the jittery bass but it's the way they come together to create a cohesive composition with a great hook that makes it a classic. Those ingredients will surface time and again as we discuss new songs each week. You can argue they were put to better effect as Smith gained confidence and control and "A Forest" feels like an important step along that journey.