Heading into this project of listening to the number one song on the Billboard Hot 100, I wasn't prepared for how long most of these songs end up atop the list. Bruno Mars' "Locked Out of Heaven" was the number one song for all of
January's charts, and two weeks of December as well. Sure, it was a genuinely good song, but how did it remain that popular for so long? Don't people get tired of it? Sure, I imagine new people stumble upon the song week in and week out, but not that many. Do radio stations just keep playing it over and over, not caring if people tire of it? How does the Billboard Hot 100 even work? Shouldn't I know this? I'm not a big repeat listener in terms of music, at least not in the short-term. Yes, in my car I tend to just alternate between Slanted and Enchanted and Crooked Rain, Crooked Rain but that's quite a few songs to go through when you don't have many long car treks to take.
I guess what I'm trying to say is, there is a new song atop the Billboard Hot 100. It is entitled "Thrift Shop." It is by an unknown number of people known as "Macklemore and Ryan Lewis." It features somebody named "Wanz." I know nothing about any of these people. I know there was a baseball player named Mark McLemore. I think he was on the Mariners a some point. Maybe he was an outfielder? Maybe I'm thinking of Mike Cameron? Mike Cameron was also a Red Sox at one point. Can I just talk about baseball instead? I can only assume what a song called "Thrift Shop" is about: buying large "Team Building Exercise '99" shirts for, like, a buck. Shout out to Flight of the Conchords!
Life used to be beautiful. Then, I heard this song. Is this a Lonely Island song? But, like, one they wrote on a deadline after accidentally taking a bunch of mescaline? Is this Das Racist at their most openly combatative? This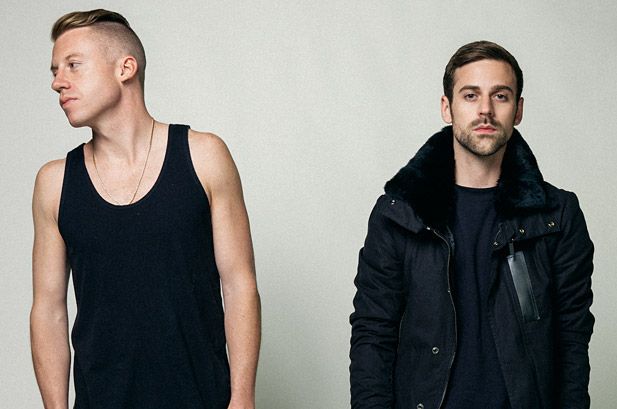 is, as I expected, a song about shopping at a thrift store. More to the point, it's about buying shit at the thrift store and how great it makes you. The chorus includes the line "This is fucking awesome." One of the rappers is called a "honkey" by a gentle man who presumably stepped out of a Dolemite movie.
There is a kernel of something good here. There is a good song out there, potentially, about shopping at the thrift store. Obviously, hip hop is filled to the brim with songs about extravagance and splashing cash. There is a place for a tongue in cheek song about being super awesome even though you shop at the thrift store. This is not that song. They want to be funny. Oh, they want it so badly. I wasn't having it. There are so many stupid lines. So many bad jokes. It's not clever. It's not smart. It's the exact opposite of the platonic ideal of a rap song about thrift shops.
The flows of the folks in this song aren't great either, but they are passable. The chorus is sung in a bit of an annoying fashion. After an irritating beginning, the beat is actually decent. It has sort of a jazz vibe to it. I don't like jazz. I prefer the rap music that gives you the brain damage with the hippin and the hoppin and the bippin and the boppin, so I don't know what the jazz is all about. However, I still enjoyed the beat. It was just being sullied by the words flowing out of the mouths of these guys. I almost want to go find the lyrics online so I can show you some of the bon mots found within. But, you are a human being, so you deserve better.
Can we have "Locked Out of Heaven" back?