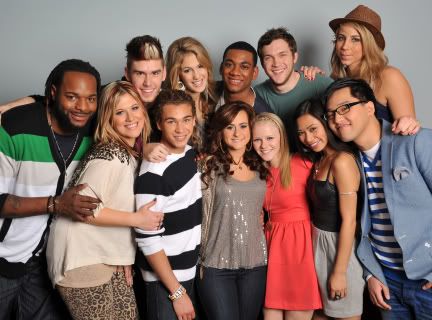 American Idol's final 13 lose a member tonight, but not before we're tortured with the first of many Ford commercials featuring all the contestants. I already speculated that this season is skewed toward a girl to win or at least a strong girl in the finale and the way we're doing the vote off with the judges having the final say ( I predict a guy will go home regardless of the girl being weaker) all signs are pointing to yes. Then Jimmy starts off the show by saying essentially to lay off the girls because no one can sing Whitney well. Excuses, excuses, excuses.
Host Ryan Seacrest calls down Jessica Sanchez, Hollie Cavanagh, and Elise Testone who see clips from last night as well as Jimmy Iovine's comments before it is revealed that Jessica and Hollie are safe, putting Elise in the Bottom Three for girls. Next up we have Heejun Han, Jermaine Jones, and Colton Dixon about whom Jimmy said Heejun was climbing an uphill battle doing Stevie and he thinks Colton is genre-confused. No surprise Colton is first guy to be safe and Jermaine is in the Bottom Three for the guys, leaving Heejun to charm America for another week.
Last season's Idol runner-up Lauren Alaina is currently touring with Jason Aldean and Luke Bryan, took minute from her busy schedule to grace the AI stage again with her latest single "Georgia Peaches." After a season of critiquing her and following the start of this new career, I couldn't help but watch with a critical eye. Essentially she has all the same strengths and weaknesses as she did last year and was breathless nearly the entire time. She's a cute, sweet girl who is still so young and pulled off even an earpiece issue with grace and humor.
Next up to learn their fate is Erika Van Pelt, Shannon Magrane, and Skylar Laine and we got to relive that painful cracked note of Shannon's two more times, it was worse the second and third times. Shannon and Erika take the final two spots to make up the Bottom Three for girls and Skylar survives to sing another week. Joshua Ledet, Phillip Phillips, Jeremy Rosado and Deandre Brackensick come down and Jimmy tells us he sees Jeremy not only being in the Bottom Two but being the one to go. I concur and that was my pick for tonight as well. Getting us one step closer to my premonition, Jeremy heads to the Bottom Three stools with Joshua only to learn that Joshua and Erika are safe and head back to join the others. I really dislike the fake surprise and suspense they try to conjure up with these results shows. As it sits right now Jermaine and Jeremy are waiting to see who the lowest vote earner is for the guys while Elise and Shannon await their fate as well.
After the break we're treated to a performance by last night's mentor Mary J. Blige, she was beautiful and amazing per usual. No surprise to anyone Jeremy is the bottom boy and Elise is the bottom girl, the surprising part was that without any "save me" song or explanation for the move, Jeremy Rosado's American Idol dreams are over.
We are treated to Jeremy's "goodbye" package while last season's winner Scotty McCreery's cover of "Please Remember Me" plays. With no shocking elimination and subpar performances, nothing could save this night from essentially being a bit of a bomb, not even a the performance from the divine Mary J. What did you think of tonight's show? Was Jeremy the right choice to go home, who would you have liked to see go in his place?