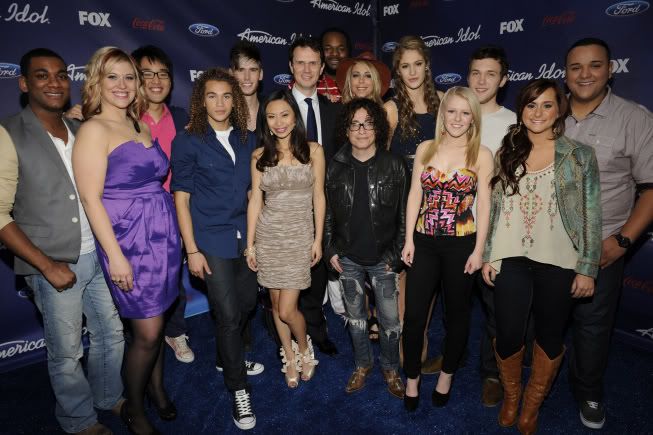 Tonight's American Idol narrows the field from 25 to the final Top 13 who will sing for your votes every week hoping to be crowned the next American Idol in May. The Top 13 will be comprised of the top five guys and the top five girls voted in by America with three wildcard spots chosen by judges Steven Tyler, Randy Jackson and JLo who get to choose one contestant each to save with this coveted second chance.
Host Ryan Seacrest tells us repeatedly that over two nights of voting they received more than 33 million votes for these hopefuls in a "look, we are still popular!" move. He then calls down Chase Likens, Jeremy Rosado and Phillip Phillips to learn their fate. First we watch a snippet of all three of their performances, relive the judge's comments and even some snarky asides from mentor Jimmy Iovine. Jimmy says Jeremy is the nicest guy in the competition and that Chase is a good looking kid but neither of those are enough to win. About Phillip Phillips Jimmy says he's the real deal and original, calling him "on the spot."
No surprise to anyone, the first person safe tonight is Phillip Phillips, forcing Jeremy and Chase to wait and hope they get a shot at tonight's Wildcard spot.
Next Ryan calls down Jessica Sanchez, Hollie Cavanagh, Hallie Day and Brielle Von Hugel to learn their fate. Jimmy said Brielle needed to pick younger material, Hollie needs more believable material, and that Hallie had her best performance of the show yet. Jimmy said Jessica is the one to beat and has talent from A to Z; he'd sign her tonight if he could. Ryan reveals Jessica and Hollie to be on the final 10 while Hallie and Brielle wait to hear if they're one of six chosen to sing for a Wildcard spot.
Now Ryan calls down fan favorite Heejun Han, Adam Brock, and Joshua Ledet who Jimmy says is the real deal and if Joshua makes it they need to rein him in so this doesn't turn into Sister Act 3. He's not as kind to Adam, saying he forgot his large black woman during his performance, and that Heejun is nothing more than comedic fodder with a "sort of good voice." From this group, only Adam is left in the dust and Heejun and Joshua both advance.
Baylie Brown, Shannon Magrane, Skylar Laine, and Chelsea Sorrell are next and Jimmy said Skylar did herself a great favor with her song choice, but that Baylie who has all the pieces, couldn't get everything to come together and he foresees her run ending tonight. About Chelsea he thinks she has so much talent but lost the plot during her performance, however he thinks Shannon is great and has fabulous poise. Of these four, Shannon and Skylar are the only two who locked a spot in the fan voted ten.
After a commercial break we get back down to business and Reed Grimm, Aaron Marcellus, and Creighton Fraker are next and Jimmy calls Reed too cabaret and too kitschy, predicting he won't make it on this show. Jimmy didn't like Aaron's performance and called him Don Cheadle, Jimmy said Creighton is screechy and annoying and while the judges loved him he did not. Of this group, we find out they all three are sent back to their seats to await the fate of the coveted Wildcard slot.
Ryan asks Jen Hirsch, Elise Testone, Erika Van Pelt and Haley Johnson to come forward and hear Jimmy's comments. He says Jen's voice is great but she, and everyone, needs to stay away from Adele in the future. He likes Erika and lauds her restraint saying more contestants need to practice that. Jimmy said Haley's performance was indeed a nightmare as Randy said and she was out of key the entire time. Jimmy encourages Elise to sing some of her own material in the future or songs created solely for her. With one Girl's spot to fill, we learn that belongs to Elise Testone who really won me over last night.
Moving back to the Guys now, Ryan calls down Deandre Brackensick, Colton Dixon, Eben Franckewitz, and the gentle giant (and recipient of the lucky number 13 spot on the Guys side), Jermaine Jones. Out of these four only two will continue on for sure while the other two are left to vie for a Wildcard opportunity. Jimmy says he could listen to an entire album of Jermaine's voice and hopes he lasts long on the show; he's not as gracious with Deandre saying he badly needs a coach. Jimmy then says Eben is a great kid with a ton of potential but that he's "not ready for prime time" and he wants him to not make it but come back later, only by the rules, he can't, since he cracked the Top 25 and then calls for a rules change. He also says Colton is insanely talented but needs to slow down and not show too much too soon, saying pacing himself will be key. In a surprising but very exciting move Jermaine makes it through on fan votes as does Colton which is no surprise to anyone.
Now that the Top 10 is set the judges allow six of the remaining 25 to sing for one of three Wildcard slots that will allow them to enter back into the competition. Jen Hirsch is chosen first and chooses "Oh! Darling" as her "save me" song and while she was an absolute standout up until the live shows, this performance did nothing for me, and showed her to be bland and likely won't get saved. Randy said he likes when the contestants sing for their life because they pull out all the stops.
Jeremy Rosado was also given a second chance and picks "I Know You Won't" by Carrie Underwood, which he does a perfectly passable job on. There were some breathtaking parts to this that I think will be enough to save him. As a judge's obvious favorite, I'd be shocked if this didn't put him through, especially what he did with that last note. He breaks down at the end and breaks my ice-cold heart just a little.
Steven Tyler announces Brielle Von Hugel as their next potential wildcard and she seals her fate pretty quickly by choosing Adele's "Someone Like You" which is one of the most fraught with emotion songs I've heard in a long time and she lacks the maturity and vocal prowess to take this on. Then there was the rockin' growly thing she did turned me so off I may never get a hot and bothered again. If she makes it through, I quit. The judges unanimously didn't like it and Randy went as far to say "I think Brielle is in trouble."
Singing "Georgia On My Mind" is a smart move on the part of Deandre Brackensick who's hoping this is the season he breaks out. I don't really dig this kid but I hope he gets a chance because like Jimmy said, he needs coaching and this is the perfect venue for that. When he's done, the judges say they feel the fire and JLo said to sing like that each time he's on stage.
JLo calls Erika Van Pelt down next and she's tackling Lady Gaga's "Edge Of Glory" and she nails it from the outset, then has some pitchy lower notes. Overall she was decent, definitely better than Brielle and Jen. If she doesn't make it through, I won't quit but, I'll be highly surprised. Randy said "this girl's singing like she's gotta have it!"
Garnering the final chance to be saved is Reed Grimm which means we say goodbye to my early favorites Hallie Day and Aaron Marcellus. Reed feels like this is the best time to take off his button down shirt and then gives us a jazzy, spazzy, weird version of "Use Me" by Bill Withers. I adore Reed but, this was not the best showcase of his talents. After the judge's comments, I don't foresee him making it any further.
After the commercial break we learn the judges each picked one person to save and Randy's pick goes to Erika Van Pelt, JLo saves Jeremy Rosado (who steals everyone's thunder a bit and goes and hugs all the judges), and Steven gives Deandre Brackensick the 13th and final spot. I'm annoyed Reed, who is more talented than the lot of them, is sent packing but, he's destined for big things and this show is not place for this much individuality and diversity.
So there you have it America, your Top 13 is set, what do you think? Next Tuesday we get more live performances with Mary J. Blige mentoring the contestants for the Whitney Houston tribute.