Tonight the American Idol crew headed to the City of Roses- Portland, Oregon; this is the first time Idol has ventured up to this particular, beautiful Pacific Northwest city which is very close to the birthplace of HippyGirlHeather. Before I continue speaking in third person, let's carry on and see what PDX had in store for us, shall we?
We all know JLo loves Luther and so does Jermaine Jones, who performs a splendid rendition of "Superstar" in Luther's style. It was a bit of a mess in spots but the potential in his lower, softer notes is really special. You can tell he was nervous but there is a lot of room for growth. Think a less annoying Jacob Lusk from last season, even as he left the room and the judges said, "Thank God for him." Amen.
Brittany Zika trips into the room and calls herself "Tripster the Hipster" (gag) and sings a perfectly average version Brandi Carlisle's "The Story." She's fakey and super annoying and (of course) gets a Golden Ticket. Don't fret; my spidey senses say she's not cracking the Top 40. No one is thanking God after her performance unless it's because it's over and we can get to work quickly forgetting about her.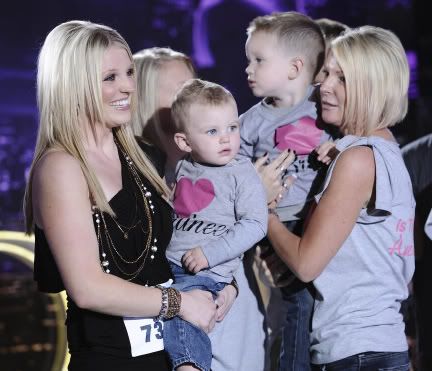 Britnee Kellogg is a young mother of two little boys and was married to an NBA player who held her back from her dreams while she traveled the world helping him chase his, and other women. She sings an impassioned version of "You're No Good" which was an obvious choice, but she showed lots of soul and the perfect amount of rasp and growl.
Romeo Daihn lived about half of his life in a Liberian Refugee Camp, and despite that, has such a strong, sweet spirit and made me smile, smile, smile with his version of "Is This Love." He's not the strongest, vocally but there was so much love and strength in his voice. I really like him. The judges do too and with three yeses, we get to hear him sing again but I predict we won't see him past Hollywood Week.
Naomi Gillies asks Steven Tyler's permission to do "Cryin'" (what would she have sung if he said no?) she delivered it with a soulful, country vibe and I really liked it, in spite of myself. Steven even said he hadn't heard it like that before and the eager judges send her to Hollywood.
Our final audition of the evening is with Jessica Phillips who is a caretaker for her fiancé who had a massive stroke in April and tells us about the struggles and differences in their relationship. She's so young (25) to be doing what you never expect to do at all, let alone so early in the relationship. She brings all of her heart and pain on "Again" by Faith Evans, it wasn't amazing but it was really good and you definitely want to root for her because of her journey so far. She receives three yeses, and a golden ticket, I predict she won't get to Top 12 Girls.
Tomorrow Idol heads to another city close to my heart…the Gateway to the West, St Louis, Missouri. Look for my recap and review along with some high points from my recent conference call with last remaining original American Idol judge, Randy Jackson.