Welcome to this season of American Idol's first installment of "What Should They Sing?" something I will try to do all season long, where I pick what song I think each contestant will or should sing, based on that week's theme. Now that we're down to our Final 13 we get our first official theme which is Whitney Houston songs for the girls, and Stevie Wonder songs for the guys. I think both genders got a little screwed with this, none of these chicks can hang with Whitney and while it's true for Stevie as well the guys at least have stronger voices although only two or three of them are of the R&B genre so it will be interesting to see how Heejun Han, Phillip Phillips, and Colton Dixon will fare with this task.
The amount of weak talent the powers that be at Idol allowed this season is overwhelmingly underwhelming and bland; they got their bluesy chick category covered, more country than any show needs, the soul is mostly filled by a bunch of white kids, they got their quirky Asian, standard WGWG (white guy with guitar), the "edgy" rocker kid, etc. No one this season stands out for their own merit, so far they are all reminders of past contestants.
That being said, let's get started picking these kids some songs!
Erika Van Pelt – I don't know a lot about Erika yet except that her voice is big and not very consistent from the small amounts we've been shown so far. I have the feeling she'll heed Jimmy Iovine's advice and instead of doing the big song with all the big notes might dial back her alleged power a bit and go for the less obvious "All The Man That I Need," what I'd like her to sing is something fun and up-tempo like "So Emotional."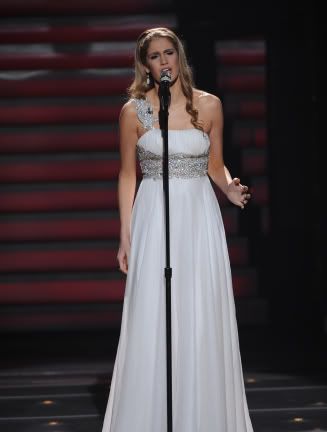 Shannon Magrane – Shannon is the young girl with the big voice this season and while she's been fun to watch so far and seems sweet as can be, I see her falling under the radar for a few weeks, then disappearing for good. She will be overshadowed by the bigger voices here but, with that being said I want to hear this prom queen in the making sing something more age-appropriate in lieu of all the heavier material she's come at us with so far. "I Wanna Dance With Somebody" or "How Will I Know" would be perfect for her and showcase a lighter side that could connect with the younger voters.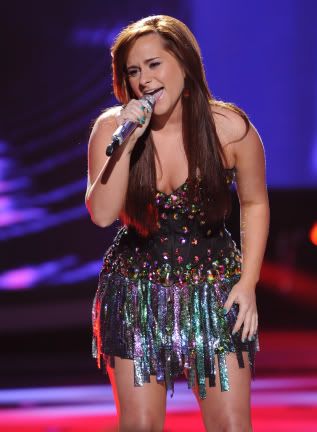 Skylar Laine – This little spitfire has shown us her big vocal power and her country-rock side, now I want to see her dialed way, way back. I'm not sure she has it in her but doing the Dolly Parton version of "I Will Always Love You" seems like it's exactly what Skylar needs to have a "moment" early in the competition.
Jessica Sanchez – Jessica is "the one to beat" according to Jimmy Iovine so I expect Jessica to try to blow us out of the water tonight if her vocal chords are in better shape than last live show, which didn't seem to slow her down any as she had one of the best performances of the two nights combined. I think she will gravitate toward "Queen Of The Night" which I would love, or even "Greatest Love Of All" but, I predict she will fall on her face a little with whatever she sings.
Holly Cavanagh – This chick drives me nuts, her voice isn't bad by any means but her weird mixed up Southern/English accent is really hard to decipher at times and none of her performances have stuck out in my head yet, I'm not sure what Hollie is capable of but, I'm afraid it isn't much. I would love to see her tackle "Where Do Broken Hearts Go?"
Elise Testone – My favorite girl by a mile after her performance on the piano last week, I'm a big fan of Elise, this is usually a kiss of death so I apologize to her ahead of time. I love her raspy, soulful voice and want to hear her on "Didn't We Almost Have It All" or "Where Do Broken Hearts Go?" Providing she's here next week, I want Elise to lighten it up and go a little fun and funky on us, but not this week.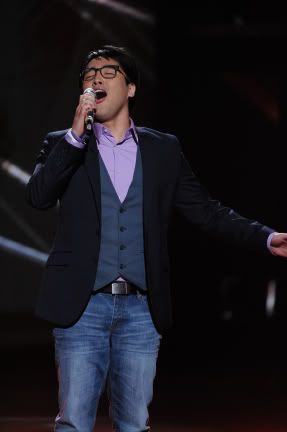 Heejun Han – Heejun is the boy I foresee having the most trouble with this song selection since Michael Bolton never covered a Stevie song. His voice is crooner-y and smooth with limited range so for him I would like something even-keeled like "You are The Sunshine Of My Life," "Isn't She Lovely" or "I Just Called To Say I Love You."
Joshua Ledet – This is probably the boy most suited for tonight's theme and could almost do anything justice, I'd like him to sing more, act less and try "My Cherie Amour" or my beloved "Ribbon In The Sky" - while I think he'd be pretty fantastic on the fun "I Wish." My point is Joshua has been given a little gift with tonight's theme and he better impress the hell out of the voting audience.
Jermaine Jones – The "Gentle Giant" is pretty limited here because of his range and baritone abilities, I would love to hear him on "For Once In My Life" or "A Place In The Sun" I think these are well-loved songs that are not overdone and Jermaine could absolutely finesse them and squeeze out an additional week or two in this competition.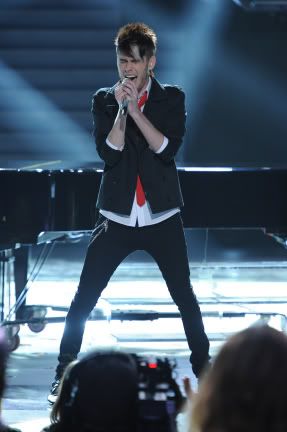 Colton Dixon – My early favorite, I'm still a little shell-shocked at this moment by Colton's crazed, emo-rock performance last week. I want him to shed that persona and sit his skinny butt at the piano and give us the most heart wrenching, emotion soaked version of "Isn't She Lovely," "Ribbon In The Sky," (this song is sacred to me so he better not screw it up), or "Yester-Me, Yester-You, Yesterday."
Phillip Phillips – I think the only song on PP's radar is "Superstition" but, I can see him growling and moaning "Higher Ground" to death as well. But my wish list would be for him to do "Sunny" or "Master Blaster" because that's not going to be expected and I would definitely be dancing around my living room to either one.
Deandre Brackensick – "I Was Made To Love Her" has some good high notes and potential falsetto moments for Deandre, I think he could do well this week if he relaxes and doesn't over-think it or flip his hair quite as spastically as last week, which comes off as insincere and self-indulgent.
Jeremy Rosado – Oh sweet Jer-Bear, I think no matter what he does, he's got one or two weeks in him at the most, so he'll stick to his comfort zone and give us a syrupy sweet rendition of whatever he chooses. I think Mr. Rosado will surely pick "Isn't She Lovely" and probably sing it at JLo with as much faux sincerity as he can muster.
There are my picks, what do you think, anything I left out of just got completely wrong? Leave me your list of song picks for tonight's contestants, and check back tonight to see how many we got right and for my show recap.