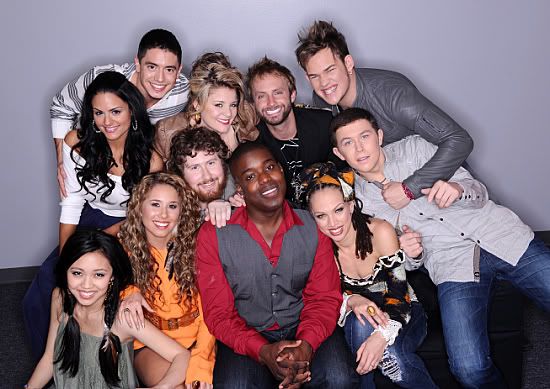 Welcome back for another installment of "What Should They Sing?" I heard earlier that Wednesday's American Idol theme is Motown. So, like we did last week, I'd love your feedback and opinions on what everyone should sing. This isn't as much in my wheelhouse as last week's theme but it was fun to research and pick songs anyway! I had just as many memories associated with these wonderful songs and I love that it will introduce people young and old alike to the original source of covers they have been enjoying for years.
In no particular order, here are my picks for the contestants:
Stefano Langone – First song that popped into my head for Stefano was "Back At One" by Brian McKnight. I think he could still move around some, have fun with the arrangement, and has the voice to do it justice. I would actually love to hear Stefano do "Rub You The Right Way" by Johnny Gill. Not sure the lyrics are Idol friendly, though. "I'll Make Love To You" or "End Of The Road" by Boyz II Men would be solid choices as well.
Naima Adedapo – The perfect song for her would be "Little Things" by India.Arie. Her voice is ideal for this and the lyrics are very relatable to Naima. Erykah Badu cut songs for Motown and I've compared the two before but Badu's Motown songs aren't the right ones for Naima. Damian Marley was a Motown artist as wel but, I hope she stays away and goes with my pick.
Paul McDonald – "Higher Ground" by Stevie Wonder or "Super Freak" by Rick James. He would also be great on "Dancing In The Streets" or even "Hello" by Lionel Richie. I think it would be nice to see Paul sit still and just sing to us, in a soft, beautiful way.
Casey Abrams – Casey could do nearly any Motown song and slay it! I would like to see him get back to what made us fall in love with him very early on. "War" is my first choice for him. My second pick is "Tracks Of My Tears" by Smokey Robinson. I'd like something softer from Casey and I know he can deliver it with ease. He could always do "Fight The Power" by the Isley Brothers. I just played this and can completely hear Casey on it.
Jacob Lusk - Like Casey, Jacob can do this theme with his eyes closed. I'd like to see something a bit more controlled and restrained this week. "It's A Shame" by The Spinners is something fun, has range, and he can still be powerful without being "too much." I love Jacob and his voice but fear he's losing a lot of viewers by not being very relatable. He's so talented, I'd love to see him go far.
Scotty McCreery – I wonder if Scotty messed his pants when he heard this week's theme. I hope he realizes the very close relationship between country music, R&B and blues. I think Scotty would do really well on "What Becomes Of The Brokenhearted" or even "Ain't No Sunshine" by Bill Withers. Whatever he chooses, he needs to feel emotionally connected to it and deliver it convincingly. This is a big test for our young Scotty.
James Durbin – I had a hard time picking something for James, I need your help! I think he could do Stevie Wonder pretty easily; he hits some big notes although James would make his bigger, higher, and more glass-shattering. Maybe "For Once In My Life" or "Yester-Me, Yester-You, Yesterday" by Stevie or "Super Freak" by Rick James.
Thia Megia – "Don't Leave Me This Way" by Thelma Houston. If she picks a Michael Jackson or Jackson 5 song, I'm chucking my TV out of my window.
Pia Toscano – Pia has got to do something different, please for the love of all that is holy! I want her to do "(Love Is Like A) Heat Wave" or anything that gets her strutting around the stage a little.
Lauren Alaina - Lauren shines when she's moving the stage, connecting with the audience and just being young and fun. That said, I want her to do "You Keep Me Hanging On" and speed it up, make it hers. I'm not sure if it would work for her at all but that's what I want. "Stop! In The Name Of Love" could work for her, as well.
Haley Reinhart – I can't stand her voice and don't care what she sings. That's horrible, I know, but she is going to growl her way through the entire 90 seconds or however long they get, so it won't matter. Okay that's not playing fair, so I'll pick "My Guy" by Mary Wells.
That was fun, once I started searching and Googling and remembering great songs, it was easier than I thought, too. What do you think, like my picks? What would you like to see performed on Wednesday?