I know what you're all thinking, "It's Sunday, what on earth is HippyGirlHeather doing today?" Well kiddies, I'll tell you- I'm thinking about Amercian Idol and compiling little lists. I do this for you! I got excited about this week's "theme," even though AI did away with themes (allegedly), but The Beatles, "songs from your idols," and "songs from the year you were born" all feel like themes to me. Anyway, I got excited because their birthday's take me from elementary school to college-age. Those years have such a wide range of awesome music and vivid memory association for me with most of this music from these years.
Below are everyone's names and birth years. I'm going to pick a song or songs, or maybe even artist that I'd love that particular contestant to do. I might even wager a few guesses on which they will end up doing. I'd love for you to make your guesses/predictions/wishlists, too!
Naima Adedapo (1984)- I would love for Naima to do something with a regular pop song and make it better, like she did with "Umbrella" last week. "Cruel Summer" by Bananarama would be amazing, or anything by Madonna: "Lucky Star," "Holiday," and "Borderline" are all options. I also think she could kill on Cyndi Lauper's "Time After Time."
Paul McDonald (1984)- For Paul, I'm loving the gender-bending idea for some reason. I could heard him doing "Time After Time" also, or "What's Love Got To Do With It" by Tina Turner. "Oh Sherrie" by Steve Perry is a solid choice as well. So many options for Paul: "Sunglasses At Night," "Eyes Without A Face," "Drive" by Cars. I think he could solidly do Prince, Duran Duran, and Thompson Twins. I have a weird feeling he might lean towards "I Guess That's Why They Call It The Blues" by Elton John. Let me just say though, if he could or would do "How Soon Is Now?" or "Hand In Glove" by The Smiths, I'd wet myself.
Jacob Lusk (1987) – This will seem weird, but with Jacob's voice and range I would love for him to do "Alone" by Heart. I know it would never happen in 8 million years, but I truly would love it. Looking down the 1987 list I'm seeing a lot of Luther, I have a feeling that's where he'll go since he knows JLo's a huge Luther fan and apparently this year, contestant's take "you remind me of…" as "you should be predictable and totally cover this person…" There are also Kool And The Gang and Lionel Richie options.
Pia Toscano (1988)- OK, Pia needs to step away from the ballads because it's getting boring and predictable. I think "Hazy Shade Of Winter" by the Bangles (which of course was a Simon & Garfunkel song first) would be amazing. Even "Heaven Is A Place On Earth" by Belinda Carlisle would be good. "Shake Your Love" by Debbie Gibson would be a good fit for her, too. "I Hate Myself For Loving You" by Joan Jett and The Blackhearts or "Tell It To My Heart" by Taylor Dayne would be fun and still in her comfort zone but have more energy and allow her to move around some and be playful.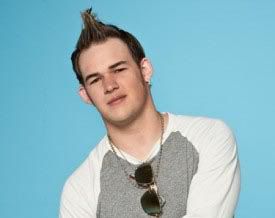 James Durbin (1989)- I have 100 million songs I'd kick a puppy to hear James sing; it turns out I love this kid despite myself. My numero uno wish is "I Remember You" by Skid Row, which I believe I mentioned last week. Numero two is "Sweet Child O' Mine" by Guns n' Roses, then "In Your Eyes" by Peter Gabriel, which "technically" came out earlier but was on the Say Anything soundtrack in 1989 so it totally counts! I would even be okay if he did "18 And Life" by Skid Row but I think I would be laughing the whole time because it is a corny song, especially 22 years later. "Close My Eyes Forever" by Lita Ford, "When The Children Cry" by White Lion, and either "Patience" or "Welcome To The Jungle" would all be fun for me to watch as well.
Karen Rodriguez (1989) – Yawn, were there any Selena or Jlo songs out this year? How about Gloria Estefan? She should do "Toy Soldiers" by Martika or "Buffalo Stance" by Neneh Cherry.
Stefano Langone (1989)- I would die (in a good way) if Stefano did "I'll Be Loving You (Forever) by New Kids On The Block or "My Prerogative" by Bobby Brown. "When I See You Smile" or "Angel Eyes" would be great for him too, I think.
Casey Abrams (1991)– Oh the possibilities! I would like to see Casey go away from the Jazz/Scat/"White boy has soul" thing a bit and put his own spin on something like "It Ain't Over Til It's Over" by Lenny Kravitz or "Signs" by Tesla. Since I'm dreaming I could hear him murder (in a good way) "Rusty Cage" or "Outshined" by Soundgarden. Maybe "Man In The Box" by Alice In Chains, "Alive" or "Black" by Pearl Jam would also really work for him.
Haley Reinhart (1991)- Like Karen and Pia, I don't really care what Haley sings because I just am ready for her to be gone. But, I'll play since I started this. I can hear her on "Rush, Rush" by Paula Abdul or "Baby, Baby" by Amy Grant but I have a feeling she'll go right for "I Don't Wanna Cry" by Mariah Carey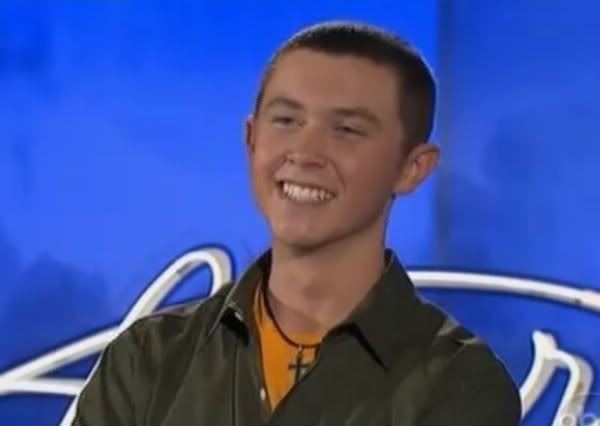 Scotty McCreery (1993)- Like Casey and James, I have many ideas for Scotty. He was born in a fabulous year for country music. It was really gaining mainstream momentum again and big names like Garth, Clint Black, Alan Jackson, and Clay Walker are jumping out at me. I don't think he should go the Garth route again. He would sound amazing on "When Did You Stop Loving Me" by George Strait and that would keep with the "throwback country" vibe Randy keeps telling him he has. Toby Keith, Randy Travis, or even Radney Foster would really work with his voice. I would like him to do a fun country song like "Chattahoochee" by Alan Jackson. My gut says he'll go Travis Tritt or Garth Brooks.
Lauren Alaina (1994)- OK, not a huge fan of hers but I think she can sing pop or country pretty solidly with a tad bit of rock if she really tried. Like Kelly Clarkson, I guess, who I know she's been compared to. I would love to see her do "X's and O's" by Trisha Yearwood or "Wild One" by Faith Hill. She would be super cute on either, I think. Also, anything by Wynonna or Mary Chapin Carpenter. "Stay" by Lisa Loeb, "I'll Remember" by Madonna or "All I Wanna Do" by Sheryl Crow would probably appeal to her, too.
Thia Megia (1995)- She'll probably go with something predictable by Brandy or Monica but I would love for her to do "Strong Enough" by Sheryl Crow or even "Can't Stop Loving You" by Van Halen. I think she needs to shock us (in a good way) or she'll be going home soon.
What do you think, agree with any of these? What songs would you like to see performed on Wednesday?