Night two of American Idol auditions took us to Pittsburgh, PA for the first time in the show's history which is really hard to believe; after such a long wait the city did not disappoint as 38 golden tickets to Hollywood were handed out. I find that number a little staggering because in the entire hour long episode, only two really stood out to me (for the right reasons, at least. I'll get to the "planker" here in a minute).
We had a charming little sweetheart named Eben Franckewitz who apparently gets Justin Bieber comparisons a lot for his floppy hair and sweet face but he reminded this girl of my favorite from last season, Jacee Badeaux, who narrowly missed making Top 12 for Boys. Eben is almost more vanilla and corn-fed than last year's winner Scotty McCreery (shocking, I know) and gets three easy yeses from the judges for his rendition of "Ain't No Sunshine." I see him being a Top 12 contender.
Anyone watching Idol last year and loyally reading my accounts of it will remember Travis Orlando and his sob story (homeless, Mom left, Dad is sick, oh and dropped out of school to help family). Well his story is still as sad and his singing has improved only marginally; the judges aren't in the "kick a dog while it's down" mood just yet and he gets the sympathy yes. Travis will disappear after Hollywood Week.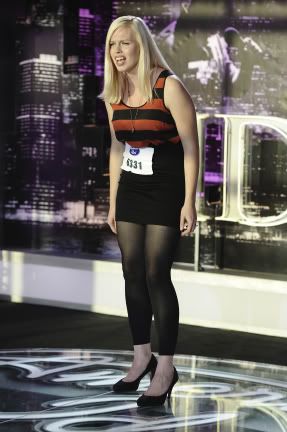 Another to watch for who I am guessing will be around to the Top 10 at least is Hallie Day who has a sad story but oodles of talent to go along with it. She's beautiful, damaged, and full of self-doubt with one of the most captivating voices and presences I've witnessed on Idol in a while. It's not the best voice but it grabs your attention. I'm dubbing her the Dark Horse or Chris Rene (of The X Factor) of this season.
Samantha Novacek seems like a very sweet girl and has a great voice, however while she didn't necessarily resort to gimmicks for attention she did have her good friend (sister?) planking on the platform at her feet for the entire run through of Faith Hill's "Like We Never Love Before." She gets through to Hollywood but I don't feel like we'll be seeing her for long, so don't get too attached.
Heejun Han has all the makings of a blooper reel and the distinct vibe of being this season's William Hung as he speaks in a very heavy Korean accent, is so shy he can't even tell the producers why he should be the next American Idol. He even tells Ryan Seacrest his head is as small as a fist, albeit a handsome fist. JLo is in love with him before he even sings and I'm sure she's ready to be charmed but not impressed by Heejun…well keep waiting, honey because WOW this kid has a thick, deep, rich and soulful voice. Where the hell did that come from!? He gave JLo "goosies" and she beamed at him with Scotty McCreery-love. I see him as a sure Top 12 contender and a fan favorite.
The last one I find to be worth mentioning is Reed Grimm who has been on stage with his musical family since the age of two years-old. He's quirky, full of nervous energy and pretty damned adorable, I won't even mention his obvious pitstains (grossest word, ever? Perhaps). He tells the judges he's doing the theme song from Family Matters and they have instantly written him off, you could actually see the interest leave their faces and the lights go off behind their eyes. Them he opens his mouth and is so fun to watch and almost electrified, he's moving and scatting and just a blast to watch. Think a hotter, less arrogant Casey Abrams from last season. He's an easy yes for all three judges and I definitely feel him sticking around until close to the end.
Sunday gives us yet another helping of Idol auditions after the NFC Championhip Game (Go San Francisco 49ers!) as Idol treks down to our very own Garden Of Eden, San Diego, California. Check back after for my thoughts and review of the talent from this gorgeous city.