Here we are, folks, the American Idol finale pitting vocal powerhouse Jessica Sanchez against growly, face-contorting Phillip Phillips. In an action packed 60-minute show we get three songs from them both (Simon Fuller's choice, Contestant's favorite song from over the course of the season, and Winner's Song).
Jessica starts us off with "I Have Nothing" by the great Whitney Houston which has the judges visibly salivating but leaves me cold as she often does. It was clearly not the right song fit for her. Phillip gets "Stand By Me" and while the judges didn't say anything about his performance, they did say Jessica won the round.
Jason Derulo made crotch grabbing an art while performing new single "Undefeated." This performance seemed oddly out of place and maybe better suited for tomorrow's results show. Tonight is supposed to be about these two contestants and their last chance to convince the voters.
Round Two starts with Jessica doing the song that got her into the top 24, "The Prayer," which proves she can choose songs for herself better than Simon Fuller did. Phillip rehashes his "Movin' Out" performance from Billy Joel week and it was not dynamic or special in anyway, just like the first time we saw it.
At the end of Round Two Ryan asked Steven how they're doing so far and he said Jessica got his vote, Randy called it a dead heat, and JLo said it was a great performance by Phillip and says he gets her vote.
Jessica's final song is "Change Nothing" and I have nothing to say about her voice which was perfect and flawless but I would not sit through a concert of this girl. After two rounds of accolades, the judges didn't just knock her down a peg- they pushed her off the ledge. "You're more urban than that, stand up for yourself when picking songs."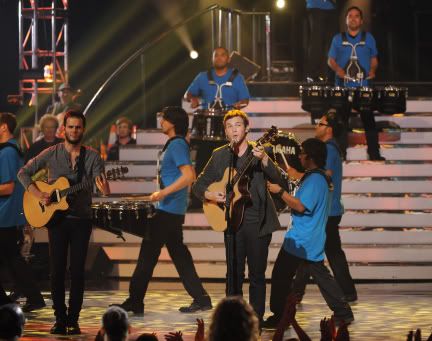 Phillip Phillips closes us out with his Winner's song "Home," complete with marching band and weird looking backup singers. Randy said it was his best all season, JLo said he's Phillip Phillips, and Steven said "you are the man" and said the world is his home.
Sweet little Scotty McCreery, last season's winner whose debut Clear As Day has been a major chart success, came back to the Idol stage to perform the"goodbye" song of the season, "Please Remember Me." He sounds seasoned and mature and looked mighty dapper in his vest and jeans getup.
So, as is now routine with these finales, the female sings circles around the male and the male will still pull out the win. Who do you think will win? Are Jessica and Phillip really the best the season had to offer? Check back tomorrow for my thoughts and the winner announcements.