Tonight on American Idol is the Top 13 contestants will sing the songs of Stevie Wonder and Whitney Houston for your votes, but not really. In another "we stole this from The X Factor" move, judges Randy Jackson, Steven Tyler, and JLo will be the final say in who is first to leave by selecting from the lowest vote-getter of the guys and the girls and selecting between the two who will stay.
Up first we have Joshua Ledet who is singing "I Wish," which is what I selected for him when choosing which song each contestant should sing. Jimmy Iovine and guest mentor Mary J. Blige told him to feel it and punch the chorus for maximum effect. As I predicted, this theme was tailor-made for Joshua, he is the star of the night, and he's the only one who's gone so far. He got a little James Brown-ish with some of his gestures, and back bending, but, he was fantastic and his voice s soulful, sharp in the best way and has just the right amount of rasp to it. Randy said he came out and killed it; he also said what I felt last week that Joshua brings The Church of God to Idol.
Elise Testone tried to sing "The Greatest Love At All" but Jimmy and Mary weren't feeling it and asked her to change to "I'm Your Baby Tonight." Mary told her she had a "dope" voice and to not crash and burn. I was just thinking how rude that was when Elise started singing and not only was she not in the right key to start, she never got there. It was too shrill throughout and while the softer places were bluesy and pretty, the entirety of the song was a mess. JLo said "Whitney's a beast" and that this wasn't Elise's best by a mile. Steven said that Elise needs to milk her unique styling and not spar with the song.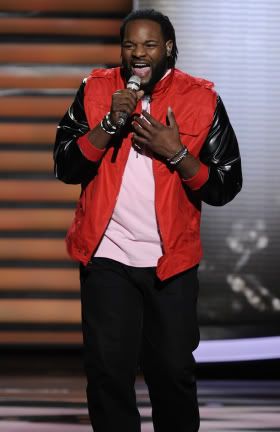 Mary J. Blige had a blast mentoring Jermaine Jones and said he can do anything with his voice and gave him some great pointers for his performance on "Knocks Me Off My Feet." While Jermaine has a gigantic voice, he has more range and inflections than I initially was aware of. Steven told him that song fit him "like an Armani suit
"I Believe In You And Me" is one of my favorite Whitney songs and Erika Van Pelt seems perfectly fit for it, but while she sang it beautifully, she brought nothing new to the table and left me cold. Randy Jackson loved it from the very beginning and JLo got "goosies" (man I'm so sick of that expression already, anyone else?) The judges implore Erika to let loose and really let us hear and enjoy her voice because what we hear now is just "the tip of the iceberg, everybody."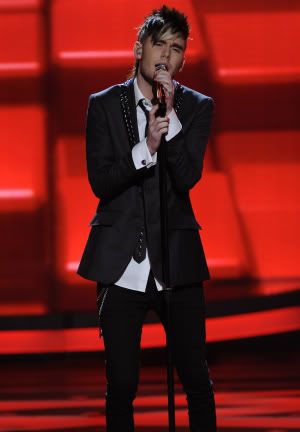 Doing a severe injustice to "Lately" is Colton Dixon, who proved tonight he cannot sing just anything and definitely is a niche singer. His thin, reedy interpretation of the song was cruel and unusual punishment to listen to. But I will say he sings with conviction, he definitely seemed emotionally connected to the song but it was still nearly unrecognizable in spots. Randy said he was pitchy in the beginning and had a rough patch but that he figured it out. I will say the ending was gorgeous, and Randy agreed saying the last eight bars were perfect.
In a move so obvious I should have seen it coming, Shannon Magrane picks "I Have Nothing" and Mary and Jimmy urge her to not hurry to the big note and to add the drama by building up to the money notes. She seemed to not hear a word of their advice and rushed through the song and once she got to the big note she squawked and wobbled. The judges told her she wasn't very strong tonight and the song had its way with her.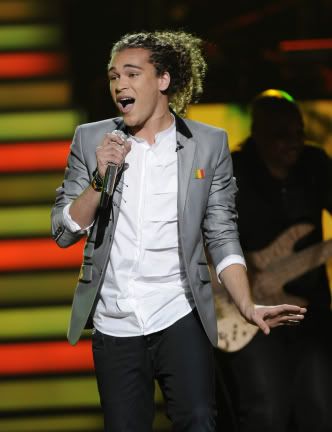 "Master Blaster" was not my pick for Deandre Brackensick; I actually thought Phillip might gravitate that way, but I'm just glad somebody did it. Mary J. told him he "sings pretty" and Jimmy thought Deandre was perfect for this song, and has the tone, look and attitude while also sounding great. This was easily the most confident and assured I've ever seen or heard Deandre, he was actually a delight to watch tonight. I'd love to see him remain in this Pop-Reggae direction for the remainder of the competition. Steven likened Deandre to last season's Naima Adedapo and he appreciated the Jamaican flavor he brought to the stage. Randy was happy he performed and didn't just rely on his falsetto but actually sang his range.
Skylar Laine surprises me a little by picking "Where Do Broken Hearts Go?" in a move I'm happy with because while I picked her to do "I Will Always Love You," that would have definitely been the obvious choice and this was still dialed back and soft which is what I mostly wanted from her. I know she likes to rock out and push the entertainment level but I honestly prefer this Skylar better than any I've seen so far. JLo said she's the "definition of composure" and gave them the performance of the night.
Mary J. was so surprised by Heejun Han's tone and vocal ability saying he doesn't look like he'd sound like that. They had very little coaching and advice to give him and are starting to make him a joker who just so happens to sing by showing all his silly faces and pranks to Jimmy, the contestants, and so on. I'm afraid that will overshadow his pretty, earnest voice and he'll leave too soon. He performance was mediocre throughout and then had a very nice long note with even a touch of vibrato. Randy says "Jennifer, whatchu think" and she said to Heejun "I love you!" and that she's loved his voice since the first time he sang for her.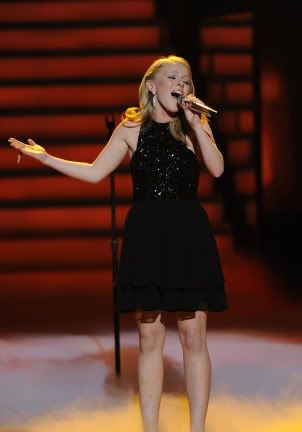 Hollie Cavanagh got some vital coaching and tips from Mary J. Blige in her session and she even said Hollie's voice "is sick" and went as far as to say if she paces herself she could steal the show tonight. Hollie tackled a big song in "All The Man That I Need" and she had control of it nearly the entire time and didn't get swallowed up in it like I predicted. She's a much bigger threat than I anticipated, for the girls at least. The judges were complimentary but gave no helpful feedback.
I stated this in my "What Should They Sing" prediction but, it bears repeating: "Ribbon In The Sky" is a special song and deserves to be treated as such. To his credit, Jeremy Rosado really tries to do this song justice and gives it a solid try; it's just not the song he should have been singing. He got the tender parts right but he was too soft and uncertain where this song demands power and strength. JLo was brought to tears, and she and the remaining judges heaped too much praise on this perfectly average singer except for Randy who said he wasn't feeling it.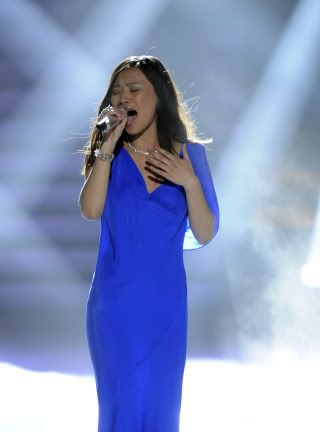 Jessica Sanchez has such a perfect and tender moment on "I Will always Love You" she actually made Mary J shriek in surprise and excitement during their practice session. This is a nearly impossible song to undertake but Jessica gives it the exact amount of care, power, and style it calls for. She is my favorite of the night right now and I didn't even know her name two weeks ago. I see her being the last girl standing in the finals. The judges stand and clap for her and Randy shouts "Yo! Jessica Sanchez is legit" and tells her she is not only the best vocal of the night but he'd say she's the best in the competition.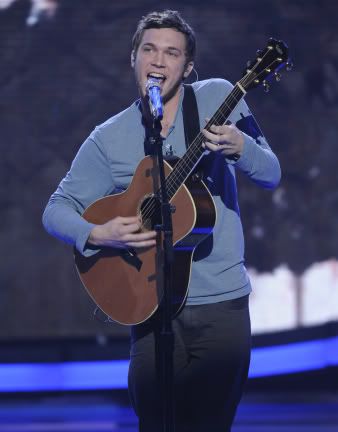 Phillip Phillips is exactly as boring and predictable as I thought he was by picking "Superstition," which I predicted he'd run straight for, and is the most safe and obvious choice there is. Jimmy said Phillip is ready to go and his batteries are included, Mary loves him because he doesn't have an ending, he just feels the music and wants to continue. I will hand it to Phil though- he's a better singer than most WGWGs are and his passion and love for what he's doing is palpable. He might not be a Lee DeWyze or Kris Allen clone after all. Steven tells him he has "forget about it" in his voice. Pardon me, what?
Ryan asks the judges, which two contestants are in trouble and which are standouts, Randy said Jessica and Joshua were standouts. JLo said Shannon struggled and basically everyone else did great. Steven is worried about Elise and Shannon while his pick for two standouts are "Jessica Sanchez and Jessica Sanchez."
The way voting will work tomorrow is that America casts their votes and the lowest boy and girl will sing for the judges who will decide who is going home. Since they so badly want a girl/girl finale this year, I predict the reason they picked Shannon as the weakest was because they were sure whatever boy (likely Jeremy) goes up against her, she will be superior and they can justify voting a boy off first to even up the guy/girl count which right now sits at seven guys to six girls.
I think the night's strongest were Jessica Sanchez and Jermaine Jones while Shannon Magrane and Jeremy Rosado were definitely the weakest. Come back tomorrow for my recap of the results show and performances by tonight's guest mentor Mary J. Blige and last year's runner-up Lauren Alaina.