It's time again for the American Idol Top 10 results show but, never fear – no matter who gets eliminated this group will tour all summer to support the American Idols Live! Tour. Tonight we get performances by "Indie-pop sensation" Lana Del Rey as Ryan Seacrest calls her, and last season's third place finisher, The Growler herself Haley Reinhart. The finalists kick off the show with Billy Joel's "The Longest Time" (for those of you who missed it, Billy Joel songs were the theme for last night's performances) in the almost-always-unnecessary group number. Two bonuses tonight were it appeared they were singing live and Elise Testone delivered her verse while sitting in birthday boy Steven Tyler's lap, giving him a big ole smacker on the cheek.
As an added incentive we learn tonight's remaining nine (or 10 if the judges use the save) get to move in to the Idol mansion for the remainder of the show, with that being said Ryan calls down Hollie Cavanagh, Elise Testone, and Skylar Laine. About Hollie's performance mentor Jimmy Iovine says she definitely faltered but, feels she will be safe tonight. Jimmy agrees with Randy's comments last night that Skylar was playing it too safe and not moving enough or engaging the audience, he has nothing but praise for Elise Testone despite not agreeing with her song choice of "Vienna." Ryan calls for the lights to be dimmed and reveals Hollie as the first safe tonight, then adds Skylar to that list and tells her to pack her bags for the mansion, after a little mind screw Ryan tells Elise she's actually not in the Bottom Three this week and all girls are moving out to the Hollywood Hills to live in luxury these remaining weeks.
Lana Del Rey performs (yawn) and the big excitement comes when Steven Tyler's longtime band mate and fellow "Toxic Twin" Joe Perry joins the Idol contestants on stage to play "Happy Birthday" while the kids and audience sing in another year for the crypt keeper. Getting back to business we see the clips and critiques for Deandre Brackensick, Joshua Ledet and Jessica Sanchez. Jimmy felt Deandre made a mockery of "Only The Good Die Young" by giving us a too-upbeat interpretation, while he felt Joshua brought in a weird "Darth Vader" voice in his song and definitely struggled. Everybody's sweetheart Jessica Sanchez can do no wrong in Jimmy's eyes; he loved every second of her mediocre performance. Jessica is revealed to be safe along with Joshua leaving Deandre as the first in tonight's Bottom Three, which by now is essentially his second home.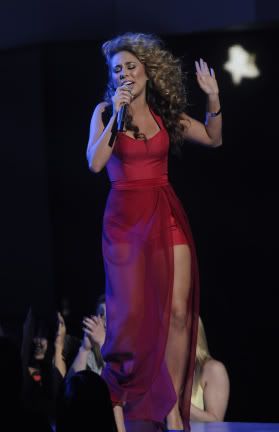 Haley Reinhart's first post-Idol single "Free" is now available for download on iTunes and Amazon and she sounds pretty much the same as she did this time last year, no big surprises from this middle of the road poppy-jazz song. Don't worry kids, my review of this is coming, I'm hoping the lyrics are more decipherable in the studio version. Next Ryan calls down the remaining four contestants Colton Dixon, Heejun Han, Phillip Phillips and Erika Van Pelt. Jimmy said Billy Joel emailed about Colton's performance and gave a thumbs up, Jimmy was a little irritated by Phillip's refusal to change his style, but loved Erika's look and performance, declaring her safe for tonight. He wasn't as kind to Heejun saying it was like a "four minute bad Adam Sandler film." Wait, aren't they all bad? Ryan sends Colton back to the couch and to safety, then tells Erika Van Pelt to grab a stool with Deandre and await her fate, and is joined by Heejun, sending Phillip Phillips to safety.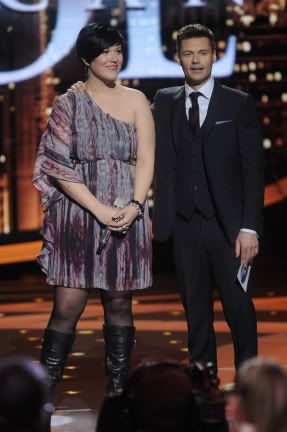 Back from break we learn Deandre and Heejun are safe and yet another girl is in danger of being eliminated, Erika chooses "I Believe In You And Me" as her "save me" song, which falls short and like recent seasons past, the girls are systematically being ticked off one-by-one in the early stages. Well, at least you get to go on tour, EVP!
There you have it: your nine remaining contestants vying to be your American Idol. What did you think of tonight's show, did the right person go home? Is your favorite still in the running?