Here we are- Top Three Results Show and I have to be honest, I'm a little nervous, not because I care a lot at this point but, because I know I'm covering this through the finale and a few different scenarios are more painful to imagine than others. Let's carry on and see how intense my level of pain is going to be, shall we?
Show starts off with the top four contestants (James! I'm so happy to see you, even if you're wearing a trucker hat!) going to JJ Abrams' studio Bad Robot and getting a sneak peak of Abrams' latest flick Super 8 which will be released this summer. They each get Super 8 movie cameras and we get to see them be so spontaneous and silly and adorable. Elle Fanning (little sister of Dakota, star of Super 8) is in the audience and Ryan asks her about her movie, if she's a fan of the show and she says her six-year old cousin is a huge fan and called the winner the moment she saw their auditions…shock of all shocks…she's a Scotty fan. Even though her cousin's the fan, Elle is almost hyperventilating and is giggling, absurdly.
After the commercial break we get to start seeing the hometown visits. Haley Reinhart is up first taking us to Wheeling, Illinois; she's only mildly annoying and actually a little endearing with how touched she is by the huge reception at her high school and town. For the second year in a row the people in the Chicago area are treated to a concert at Arlington Park, only this year it's pouring down rain… an omen perhaps?
We are then treated (and I mean the biggest treat on this show in weeks) to an Italian group called Il Volo doing "O Sole Mio" which I guess won them a talent show in Italy and holy crap, they're amazing; when the kid who looks like Arvid from Head Of The Class opened his mouth my mouth opened too…and stayed that way until they were done. Not at all what I was expecting.
Next, the pride of Garner, North Carolina: Scotty McCreery gets the hero's welcome. We follow him to a radio appearance, high school visit, trip to the ball field where he throws a zinger right across the plate. We get to peek into his room as he jumps on the bed and reflects about the wild last three months, and tells us it was on that very bed he packed for Hollywood Week, and to prove it's true we see a clip of him in his short buzzed haircut packing for his trip. We then see him hop into the limo heading to his next stop and as soon as he sits down, he bursts into one of the ugliest cries I've ever seen, and it makes me love him all over again, it was the most human and relatable he'd been since he messed up the words to his song in Hollywood Week and told the cameras he should be sent home. Next, we go to his old job (he was a checker at a grocery store) which is reminiscent of last season's hometown visit where we were invited into a paint store, then a parade before the concert…where Josh Turner (actual singer of the song "Your Man" that has become synonymous with Scotty McCreery) surprises Scotty by popping up on stage, they do a little duet and Scotty tells his throngs of fans that he's in the top three and will work his tail off to "win this thing and bring it back to GARNER, NORTH CAROLINA!" which in my head played in Forrest Gump's voice telling Jenny to get "back to GREENBOW, ALABAMA!"
Lauren Alaina's hometown visit is shown after a crappy Nicole Scherzinger performance and she takes us to Rossville, Georgia which is located in the very Northwest corner of Georgia, on the Tennessee border. She- like the other two contestants is a tearful mess for a lot of her visit. Radio station appearance, AT&T store visit, she then goes to her old high cchool where it's declared "Lauren Alaina Day," then a somber turn of events as she's taken on a tour of the tornado ravaged parts of Georgia from the devastating storms of a few weeks ago. We're shown touching footage of her crying as she sees that essentially a whole town has been flattened, and the high school where she cheered her last basketball game was a pile of wood and rubble. She meets a little boy named Tyler who at 11-years old saved his baby brother from a pile of wreckage and Lauren told him he was a hero. I'm bawling at this point and I'm madly in love with this girl, I'm such a sap. She sings "Anyway" for her hometown crowd and she was the best and most natural she's been since her audition. She gets to throw a first pitch for the Chattanooga Lookouts' game (a top three contestant last year did this for their local team as well…a good sign?)
Ryan tells us it's time for the results, calls all three of them down to stand with him and then leaves us hanging until after the break. After 95 million votes- Scotty McCreery is the first to learn he is a lock for the finale and Lauren Alaina is joining him.
Haley looks like the wind has literally been knocked from her sails, we see her goodbye package she rocks the hell out of "Bennie And The Jets" and has the most gracious goodbye and exit imaginable/ I didn't know she had it in her. Speaking of "had it in her" Casey is in the audience, grinning like a loon.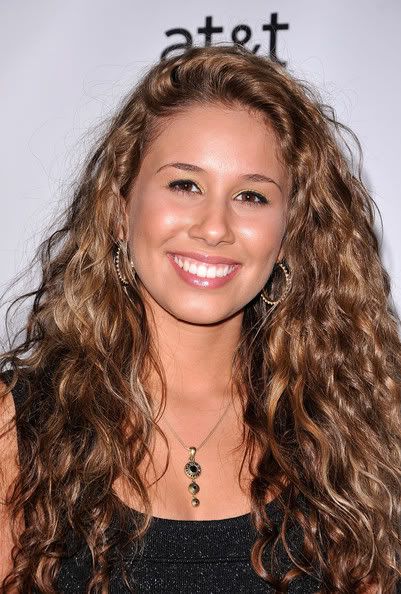 So, Scotty McCreery and Lauren Alaina in the finale. Whodathunkit? Every single person with one half of a struggling brain cell, that's who. This will be as adorable as a puppy in a Hello Kitty costume but also so saccharine and staged I'm not sure how my gag-reflex will hold up. Remember: two hour performance finale is Tuesday May 23rd and the results show (also two hours) will be Wednesday, May 24th. I'll be watching, will you?