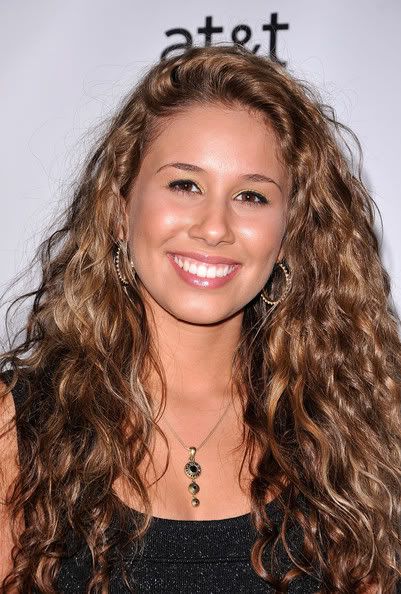 Now that we have our top four American Idol hopefuls, I've decided it will be fun to do a little then and now of my own. I will be looking back at auditions and early performances of Haley Reinhart, Scotty McCreery, Lauren Alaina and James Durbin and playing a little devil's advocate explaining why I think they will, won't, or can win and whether or not I think they will be the next American Idol. We begin with Haley Reinhart.
Oh Haley, Haley, Haley… how you've won me over! Not completely, kids, don't get excited because I don't want her to win, and not so she'll get a better contract and not be stuck in the American Idol contract bubble for a year. I don't want her to win because I don't think she's the best.
I went back and watched her audition in Milwaukee and finally saw the spark and potential in Haley that so many fans and the judges have seen all along. She was cute, confident, nervous and so blown away to get three yeses. The judges were equally blown away by her and it's worth noting that this is her second time through American Idol. She didn't make it to Hollywood last season, and now look at little Haley: top four!
Why she won't win: Enough adulation, let's get to the nitty gritty. Haley won't win because despite the push she's gotten the last couple weeks, she is not an American Idol and doesn't have star power. Just because you have maturity and can handle yourself in an interview doesn't mean you deserve the title. It's not enough. She has not been consistent, her voice has power and many tricks yet she hasn't mastered when and how to use them. It's impressive she has gotten this far and I commend her for that. Maybe in a different season she could come out on top but I do not see her earning more votes than Lauren or Scotty- maybe James but there's no way she's staying longer than the country cuties.
Why she could win: It's becoming increasingly apparent that Haley has fans, and she may have even adopted Casey Abram's fans looking for vengeance. She's been touted as the female Casey so that's very likely. And let's face it… girl can sing. I don't like the growling. I like it in appropriate places and to Haley, every 30 seconds is the appropriate place. She has a unique sound; you'll know its Haley within seconds of hearing her on the radio. She also has that Norah Jones, Joss Stone, Adele, "white girl with soul" vibe that's popular and very marketable so she could pick up some steam by going in that direction for the duration of the competition.
Best moment: It was easily when she sang "Rolling In The Deep" by Adele, so far it has been her only performance that grabbed my attention. A close second would be her duet with Casey during Carole King week where she outshone and out sang the seemingly infallable Casey Abrams.
Not-so-best-moment: Four words- "Bennie And The Jets" that was so bad and cringe-inducing I can't even watch it on YouTube to verify it was as crappy as I think it was.

Verdict: Haley does not make final two and likely goes home in fourth place. She may be compared to some big voices on the radio…but, reality is Haley isn't there yet. She's not ready to record at this moment, and I can't imagine her headlining a set alone. I see her as an Opening Act or possibly as a duo, because she doesn't have enough stage presence to hold my attention for longer than one song, and even that is a major feat.