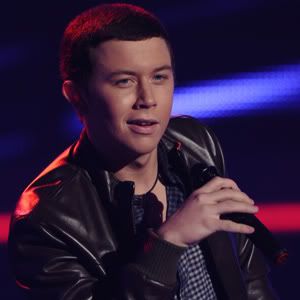 Scotty McCreery is every little girl's dream boyfriend, and every cougar's dream pool boy. He is so super marketable and likable and has that amazing baritone with the country twang. I was just watching Scotty's audition and I miss that Scotty! He was humble, charming, and authentic without even once seeming like he wanted to sell me a used car. I want that old Scotty back- the deep voiced, humble and not smarmy Scotty. I think he has gotten caught up in Scotty fever and believed his own hype.
Why he won't win: I'm afraid Scotty might fall prey to front-runner-itis the way Daughtry and Crystal Bowersox did. He's been touted as the one to beat for much of the competition and was always a clear judge favorite…until recently. Fans might get complacent and stop voting or enough of us might be sick of the eyebrows, and side-mic action, and decide we've had plenty of him for now. The only thing that could kill Scotty at this point is Scotty.
Why he could win: Scotty could easily win this season because of the reason's I stated above, everyone and their momma (literally) loves this kid, and he's extremely likable (reminding me of Lee DeWyze). His voice is amazing even if he's somewhat of a one-trick pony but, like Jimmy Iovine said "it's the best trick I've ever seen a 17-year old do in my life." Scotty is definitely a fan favorite and I'm enough of a conspiracy theorist to believe Idol producers are trying to get us to believe Scotty is in danger.
Best moment: Scotty blew my mind from the get-go, I loved him at the audition and that's been the best so far. "Long Black Train" during Hollywood Week was another pleasant surprise and made JLo exclaim "You made a girl from the Bronx love country music!" His best recent moment was "I Cross My Heart" from Pure Country during movie night. He needs to stay with those older, classic country songs for the duration of the competition and I'd like to see him play guitar again.
Not-so-best-moment: He had two major missteps; forgetting the lyrics to "I Hope You Dance" during Hollywood Week and doing the LeAnn Rimes version of "Swingin.'" That's another one of those clips I can't bring myself to watch and relive the horror I felt the first time.
Verdict: At this moment I will say Scotty is a shoo-in for the finale. In my review of his audition, I called him for Top 12 and now I'm saying Scotty can win this whole thing if he settles down, stops being corn,y and sings down low in the basement, the way we like it.