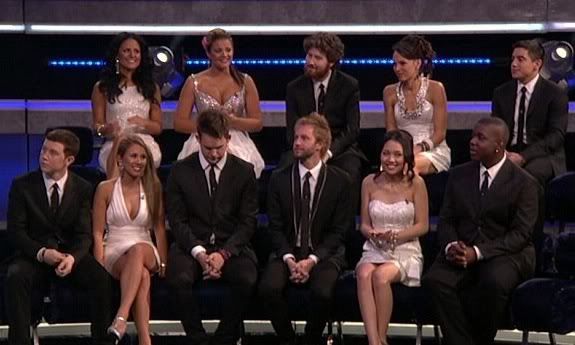 Here it is, the night we finally find out who the Top 10 American Idol contestants are, which means we find out who will be going on participating in the American Idol tour. The show begins with shots of Marc Anthony (JLo's husband) meeting with and coaching the contestants on how to deal with in the in-ear monitors. We see the group number, which was better than normal maybe because Stevie Wonder joined them on stage. When Wonder starts playing, Steven Tyler is so happy he hugs JLo. Then Stevie says, "Steven… are you ready for a Celebration?" and starts singing Happy Birthday. Contestants come out with a huge cake and present him with a painting of his face. It was a cool moment and everyone was dressed up and looked great.
Getting right down to business, Ryan calls down Lauren Alaina, Pia Toscano and Scotty McCreery; after going over their critiques Ryan says, "I'm afraid you'll ALL be packing your bags… (shocked faces abound)…to go on that Summer Tour because you're all safe!" He really delighted in how freaked out they were.
Sugarland comes out and sings "Stuck Like Glue." I'm not sure why Jennifer Nettles is wearing green pants and some weird thing around her middle that looks like her black granny panties are on over her ugly pants which also vaguely looks like a fanny pack. Yes, that's how memorable Sugarland was.
The next clip shows the contestants talking about wrestling. James Durbin is a huge fan and Paul McDonald is a fan, too, but not like James. We see contestants having wrestling matches in the house; it's pretty adorable. They show James saying "eat your heart out Hulk Hogan, I'm Crazy James… and I'm awesome!"
Ryan gets back down to business and calls Paul and James to the stage and says "tonight is unbelievable- the nation has spoken and neither of you are safe tonight." Not a closed mouth in the place as Ryan says "No, I mean you're really not safe!" the door opens and Hulk Hogan comes out. The boys freak out! James has the cutest, most surprised, little boy on Christmas expression I've ever seen. Hulk says he's got good news and bad news, "The good news is you're both safe and going on tour! The bad news is… Mr. Ryan Seacrest is not safe!" He gets a smackdown by the Hulk, James is just in shock with his mouth hanging open the whole time watching it all go down, then he got Hulk's ripped t-shirt.
Next Ryan calls down Jacob Lusk, Thia Megia, and Stefano Langone- after going over their critiques we learn that Jacob is safe, and Thia and Stefano are both not safe.
Ryan calls for Naima Adedapo, Haley Reinhart and Casey Abrams; he then tells us we're going to be shocked, and to stay around for the entire show. Haley's rockin' the side pony, I like it, and Naima looks beautiful. Ryan says, "As you know…one of you will be part of the Bottom Three." We first learn Naima is safe and going to be on tour, leaving Haley and Casey who are in jeopardy of being eliminated tonight. You'd assume it's Haley since the bottom three is her home but, it's Casey!
But, before we learn who will be singing for their one chance at the judge's "save" Jennifer Hudson sings "Where You At" and I'm still kind of surprised she didn't win her Idol season.
Ryan walks over to the three contestants in the Bottom Three and says Thia is safe. This makes my jaw drop because either Casey or Stefano are going home, unless they get saved. Never in a million years did I think boys would start going home before all the girls (minus Pia) were gone.
Ryan calls for the lights to be dimmed and says Casey is in danger- Stefano and Casey hug. Stefano falls apart rambling quickly some nonsense we can't hear to his roommate from all the way in Hollywood Week. The contestants are in shock and James is twitching furiously.
Casey sings only a few bars of "I Don't Need No Doctor" before Randy starts waving his hand and Steven says "We know who you are, we're keeping you." Casey looks like he might faint, the blood looks drained from his face. He thanks the judges, then runs over and hugs his parents who were clutching each other in anticipation of the judges' answer. Casey said he can't believe they used the save; he already assumed they wouldn't use it tonight because only the Top 10 make it on tour. For the first time ever, the Top 11 will be on tour this summer. The bad news is there will be a double elimination next week.
JLo tells Casey, "Get back to the musician that you are, no more antics, no more anything. Connect with the audience." That's fabulous advice and I think she's right on the money. What did you think? Did America get it right? Did you vote for Casey? I thought it felt staged and thought his reaction was not genuine at all but I want to hear your thoughts!