Another week of American Idol and another week of watching the Top 11 contestants vying for your votes. This week's theme is Elton John songs and since my DVR took a crap last night and I'm a bit behind, let's do this.
We're reminded over and over (and over) that there's a lot on the line, two go home and how completely shocking the Casey Abrams elimination (which ended in him getting the season's only "save" from the judges) was for all of America. Except for those of us who felt it was at least slightly staged, of course.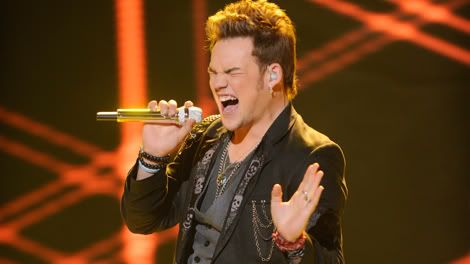 James Durbin picked my song! "Saturday Night's Alright For Fighting" is the best song he could have picked! He told Jimmy he wanted to get the crowd into it and evoke that whole "arena rock" vibe that he loves. It worked for him, and while it wasn't his strongest vocal performance he looked confident and like he was having a blast. I love how his Tourette's is totally under control when he's performing- it's awesome. I know many of you disagree with me but I love when he wails and I think he's the first real authentic "rock" guy this show has ever had. The flames, jumping off the piano, and some of the antics are tired and not necessary but he's a young kid living his dream and I say go for it while you can. Steven tells him he has a great rock voice and warns him not to wear out his welcome in the higher register or he'll end up like him. JLo said it was solid and fun to watch. I couldn't agree more.
Scotty McCreery starts off the show with "Country Comfort" apparently Elton did one country song and Scotty said he saw the word "country" and zeroed right in on that bad boy. Jimmy Iovine touches on the fact that some people are saying Scotty is a one-trick baritone pony and said maybe he is, but it's the best trick he's ever seen a 17-year old do in his life. Scotty dazzled me again. I love this kid and he remembered to end with his signature "young lady killer" note and as Randy predicted the girls went wild. He even gave his Grandma a little shout-out. Steven Tyler says, "There's nothing I can say to you that a pair of old fashioned, high-heeled cowboy boots wouldn't fix" and that he loves Scotty and loves that he tipped his hat off to Grandma. JLo said he is natural and Randy felt like they were at a Scotty concert and loved him.
Naima Adedapo is next and she decides "I'm Still Standing" needed a reggae twist to it. I knew this song would be done, I just never imagined she would do it, let alone in a reggae style. Despite my self-imposed sequestering from all things Idol-related, I still heard very strong reactions about this performance and I was really concerned what I'd see when I finally watched the show. I actually liked it! I didn't love it, the beginning worked much more for me than the chorus did but it wasn't as horrible as I expected it to be. JLo said she loves Naima and reggae but she's not sure Elton was ever meant to be sung that way. Randy was a little weirded out by it. Steven Tyler said, "Boom-shaka-laka baby" which I think means he liked it.
Paul McDonald chooses "Rocket Man" and although it wasn't my choice for him, I'm optimistic despite his confession that he covered it five years ago with his band and it was a disaster. It started off great then seemed to plateau quickly, low energy, and his voice was just quiet, not the soft, sexy rasp we're used to. The chorus was the best part and the whisper at the end was just weird and creepy. Randy called it "quiet comfort" and JLo thinks he's holding back a little. Steven thinks maybe he watered his rose suit because there are more flowers than last time, he also loves Paul's voice and says it's his "cup of tea."
Pia Toscano picks "Don't Let The Sun Go Down On Me" which is of course a ballad but promises next week she'll "get America moving." Hmm, sounds like a girl with a plan, perhaps? I have not one negative thing to say about this performance. She looked gorgeous, her voice has amazing depth, range, and power and I want to see more from her. Judges are in love with this girl and think her voice is flawless and that she's a natural-born performer. Randy clears the record saying that while he wanted something other than a ballad he thinks she slayed it tonight and has every time.
Stefano Langone tackles "Tiny Dancer" and Jimmy Iovine was riding him hard in the studio rehearsal about being complacent and needing to nail this song and specifically the chorus. I sang along for the duration of the song (hold me closer, Tony Danza) which is a good sign, I was into it and obviously Stefano was, too. He connected more with eyes open and fought a little harder to stay, after last week's bout in the bottom two with Casey. Judges had nothing but praise for young Stefano, noting the positive changes.
When I heard Lauren Alaina was doing "Candle In The Wind" I literally tensed up. I didn't want anyone to do it at all. Just when I started to like her a little, I was thinking she'd bit off more than she could chew and I'd watch her choke on it right there on the Idol stage. Boy, was I wrong! She's still not my favorite and she looked a little like she was playing dress up, but there is no denying her talent and the awesome character to her voice. Randy said it was one of her best performances, and that she's a real pro. Steven Tyler recycled his old "I loved you since the first moment you laid eyes on me" line, keeping it creepy and I loved it. He also made a slightly inappropriate comment about her short dress, and it somehow makes him seem more charming. Oh, oops this is Lauren's critique-see how interesting she is? I'd rather talk about the pervy judge than her country bumpkin, "am I cute or what?" shtick. But, it's a singing competition and she sings her butt off, I'd just rather she not speak.
Thia Megia sang "Daniel" and it was gorgeous. She's a cutie pie and I'm certain I fell asleep twice during this performance. JLo said she looked and sounded gorgeous with a beautiful moment, Randy said she sounded great and relaxed but, was too safe. He then repeated "interesting" about seven times and said he was curious to see how voting plays out. Steven said, "when you find the right song, the voice appears" which is pretty non-committal and my best guess is that Thia is history.
Casey Abrams needs to redeem himself to America and prove the judges made the right move in using the season's only save on him. Jimmy Iovine made him watch last week's performance again and told Casey that everything was wrong with it, pretty harsh but, also very true. Casey does my favorite Elton John song, ever - "Your Song" and he trimmed his hair and beard to seem more approachable and less scary. The song was gorgeous and tender but seemed so insincere to me. It may take me a week or two to get back on the Casey train, which is hard to say because I was hardcore behind him and his talent until the Nirvana debacle. The judges loved it, said he's a true artist who sings differently every time and JLo reiterated that he's fabulous and they're so happy with their choice to save him. I have a weird feeling he will be bottom three again this week.
Jacob Lusk surprises me by choosing "Sorry Seems To Be The Hardest Word" and tells us he actually heard it first as a Mary J. Blige song. Well lo and behold…who is in the back of the room during his rehearsal? Mary J. Blige, of course! So staged but so cute; I love seeing these kids meet their idols (I'm such a sap). Jimmy was a little worried for Jacob because this song is easy to go nuts on and get too dramatic and we all know the penchant Jacob has for turning everything into a show tune. I loved it from beginning to end, when he sang "it's sad…so sad" I got a lump in my throat! I haven't been moved by Jacob since Hollywood Week so I was very happy with his performance. Judges were gentle with him, I felt maybe too gentle but, it's a kinder, gentler Idol this season. Randy requested he finds his "one spot" in every song to throw in the signature Jacob thing with his high, out-of-this world note, to him it was holding back but to me it was a wise move.
Haley Reinhart closes the show for reasons that elude me, with "Bennie And The Jet.," Haley has personality for days and can sing, we know this. Jimmy said she has great moves, style and vocals but we don't always get all three of them together. He thinks we did with this performance but all I got from it was highly annoyed. The growling, going through the motions of the song and the arrangement didn't work for me, for even one second. I did hear some nice moments, her tone is actually kind of great but nothing was cohesive. I... kind of hated it. JLo loved her and gushed all over the place, Randy claimed it was the best of the night, Steven said she was a sexy singer. Someone please enlighten me as to her appeal because I don't get it!
My prediction for Bottom Three is: Thia, Naima, and Stefano, with Thia and Stefano going home. It should be Thia, Casey, and Haley, with Thia and Haley leaving. I'm excited to see which 2 go home though!