And away we go! Contestants traveled to Las Vegas for last night's show to select, learn, and sing a song from the Beatles' catalog as either a duo or trio. The mini-groups were picked without any drama or fanfare (now, what fun is that? We don't watch American Idol for manners and normalcy!).
Starting last night we began to learn who our Top 24 will be... they gave us a teaser of several who made it and a few worth mentioning who did not. But, slow down kids, let's talk about the performances of duos and trios first, shall we?
Thia Megia is in a duo with a girl not worth mentioning because we have never seen her before and (sorry for the spoiler), will never see again. They were both so meek and hesitant in rehearsal that the "vocal coach from hell" was yelling at these girls to sing louder and tells the girl who was meeker than Thia that she was being shown up and to "BURY HER!" I started looking around for spotted dogs and a fur coat; this lady was intense.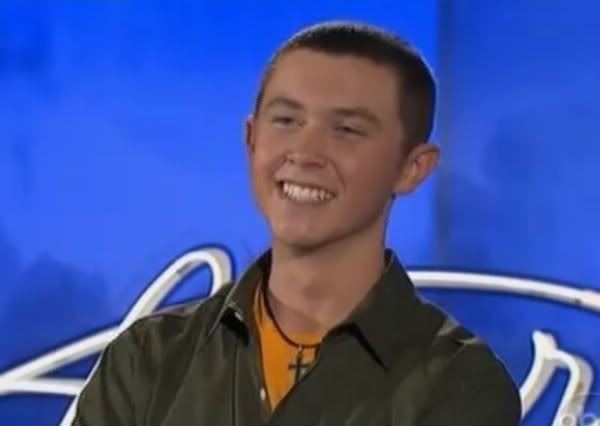 Next we see that my number two favorite, Scotty McCreery, has teamed up with some chick named Denise Jackson and the judge's hands-down favorite Lauren Alaina. I think this is wise since he is solidly country and Lauren is from Georgia. I'm feeling good about this until we see Jimmy Iovine and a few of his Interscope Records buddies stroll through the door. I suddenly remember reading that he would show up periodically to mentor contestants. Scotty, Denise, and Lauren start singing the Beatles' song they chose and he is shaking his head, smirking, and scoffed when he said "that is the wrong song for you." I guess heckling and mentoring are more closely related than I originally thought.
The contestants get to take in a showing of The Beatles LOVE show at the Mirage (which I have seen and encourage anyone in Vegas, going to Vegas, or near Vegas to go and experience. You're welcome). I'm guessing this is to inspire and motivate and probably so some of these kids who have never heard The Beatles might have a fighting chance. Not that I care but because some of you might: Ashley Sullivan found time in these 24 hours of shows and rehearsals to get a quickie wedding in.
Now it's time for us to see the performances deemed worthy by Idol producers. First up is Stefano Langone and James Durbin doing a clumsy, awkward version of "Get Back." They seemed to have no clue what to do on stage and vocally they were OK. James got in a long screech so things are right in his world. Judges liked it for the most part and Steven Tyler said James got "way up to the way-out-o-sphere."
Pia Toscana and Karen Rodriguez have not only been in singing groups together for a few years, they also attended high school together. They do "Can't Buy Me Love" and it's energetic and sounds pretty good. They are definitely cute and comfortable performing together.
Jacob Lusk, Haley Reinhart, and Naima Adedapo are next and Jacob is very reserved (for him), heeding the advice, no doubt, of Jimmy Iovine earlier to not use all his fire power all the time. For me, they sounded good in their solo parts on "Long And Winding Road" but were horrible harmonizing together. Judges didn't agree with me at all and even told Jacob to never hold back. Let the mind games begin!
Now we are shown a couple more performances that didn't make any impression on me at all until we see Tim Halperin (Have we seen him before? I don't think I have!) and Julie "Sparkly Shoes" Zorilla each sitting at a keyboard, singing a dueling-type version of "Something." It's beautiful, clever, and I love them.
Jerome Bell, Lakeisha Lewis, Tatynisa Wilson do a very energetic version of "I Saw Her Standing There." They were fun to watch and harmonized flawlessly. Randy Jackson said "Yo! That was crazy right there!" and they said the big girl had an "Aretha-vibe." Nice, real nice.
Kendra Chantelle and Paul McDonald: WHERE HAVE THESE TWO BEEN ALL MY LIFE? I want them to only sing together, never separate for the rest of my life. I'm not even sure I've seen either of them before last night. They had a country/folky vibe on "Blackbird" and it worked brilliantly. I'm a big fan, for now.
Clint Jun Gamboa sang with some chick and it was OK but nothing special. John Wayne Schulz sang a sweet little soulful ditty with two other guys I don't know. Melinda Ademi and Thia Megia do their very forgettable duet of "Here Comes The Sun." Their vocal coach was cringing in the audience (that was a nice moment).
Turns out Ashley Sullivan and Sophia Shorai couldn't work it out on "We Can Work It Out." They started off nice enough, then they did some weird rearranging that did not work for me. Randy Jackson agreed with me saying, "Not hot today… didn't work for me at all."
Next are Lauren Alaina, Scotty McCreery, and Denise Jackson; remember they had a disastrous audition with Jimmy Iovine and opted to change songs. They chose "Hello Goodbye" and entered the stage from a telephone booth. It was very peppy, a little weird, and bordered on campy for me. They were running around and chasing each other! Steven said it was like a Marx Brothers firehouse skit. Everyone looks confused.
Casey Abrams and Chris Medina are jumping on a bed, singing "A Hard Day's Night" and I don't like it, or get it. The props and nonsense are just irritating me. I'm not watching for the next Broadway star; I want to see them sing and that's it! Robbie Rosen, Aaron Sanders, and Jordan Dorsey perform nicely together and the judges gush all over Robbie, per usual. I didn't hear anything spectacular but they love that kid.
The performances are over and it's time for the cuts. They immediately ask Thia, Scotty, Jordan, Ashthon, Robbie, Lauren and one more person I missed to step forward and these seven advance. They all let out a simultaneous sigh of relief and so do I because we all know I love me some Scotty McCreery. Where's Jacee Badeaux? Oh wait, we have to do this all dramatic-like and walk The Green Mile down to hear who the rest of the 24 will be. I'll spare you the drama and just tell you who we know is leaving so far: White House Intern Molly DeWolf, Carson Higgins, Ashley Sullivan, and Denise Jackson. None of these bother me much as I had forgotten about all but Carson anyway.
Also staying as of last night: Naima Adedapo, Clint Gamboa, Haley Reinhart, and Paul McDonald. They save the most dramatic "no" for the end and of course it wouldn't be American Idol any other way. I know immediately who it is and I feel a little sick but also know it's his time and I'm glad they didn't let it play out longer than it needed to. Chris Medina comes down and JLo looks a wreck. They say all the right, sweet things about his talent, character and love for his fiancé. When he leaves JLo is so beside herself she says she can't do this anymore and she felt like she didn't tell him the right way. Ask Danny Gokey; staying too long on sympathy votes is not the way you want to pursue your dream.
Tonight we find out the rest of our Top 24 and when that is revealed I will not only tell you here as soon as I know, I will also make my Top 10 predictions!