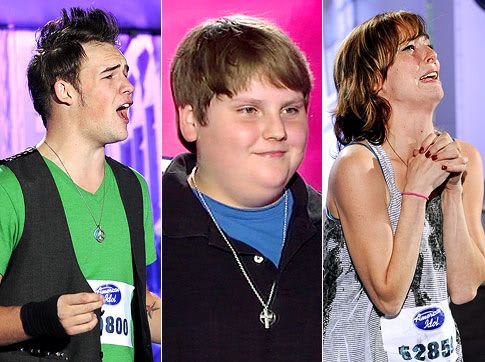 We're almost there, kids! We're oh so very close to our final 24 contestants, and what a long, hilarious, heartbreaking, moving, trainwreck of a journey it has been. We began Hollywood Week with 327 hopefuls; tonight we begin with 100 and by the end will be left with the 50 who get to go to Las Vegas and perform Beatles songs (which I'm guessing will be at the Mirage where the "LOVE" Cirque du Soleil tribute to the Beatles plays.
This is the contestants' final chance to impress the judges, and they get their choice of singing a capella or with their own instrument, keyboard, and backup singers. There weren't any surprises as far as who went home but what was surprisng was who's star might be rising while some "early favorites" seem to be losing steam.
First up is Haley Reinhart. We're reminded she had a strong Day One performance but really struggled during the group round. She wailed and screeched her way through "God Bless The Child," which I hated. It's exactly the kind of oversinging, guttural, growling crap that I can't stand. The judge's faces were a mixed bag so who knows how they'll lean with her. Up until now, we haven't seen much of Ashton Jones, who was grouped with the basket-case Ashley Sullivan for group round. She does a perfectly average version of "And I Am Telling You I'm Not Going" from Dreamgirls. Thia Megia sings "What a Wonderful World" and there's more of that growling and oversinging! I couldn't even tell what song it was until the chorus. Despite these performances that left me cold, Ryan Seacrest tells us this has been a strong showing by the girls.
Caleb Johnson and Clint Gamboa had solid performances of their song but no matter what happens tonight, nobody is a bigger fan of Gamboa than Gamboa. And if America thinks like I do, he's also very unliked after last night's stunt with my sweet, little Jacee Badeaux.
Carson Higgins did a silly version of Bobby Brown's "My Prerogative" and chose to have the backing band while Chris Medina did the same song, opting for only his guitar. Both were average with no major blunders; I'd be surprised if they didn't make it through.
Julie Zorilla played keyboard for Sara Bareilles' "Love Song" and it was sweet and very good. Colton Dixon also chooses the keyboard while Brett Loewenstern plays his guitar; both are lovely and safe choices. We also get a short clip of Robbie Rosen on keyboard and this kid's charasma is powerful, I'm thinking he's a no-brainer for the Top 24. Casey Abrams brought out a stand up bass and does a mind-blowing version of "Georgia On My Mind." Steven Tyler had to let out a little screech he loved it so much. The contestants in the audience gave him a standing ovation. Casey is definitely one to beat and Randy Jackson was super impressed, seeing as how he's a "big bass guy."
Jacqueline Dunford is sick and goes home, fine- it either happens now or at the end of the night, because we all know this chick wasn't making Top 24 or the Top 50, even. For some reason Chelsee Oaks just comes undone by the news of her "best friend in the whole world" going home before she even has a chance to sing for the judges. Chelsee does a lame rendition of "Because Of You" and I'm guessing her days are numbered as well.
Lauren Alaina predictably sings "I Don't Wanna Miss A Thing" which she sang to Steven at the end of her Nashville audition. She is not outstanding but does well. Last night's biggest surprise for me was Jacob Lusk. He sang "God Bless The Child" and I felt like I was watching a clip of Sister Act. He definitely gave all he had for that performance and the judges were absolutely beaming. John Wayne Schulz comes next with a soft-but-manly take of "Landslide" and shows us he can play guitar.
Ryan Seacrest calls Ashley Sullivan an "emotional timebomb" and she proves him right by bursting into tears while singing "Everything" by Michael Buble, dedicating it to her boyfriend. She had to stop and start a few times, prompting Randy to shout, "just do the chorus!" in an attempt to get her back on track. After, Ryan says "So, Ashley falls apart…again."
Stefano Langone, Jovany Barretto and Jacee Badeaux each had underwhelming but acceptable moments that will likely solidify their spots in the Top 50. Scotty McCreery is forced to choose a different song finally since his standby, "Your Man" wasn't on the song list. He chooses country anthem, "I hope You Dance" and if you can believe it… he forgets the lyrics and mumbles his way through it! I was shocked and began to wonder if this kid is cracking under all the pressure. After his performance, Scotty says he doesn't know if he'll be cut but he thinks he deserves to be. He says all he has going for him at this point is his deep voice.
The 100 contestants are now split into four rooms and the entire room either stays or goes. We're shown Room One which has Ashley Sullivan and I think this may be a "sorry you didn't make it" room but then I spot Jacee Badeaux and hope I'm wrong. The judges do a slight tease before announcing the entire room is moving on- meaning we will see Brett Loewenstern, Clint Gamboa, Chris Medina, Casey Abrams, Jacob Lusk, Robbie Rosen, Lauren Alaina, and James Durbin in Vegas.
Room Two hears the shouting next door and they are shaken, knowing the chances that they will make it through have just been greatly reduced. Their fears are confirmed when we see the judges walking into their room. Room Three is next to get the bad news. We say goodbye to Mark Gutierrez, Chelsee Oaks, and Corey Levoy. The judges seem genuinely disheartened by having to deliver this news and offer words of encouragement to the distraught, wanna-be Idols. Room Four is obviously a lock- well WE know that but THEY do not. This room holds Thia Megia, Scotty McCreery (whew!), Carson Higgins, Julie Zorilla, Jovany Barretto.
Next week we find out who the Top 24 will be! The remaining contestants have 24 hours to learn and perform a Beatles' song for the judges in Vegas. I wonder who rises to the occasion and who falls flat on their face. We have six days until we find out! So, tell me- did your favorite make it through? Were you surprised by who was or wasn't cut?