It's ladies night and the feeling's... all wrong.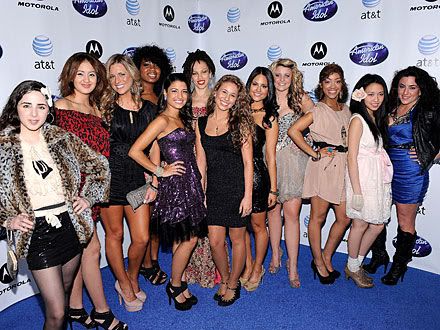 To start tonight's episode of American Idol, Ryan asked JLo what set these particular 12 girls apart, why were they picked from all the rest. Her answer was so generic; I should have known then what we were in for. She said they're amazing, special, all winners already, and she's excited to see what they deliver. That was so non-committal and half-hearted, I know the guys have a much stronger lineup but come on, fake it a little! Randy was a bit more to the point when he told America to really pay attention and ask yourself when you're voting, "Can this person really be the next American Idol?" Steven Tyler noted that it was a full moon and he thinks that's making the girls nervous, he also suggested they sing like their lives depend on it, because it does.
I'm doing this like I did the guy's review, in order of best to not-so-best as I saw it. You'll see I'm absolutely not playing favorites because the performance of one contestant in particular almost physically hurt me because I like her so very much.
Pia Toscano – Not even two weeks ago, I think we were all like, "Pia who?" And now babydoll gets the choice spot as tonight's show closer. She sang a song I love immensely and it took me about a full minute to warm up to it, even though I know she was nailing it. To me, "I'll stand By You" is untouchable and the emotion in Chrissie Hynde's voice is inimitable. Pia did a pretty damn good job and she "made it her own" as the judges love to say while still keeping it enough intact that it was an homage but not a knockoff. Well done, Pia, I hope to see you in the Top 13! She got a standing O which surprised me, and I even saw people crying. Randy says she's at the top of the heap, and Steven Tyler said "Monday, Tuesday, Wednesday; even the week says WTF!" I think that means he liked it. JLo said she knew Pia was special but that she was tricky and saved a little extra for when it counted.
Lauren Turner – In the words of Hank Hill… "What the hell?" I don't remember Lauren singing like this before! I actualIy don't even remember her much at all! She sang "Seven Day Fool" and it was up-tempo, fun to watch, and really soulful. Well done, white girl! Randy said it was like, "Amy Winehouse meets Florence + The Machine, which was, I believe, meant as a compliment. Crazy Uncle Steven said it was like "Lauren Turner meets Lauren Turner! Just spectacular." JLo said her voice is undeniable but that she felt Lauren was holding back a little and encouraged her to get in the camera's face next time.
Karen Rodriguez- She's a cutie pie and looked so pretty tonight. I like this girl and was really hoping for a good showing. She did Mariah Carey's "Hero" an it was a completely solid job. Her voice is just pleasant and I like listening to it. She also threw a few Spanish lyrics in there, which seemed to greatly please her own idol, JLo. Randy said it was overall quite nice and preferred the Spanish parts over the English. JLo said, "Wow wow wow! Karen, wow! You showed your flavor!" Steven Tyler suggested she get together with Jacob Lusk and sing that as a duet. I'm choosing to take that as a compliment. She was delightful to watch and I hope to see her make it through tomorrow night!
Naima Adedapo – She revealed to Ryan that she designs her own dresses and tonight's gown was bright yellow and made her look like a Polynesian Princess. I love her individuality so much. Her version of "Summertime" was way too hammy. Her voice sounded mostly good; she looked very confident and comfortable. I was just really hoping to be blown away by her. JLo said she's like an exotic flower in a rose garden. Randy felt like it got better at the end and found it to be a bit too "loungey." ST said, "I take you personally. You're like Ella Fitzgerald; I think America needs you… a new old-timey thing like you."
Kendra Chantelle – Her voice was good but it didn't make sense on this particular song though. She did Christina Aguilera's "Impossible" and totally held her own and added her own personality to it. It made Randy feel warm inside and reminded him of Lauryn Hill. Steven Tyler said she looks and sounds hot, JLo thinks we're just scratching the surface with her and she can't wait see more. With her unique vibe and tight, leather pants I have a feeling Kendra's a lock for Top 13.
Thia Megia – I'm not a Thia fan, not sure I ever will be but, she looked very pretty tonight and her song choice was perfect for her voice, and for once, not too overdone or forced. Her singing is not my style but she did an age-appropriate, understated version of "Out Here On My Own." I liked her for the first time, ever. Randy compared her pure voice to Michael Jackson; ST and JLo gush all over themselves and RJ says that's what hot singing is all about. Ryan made a creepy comment about proving that really she's 15.
Ta-tynisa Wilson and Ashthon Jones – They didn't sing together but my opinion of them is the exact same: nasally, self-indulgent, forgettable, and a complete waste of my time. They even LOOKED almost identical with fluffed out Diana Ross hair and comically exaggerated moves on stage. Judges skirted around the horrible singing with statements like: "looked great!" "commanding stage presence" and "very confident!"
Julie Zorrilla – Once again Julie looked amazing. She wears the cutest dresses ever and always looks like she's been professionally styled. She started off really iffy but the chorus got better. Her best assets are her looks and her confidence. Her high notes were actually painful but she ended strong-ish. The judges looked as disappointed as I felt and said so.
Rachel Zevita – Well, I'll say she looks a lot better. She gave Grandma her funeral dress back and traded in her Wednesday Addams look for my sister's look circa her 1995 middle school dances. She slaughtered Fiona Apple's "Criminal." It was too showy, too Broadway, and too theatrical. Steven Tyler agrees with me on being more Broadway and less "American Idol." Then he just stared at her for a few delicious, awkward seconds. JLo said "You need to decide what kind of artist you want to be: onstage or recording in a studio." Randy said not only did he not like it, he couldn't even tell what song it was until the chorus.
Haley Reinhart – Started off as an Alicia Keys carbon copy until she went to the guttural cat-in-heat growling thing I cannot stand! She has a big voice and her screeches were the best part, unfortunately. The actual lyrics were terrible. RJ said it was a great song and "Alicia does a great job. It was karaoke, I didn't get it." ST must have been listening to his iPod because he said he heard style, sexiness, and rasp that he loved.
Lauren Alaina – The female Scotty McCreery but with less charisma and much sluttier outfits. It was overdone and forced and I was super bored. She is a one-trick pony and her trick wasn't that good to begin with. Randy said she is so natural and she doesn't know how good she is. Well that makes two of us. He even took it a step further and said she was like a Kelly Clarkson/Carrie Underwood combo. ST says, "I love you, you're the best." They've been pimping this chick all season and not too subtly compared her to two former winners.
The producers and judges knew the girls had the far weaker side and really tried to talk them up in that tricky way so we believe they're better than they are. Ryan says he feels for us because picking our favorite girls will be so very hard. He's right: finding five girls that are worthy enough to move on will be hard because only 3 or 4 of them have enough talent to go toe-to-toe against the guys.
Thursday is the results show where I hear we'll see a World Premiere of JLo's new song and video… oh, goody! I am very interested and a little anxious to see how America voted with this more eclectic batch of contestants and who will be in the running to be our "next American Idol."