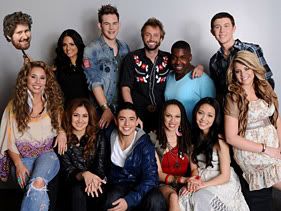 Last night our American Idol Top 12 sang songs from the year they were born. This is always a fun night because we see clips and photos from their childhoods and hear little stories from their parents. It's pretty cute and usually makes you like your favorite a little more and maybe even like your not-so-favorite a bit more to hear that you liked the same songs as babies or they wore the same footy jammies as you.
Ryan comes out to open the show and reminds us Ashthon went home last week and the judges chose to not save her. If we want to save our favorite(s), we need to be sure to vote. I recommended songs for each contestant. Did they listen to me or go with an idea of their own? Here's how it went:
Naima Adedapo is on first and she does Tina Turner's "What's Love Got To Do With It", which should have been a brilliant choice for her (one of our readers actually chose this for her in the comments of "What Should They Sing?"). She started off pitchy and way out of tune and unfortunately that was the only consistent thing in her performance. Steven Tyler told her "You opened up a can of whoop-dee-do on us tonight." JLo said she gave her a pass on pitch problems last week because of the performing aspect but told her to be aware of it and work on singing while moving around. Randy was more blunt and said her vocals were a mess; she had plenty of flavor but to work on her sound. I am sad to say that I think Naima will be cut tonight and after such a show stopping performance last week, it is a shame.
Paul McDonald picks "Sad Songs Say So Much" by Elton John and I was super excited. This is a song I thought he should sing. It didn't quite sound the way I imagined it would and he seemed to be struggling a bit vocally but I still enjoyed it. He's a weirdo in the best way. His sound is almost like drunk slurring and he's spastic on stage but he's interesting and fun to watch, not to mention ALWAYS pleasant to listen to. Randy liked it and compares him to Ray LaMontagne while ST says "you define a cool dude in a loose mood." Pardon me?
Thia Megia is next and she chooses "Colors Of The Wind" by Vanessa Williams from the Disney movie Pocahontas. Total snooze fest for me. Yes she was technically on point but I found myself on Facebook heckling her more than watching and taking notes. She was pleasant but not dynamic. Randy said it was boring and he felt like he was at a beauty pageant. Steven Tyler said, "you sang it beautifully…is that song who you think you are as an artist?" Nice way of saying "STOP DOING BALLADS!" JLo says Thia needs to push out of the box, work on her vibrato, and kill it next time. That is IF she got enough votes for there to be a next time.
James Durbin had adorable footage from his childhood, always singing and playing with doll babies in his crib. James does "I'll Be There For You" by Bon Jovi, which was a tad disappointing but I was interested to see how he arranged it because he is a much better singer than Jon Bon Jovi. I loved this song when I was in 8th grade. It seemed to be on every time I skipped school (which was only once of course). He made it a little more up-tempo which was weird for me. The arrangement was only okay but I think he sounded great and the place goes nuts when he's done. Steven Tyler asks him, "How do you do that?! and warns him- "Don't get all poppy on me!" He also promises to sing with James at the finale if he makes it, "That man has a rich vein of inner crazy…I'll join him!"
Haley Reinhart was born the year "I'm Your Baby Tonight" by Whitney Houston was huge and because these girls this season can't think outside of the box, this is what she chooses to sing. And WOW was it the wrong song choice! Her vocals were off the whole time! She has a big voice but not "Whitney" big. Her voice is more of a rich and throaty voice and she does all the wrong things with it. She even looked super dated. I am pretty sure I wore that same outfit to a friend's wedding in 1991. JLo told her to be more natural and not to overdo it. Randy told her, "I'm not sure who you are, and I don't think you do either. Vocals were okay, figure it out, you confuse me." Steven Tyler said "You're sweet and tough… more blues, dig into that a little more."
Stefano Langone does "If You Don't Know Me By Now" by Simply Red and once again all I can think is "Wow, this kid can sing!" He has a big voice, it's pleasant, and he knows exactly what to do with it. He knows his strengths and exploits them. He was up and down that stage like a pro, pausing for emphasis- he was born to be on a stage. Before he gives critique to Stefano, Randy makes sure he knows it was a Teddy Pendergrass song way before it was a Simply Red song; he's all about educating these young kids this season. Randy also says he took a song with the highest degree of difficulty and slayed it. JLo agrees, chanting: "10! 10! 10!"
Pia "Never Met A Ballad I Didn't Like" Toscano tried to fool us a little by doing a bit of a dancey version of "Where Do Broken Hearts Go?" and while the beginning was a little rough with lower notes, she pulled it off. She has a big, amazing voice, stage presence, can perform, and is fun to watch. I am bored with her but I believe she is what the judges call the total package. JLo said she was happy to see her do something up-tempo. Us too, Jennifer! Randy says, "Pia's trying to win this!"
Scotty McCreery was born in a great year for male country artists; 1993 was the year of Garth, Alan Jackson, and Clay Walker to name a few. While I was really hoping for an Alan Jackson song, Scotty sang "Can I Trust You With My Heart" by Travis Tritt, and did better than Travis, plus he's adorable and fun to watch. His voice freaked me out a little, almost like he was forcing the twang. I can't put my finger on it but I think it stemmed from Jimmy Iovine encouraging him earlier to try out more range and grow as a country artist. JLo was thrilled with his progress and told him "you pushed it up there for us!" Randy said, "you did Travis Tritt proud with that, we believe in you…keep pushing yourself!"
Karen Rodriguez surprised me by picking "Love Will Lead You Back" by Taylor Dayne. I know Taylor didn't sing this in Spanish so I was excited for her to finally switch it up some. But Karen can't leave well enough alone and did sing some of the lyrics in Spanish. Her entire performance was very "eh" for me, which makes me think she needs to focus on singing the song well the way it was intended, and if it's a song she can nail, then throw in some Spanish flavor. Taylor Dayne has a big voice and Karen doesn't. It just didn't work at all and I'm guessing we'll see her in the bottom three again this week. Randy thought it started rough but by the time she reached the chorus it was a little better. He then says, "I'm still not jumping up and down but, welcome back." Steven Tyler loves when she breaks into her "Ethnic what-it is-ness" JLo simply told her, "if you can't hit a note, don't try it; never expose your weaknesses."
Casey Abrams was born in 1991 and chose the one Nirvana song that I think should never be touched: "Smells Like Teen Spirit." It was mentioned on here earlier that "Come as You Are" would be a good choice for Casey and after seeing him struggle with this, I completely agree. Although I think Pearl Jam's "Alive" or "Black" would have been ideal. "Teen Spirit" is one of those songs you remember where you were when you first heard it (my living room, about five in the morning, painting my toenails, it came on MTV). I thought it was solid, but not great and we have come to expect great from Casey. ST loved it, JLo said she loves him but it was a tad "screamy-screechy." Randy loved that Casey is fearless and thinks about art first, then commerce.
Lauren Alaina chooses "I'm The Only One" by Melissa Etheridge, which at first made me wince but turned out to be the perfect song for her. Ryan warned us she was sick before her performance but tonight was the best she's sounded to me. I thought she looked adorable and was a blast to watch, strutting around in her cowboy boots. Pleasant surprise for sure, I don't like her personality much but who cares, she's got pipes. JLo thought she did a "very, very good job" and she loved the country flavor. Randy exclaimed, "Have a cold every week!" and Steven calls her a shining star.
Jacob Lusk gets the coveted pimp spot as the show's closer and sings the song I had wanted him to; "Alone" by Heart! I can't believe I got that right! I just thought he could kill it because of his powerful voice; not many people can go toe-to-toe with Ann Wilson but he can and did! I LOVE this song, as one of my favorite songs ever and I think it will be a little weird for some people but I am not one of those people. I thought he was wonderful. The beginning on the stool was a little awkward looking and sounding but from there on it was his song and he was fearless. Randy thinks "Jacob's in it to win it, America!" JLo said it was amazing and he makes everyone who's listening to him feel something.
Overall it was a pretty unexciting evening of songs with Jacob pulling the only real shocker of the night. My prediction for the Bottom Three is: Karen, Haley, and Naima with Naima going home.
Tonight's results show will also feature performances by Black Eyed Peas and (more importantly), Season Nine Winner Lee DeWyze!