And away we go! Tonight's episode of American Idol showcased the Top 12 guys who will vie for your votes. There were actually a few surprises; some were good surprises, and some were out of key, yawn-inducing surprises. Tomorrow the Top 12 girls sing and Thursday is the results show where we will be down to only FIVE guys and FIVE girls. Rumor has it the judges each get a Wild Card pick, making it a Top 13 on Thursday.
Here is my review of tonight's performances from best to worst with some judge comments as well as my own. This is not in order of my favorites at all, I'm basing purely on tonight's performances.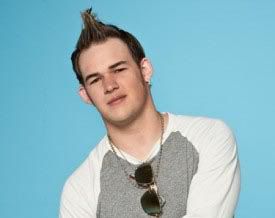 James Durbin – It's actually a tie for me, between James and Scotty McCreery but I figured I was getting a little predictable with my Scotty love and had to shake things up a bit. Kidding, the sole reason James is top of the heap for me are two words: JUDAS PRIEST! YES YES AND MORE YES! My mouth fell open when I realized he was doing "You've Got Another Thing Comin'." James was super comfortable on stage and I absolutely loved watching him. His wails were Sebastian Bach-esque and that pleases me greatly. Steven Tyler thought it was "beeping" good and pointed out what was pretty obvious to anyone who's even watched this show for five minutes- that was the first Judas Priest songin Idol history. JLo is still a big fan of his voice, stage presence ,and the organic place from which he sings. Randy exclaimed, "This is how you do it right there!" Then he pointed out that James had a zebra tail, which was a zebra-print scarf tucked into the back of his pants. When Ryan asked him about it, he said he needs something to set him apart besides the big voice. Right- because the faux-hawk, being 6'3", having Tourette's and Asperger's, makes him blend right in.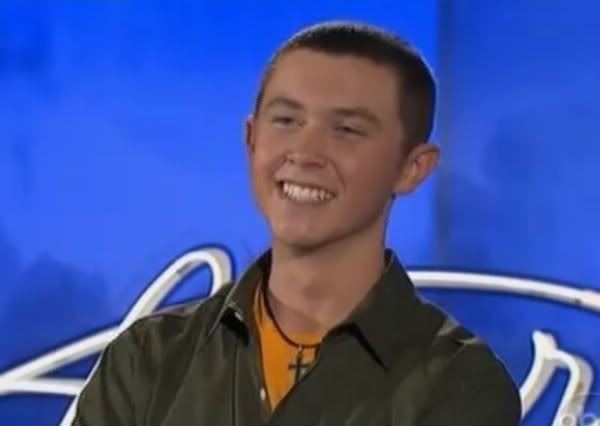 Scotty McCreery – By the sounds of it, the audience are huge Scotty fans. He got a huge round of applause before he sang John Michael Montgomery's "Letters From Home" and a standing ovation after. This kid has a naturally amazing voice. He did some corny things with his face I wasn't a fan of and because of the nature of the song (from the point of view of a soldier overseas), I felt some of his preening for the camera was a tad much, bordering on inappropriate. He is very confident for a newly 17-year old boy, and I was just happy he didn't sing another Josh Turner song. JLo said he was "born to sing country music." Randy was also glad he didn't choose another Josh Turner song and said he's a "throwback country guy." He did a little goofy move after Ryan gave his numbers, which was reminiscent of a game show host. I'll chalk it up to young, cocky and caught up in the moment.
Jacob Lusk – His voice is just pure and so incredible. He does a fantastic version of "A House Is Not A Home" after which Steven said, "Divine intervention brought you here. I'm honored to be here in your presence. I don't know where you get it but I want to bathe in it." JLo tells Jacob, "Luther is my favorite of all time; he's gone but we have you. I'm so proud of you." Randy concurs and says we're lucky to have a contestant like him and that Luther would be proud. He's so cute, emotional, and happy. If he doesn't make Top Five on the guy's side on Thursday's results show, there is something wrong with America.
Casey Abrams – Got the pimp spot of being show closer, these are almost always the contestants that Idol is not so subtly shoving down our throats so we remember them the most. As most of you know, Casey was hospitalized for a couple of days last week and he gave a really solid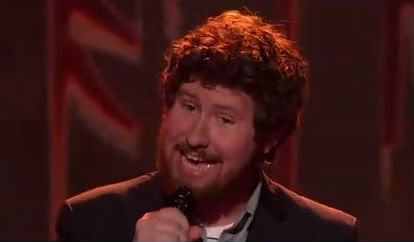 performance. It wasn't the same vibe I'm used to from him; it felt forced. However, I love that these contestants are not selecting songs that everyone knows, or that are completely mainstream. Casey did Screamin' Jay Hawkins' "I Put A Spell On You." He was sick and he just blew away at least half of the other contestants. Steven Tyler said, "You're in your mind good and out of your mind unreal. I can't believe how you give it up. You're as good as it gets." JLo exclaims, "You're sexy, Casey! Somebody wants it bad, you've got the hunger, and the fire… I love it!" Randy was, of course, a big fan and it was all looking good for Casey until he pretended to fart on Ryan when asked about his stomach problems. For that move alone, I didn't text in my vote for Casey tonight. On the other hand I believe that move garnered him about 20,000 votes from frat houses everywhere.
Paul McDonald – He comes out and says, "What's up TV land?" I loved it because I think he's one of the first contestants, in a while at least, to treat the performance like a real concert. He made "Maggie May" sound cool, and I'll be honest, I already liked the original. He is raspy and so confident on that stage, he was almost pacing though, and not at all pausing for camera time or looking into the camera much, if at all. I liked it because it played more like a live show rather than a televised performance. He's a tad cheeseball but immensely likable. Steven said he had "a character in your voice, I love it, I love the way you are." JLo thought he was unique and loved that he smiled the entire time. She says, "You bring joy to the world. Good performance, congratulations." Randy reiterates the "unique" comment and adds that he hopes Idol can embrace a quirky, different singer.
Brett Loewenstern - Brett did a weird version of "Light My Fire" and he flipped his hair so much even JLo said "you flipped your hair more than me and Beyonce combined over 10 years! You need a fan!" He lost me right from the start with the low and slow build up but really shined on the chorus. I like him a lot though and hope he makes the Top Five for guys and I have a strong feeling the judges will use their wildcard pick on him. Steven Tyler loved it: "you were on fire." Randy said there were pitch problems but that Brett does his thing. After hearing his critiques he nervously hurried off stage and Ryan had to yell for him to come back. Brett, realizing his goof, runs back and hugs Ryan immediately. This makes me wonder if Ryan is often yelling at the contestants to come back and hug him.
Stefano Langone – He started off a little weird for me -- it came off like nerves -- and then he really took off about the midpoint of his performance. His voice is pretty and he's very enjoyable but unfortunately I think he's also forgettable. He's talented but tonight lacked real charisma and stage presence. The judges don't agree with me and Steven Tyler says, "You're on the money when that vein in your forehead pops man… so good." JLo says he's a consistent and anatural performer, and adds "you're a beast."
Tim Halperin – UGH! Tim was such a disappointment for me tonight! He was forcing his voice on Rob Thomas' "Streetcorner Symphony," as a result I didn't hear that pretty tone I'm used to that set him apart up until now. He moved around a lot on stage but instead of looking comfortable, he looked like he wanted to bolt. Judges agree with me for the most part saying the song did him no justice, and JLo went so far as to say, "you let me down" but added, "you have one of the most beautiful voices I've ever heard." Randy was a little more to the point, saying "that song works for Rob Thomas, not for you."
Robbie Rosen, Jovany Barreto, Clint Jun Gamboa, and Jordan Dorsey were, to me so terrible they barely deserve mention here. They didn't bomb, per se, but were just awful for different reasons. Jordan picked the entirely wrong song for his voice even admitting that the Usher cover wasn't the type of music he wanted to record. Jovanny did "I'll Be" by Edwin Mccain. I have no idea why people try to replicate this song; it's not easy to sing and not even Edwin can sing it live like it sounded on the radio. Clint is so severely unlikable I can't even watch him. His voice is okay and he copied a Stevie Wonder song very capably but not well enough to stay. Robbie did "Angel" by the amazing Sarah McLachalan and even though I'm a fan of men singing female songs and vice versa, this didn't work for even one second. Steven Tyler loved it, JLo said he was special, and Randy said it was pitchy and awkward, telling Robbie to go back and watch it later and he himself would agree.
Overall the judges were a little soft, I think going easy for the contestant's first night in front of the live audience. I expect, and hope, for more critical comments in the coming weeks. I'm already a little tired of the love-fest, but I am actually excited by the diversity of these guys compared to past years.
Tomorrow we get to see how the girls fare in front of an audience and if teen sensations Thia Megia and Lauren Alaina can handle the mounting pressure of this competition. I can't wait to see Julie Zorrilla and unfortunately can't even remember, off-hand, any of the other ladies. In the spirit of girl power, I hope they come out of the guy's shadows and blow us away!