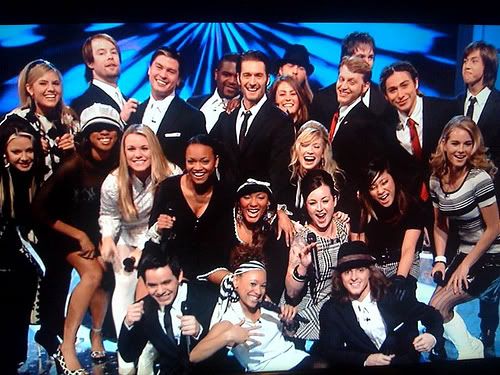 Last night's episode of American Idol started with Ryan Seacrest asking America- "Is Jennifer strong enough to go on?" after saying goodbye to Chris Medina, she broke down and questioned how she told him he wasn't making Top 24. Then Ryan answers his own question by reminding us that JLo knows "the show must go on." On that note, let's review who got their yes on Wednesday and I'll give you the rundown on the contestants who comprise the rest of the Top 24 for Season 10 of AI.
We learned on Wednesday that Naima Adedapo , Clint Jun Gamboa, Haley Reinhart, Paul McDonald and Ashthon Jones were the first five selected for the Top 24 slots. Last night we learned the other 19 who will also have a chance to sing for your votes. The Top 24 is made up of 12 guys and 12 girls which is often unfair in years, like this year, when one side is heavily more talented than the other. I felt we lost some guys who far outshined some girls who stayed.
Here are the remaining 19 contestants making up our Top 24:
Karen Rodriguez - Who professed her love to JLo at her audition, and sang one of her songs during Hollywood Week. JLo says "you had me at 'If You Had My Love.'"
Robbie Rosen - He hasn't had a low moment in this entire process, unless you count his Gonzo-esque beak and '70s porn star hair. This kid can sing and the judges have been impressed since his audition. JLo told him, "Honestly, you're one of the best singers we have."
Tatynisa Wilson – I have no idea why she's here, I'm guessing because they had to fill 12 girl spots. I have no strong, favorable memory of her at all, throughout the season so far. I know she's the girl who botched "I Hope You Dance" in Hollywood Week.
Tim Halperin – Tim was the one who caused JLo to say "I'm young enough for you, don't worry" at his so-so audition. More recently, he had that fabulous moment with Julie Zorrilla on Beatles night. Steven Tyler is a big fan of the "I'm sorry to tell you...[dramatic pause]...you're in the Top 24!" That bit's already tired.
Julie Zorrilla – She had the underwhelming audition with the weird version of "Summertime" but has been redeeming herself ever since. JLo picked her as the winner immediately after her audition. I didn't see why then but I can see her potential for sure now. She's my favorite on the girl's side.
Scotty McCreery – Bless his little heart, almost as soon as he sits down he apologizes AGAIN for not sticking up for Jacee Badeaux during that Group Night debacle. He says he wasn't the man he can be and knows he is, and wants the judges to know he's better than that. Love this kid. They cover his low and high moments and we see him do a cover of Josh Turner's "Long Black Train" for his last solo before the judges. It was solid and so good it made JLo grin and exclaim, "You make a Bronx girl love country!" He tells her his Grandma said to tell Jennifer he's a quarter Puerto Rican. Scotty's got his swagger back! They're big fans of his character and his talent, and so am I.
Jovany Baretto – I guess he can sing but, he will forever be in my mind as the cheese ball who took his shirt off for JLo in his audition.
Lauren Turner – She auditioned in New Orleans and never made an impression on me. Without much ado or mind games they say, "You made it" pretty cut and dry.
Rachel Zevita - Tried out in Season Six and hasn't made it this far before. I'm not a fan of her at all; I don't like her voice, her look, her need to oversing- none of it. ST pulled his "sorry to say you're…(she's already crying)...coming through!" Even she said, "wait…what?" Knock it off crazy Uncle Steven!
Kendra Chantelle – We didn't see her much but apparently she was inconsistent throughout and ST tells her he's a little concerned if she's the whole package or not. She also had a great duet with Paul McDonald on The Beatles' "Blackbird" so there's promise there. I'm eager to see what she can do, she might be a dark horse.
Jordan Dorsey – He's very confident, perhaps too confident seeing how strong the guy's side is. JLo tells him she's fought for him the whole time, then they called him out on performing his own auditions for his group on Group Night and how it didn't look good. I think that was a gentle warning to dial it back a notch or two.
Lauren Alaina – Lauren sings "Unchained Melody" as her final solo in front of the judges and it makes me like her a little, for the first time. That is untl she comes up to the judges for her verdict looking like a chubby, honky-tonk Barbie in a pink tulle mess of a dress and horrible pink boots. They start talking about her age being a factor, how will she handle it, etc. She immediately starts to cry, then they say, "You're going through!" She tells them that was mean and as she's leaving JLo likens her to Dolly Parton… rightfully so.
Stefano Langone – So far, Stefano has sailed through each round effortlessly. He even showcases an original song on the piano for his final solo. When they tell him he's in he says, "I haven't slept in four days! I can sleep tonight!" He's adorable with a super sweet smile and good spirit. He'll be a voter favorite.

Jacob Lusk – I didn't even notice him until group night and now he's the "guy with the long, high notes and big voice." He's definitely one of those amazing singers you're used to only seeing in your Southern Baptist churches. I hope he lasts for a while but also hope he can tone it down some. He screeches when he gets his yes and ST says, "Shut the front door!" He's flamboyant and fun but I will be sick of him in about five minutes.
Pia Toscano – Another one of those under-the-radar contestants, she has has been near flawless and easily slides into the Top 24. She gets the 11th girl spot.
James Durbin -The big screecher with Tourette's and Asperger's who admits he thinks he's basically only a screamer to them, like Adam Lambert. For his final solo, he sings with more soul and yes, he screeches, but it makes sense this time so apparently he can sing and screech. When he's told he makes Top 24 he arches his back, lets out a high pitch scream of happiness that makes Steven Tyler exclaim, "I'll take a f*ckin' order of that!" JLo says, "That's not easy to do in a back bend!" ST says he came out like a lightning rod since his first audition and they are happy to have him in the Top 24.
Casey Abrams – The first contestant I didn't wonder to myself if he'd be going through or not. I'm pretty sure we all knew he was special in his audition. If that didn't convince you then it had to be when he brought out the stand-up bass during Hollywood Week. This kid is no joke, and he gets more interesting and deeper as an artist (did I just call an American Idol contestant an artist?) and I am always happy to see him perform; he's just excellent. He sits down in "The Chair" and says, "I like looking at you guys." Randy tells him they've never had anyone as musically talented as him in this show, in 10 years. He's so happy to hear the good news, he somehow hurls a chair off the stage!
Now, Ryan reminds us there are two girls and 1 spot remaining, for some reason they send them in together which I think is mean but I'm sure amuses the AI producers. Thia Megia and Jessica Cunningham walk in together and Jessica reminds them that today is her birthday to "make you feel worse if you cut me today." Well, they didn't look like they felt bad at all as they ask Thia to stay and encourage Jessica to try out next year for what would be her eighth time. She then pulls a pure class move and flips off the cameras as a message to the judges for ruining her birthday forever.
Next we see there are three guys left for the final spot and it's my number one fave Jacee Badeaux as well as Brett Loewenstern and Colton Dixon. I already know in my heart that Brett's in as he hasn't made a single misstep that we've seen. His voice is fire and there's no way he's leaving. Also, we've never even seen Colton Dixon until last week and Jacee had a couple bobbles in Hollywood Week. I'm guessing his young age (15) got the better of him and with more experience he'll make it even farther. Before they drop the bomb, AI shows us Jacee's final solo performance, singing Michael Jackson's "Gone Too Soon." It was beautiful and gave me goosebumps, he's so sweet! Brett did his own song for his final solo for the judges, Colton has been flying under the radar but we are shown he has had some great moments as well.
I don't like how they have these 3 go in together, it's so dramatic and unnecessary. Brett's in the middle and grabs Jacee's and Colton's hands, they walk The Green Mile as a united front. Steven Tyler reminds Jacee he has had a tough upbringing, and that Brett has been crazy good the whole time. It was a weird way to start things but he then says Brett is in. The look on Jacee's face made me cry but the judges encourage him to come back, "please, please, please." And JLo reminds him that he has "magic in that voice." And with those words, Scotty McCreery is now my number one fave.
I know I promised to give my Top 12 predictions but there are so many rumors right now concerning Casey Abrams' health that I decided to wait until I see their performances next week. Remember, we have THREE days of Idol to look forward to with the guys performing Tuesday, girls on Wednesday, and the results show Thursday!