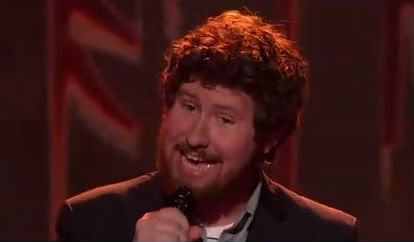 Oh goodness, this Carole King medley at the show's open is almost as offensive as Jacob's camel toe in those mom jeans. It's off key, hard to hear at some points, and just a big jumble of weirdness.
We're subjected to a bland Ford commercial- by far the worst yet and that's saying something. Then we get a dose of Crystal "Mama Sox" Bowersox doing a song from her new album. It wasn't worth me paying attention, it was snooze-worthy, also I was very distracted by her dreadlocks-with-a-mullet hair.
Banter with the contestants answering questions from fans. Yawn.
Ryan calls the contestants down one by one, showing clips from their performances, the judge critiques, and then Jimmy's post-show comments. Haley Reinhart is called forward first and Jimmy says he agrees with JLo that her voice is killer but he thinks she doesn't know who she is as an artist and that America is catching on to that. Then she lets out some expletive (I'm guessing it rhymed with "pull chit") and whines a little saying she knows who she is. Ryan reveals that she is SAFE tonight.
Scotty McCreery is next and Jimmy says Scotty's a phenom- he comes with character, strength, and confidence, his subtlety is magnificent and you wouldn't tell Johnny Cash "hey, spread your wings a little" but he's worried America might be missing the little things that are great in Scotty's style. Ryan doesn't tell Scotty if he's safe or not but, asks him to take a seat. Awkward, nervous laughter from Scotty and we're moving on to Lauren Alaina.
Jimmy says Lauren only hears the negatives in her critiques and didn't hear that JLo actually said she was a great singer. He thinks she has a poise when she's confident that challenges any singer in the game today. Ryan asks her what she thinks about Jimmy's critique and she says she does obsess over the negative and needs to concentrate on the opportunity and be more grateful. Ryan then tells her to think about that a bit… and take a seat on the couch.
Casey Abrams is featured next and Jimmy says he felt disappointed because Casey was "on" in his performance but he couldn't stop "the growl" and that the family dog doesn't vote, so he needs to lay off the growling. Casey says his growing is passion for music coming out of a very tiny hole. Ryan has him take a seat on the couch and we cut to commercial.
James Durbin is brought down next and we're reminded of the sheer brilliance of the performance from the night before… I have watched that clip at least 10 times since last night. Jimmy says James is more believable doing rock with a melody and good hook than doing straight out heavy metal. And if James picks the right songs, there's no doubt in his mind he could win this thing. James is SAFE!
Jacob Lusk comes front and center next and Jimmy says when Jacob came out on stage he thought he was wearing a costume and it's not just about his voice, he needs to be the total package. That seemed awfully catty and a bit petty. He predicts Jacob might go home because he is on banana peel status every week.
Ryan keeps Jacob on the stage, and brings up Casey, Scotty, and Lauren to join him. He quickly reveals Lauren to be SAFE. Meaning mother freaking Scotty is in the bottom three and I'm fixin' to throw something through a window right now.
Bruno Mars performance blah, blah, blah commercial break. I'm still bitter about Scotty being in the bottom three, I just did a quick angry clean of my room and hallway. If he's in the bottom two, my bathroom better watch out.
Ryan says results are in random order and Jacob is SAFE. I'm hyperventilating over here, you have no idea. If Scotty is gone, I'm moving to the Great White North. Ryan tells us we're probably shocked to see this vision right now, of Scotty and Casey in the bottom. I'm only half surprised because Casey deserves to be there. Ryan now tells us that…Casey Abrams is going home! Whew, Canada…you're SAFE for now and so is Scotty. Casey went out without dramatics and theatrics; he sang his butt off one last time and exited stage left.
Yes, America got it right and now my suspicions from last night are confirmed, they (Idol producers) are making us feel sorry for and worry about ole Scotty, so he'll dominate in the votes next week. And Ryan saying the results were not in order I'm thinking Scotty wasn't a bottom three vote getter at all. You make me suspicious, American Idol!
Casey Abrams got eliminated for a second time and this one stuck. What do you think? Did America get it right? Did you vote?