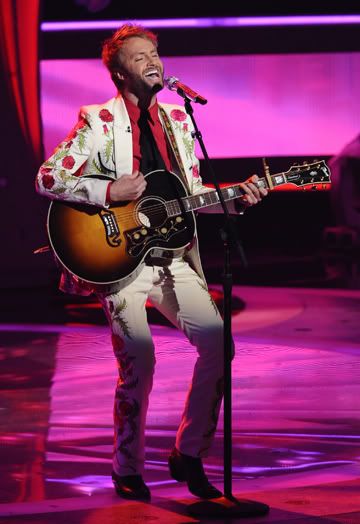 Tonight's results show starts with a performance by our favorite country twosome, Scotty and Lauren, singing Lady Antebellum's "American Honey" and while they're no Tim and Faith, they were cute. Sure, a little flat and boring, but cute. We then get to see a cheesy Ford commercial where the contestants are dressed up as zombies, followed by a performance by Casey and Haley that had me begging for someone to stab my eardrum and eyeball simultaneously to end that nonsense.
Ryan then calls down Scotty and Lauren to join Casey and Haley center stage to learn who is first in tonight's bottom three. After the usual rundown of everyone's performances and critiques Ryan reveals Scotty to be the first one safe, Lauren follows him, and we're left wondering which will be bottom tonight; Haley or Casey? If you're guessing Haley, you're guessing correctly.
After the commercial break, we see a clip of Rob Reiner visiting the contestants and explaining the importance of music and movies together, he asks who wants to be an actor, Casey raises his hand and after watching his bad performance of pretending to be surprised when he got the judge's save, I suggest some acting lessons.
Jason Aldean and Kelly Clarkson perform their mega-country hit "Don't You Wanna Stay" and afterwards Kelly admits she thinks Casey's "certainly delicious" but that Ryan's mis-quoting her tweets about Idol crushes and performances. Ryan says he can't get into it because it's a very short results show and he's "got to get right to it" to which Kelly retorts "just like a man." I think I love her.
Before we get back down to business we are "treated" to a performance by Stefano, Jacob, James and Paul doing "Sounds Of Silence" and "Mrs. Robinson" both from The Graduate. It was a weird, awkward performance but they looked happy. It's OK as long as they're having fun, right?
Ryan asks all four to stand up and we learn that two are safe, and two round out the bottom three. James is the first to learn he's safe to sing another week, Stefano isn't as lucky, and in a surprise move- Jacob is safe and Paul is in the bottom three. I'm rather annoyed but feeling confident we'll see Stefano exiting stage left this evening.
Rihanna performs after the break and I gave her about 30 seconds before I let the A.D.D. click in, and I check out to do some fine tuning and tweaking of my review and notes. This song ("California King Bed") is so abysmal from beginning to end I actually feel embarrassed for her.
After the break we learn immediately that Haley is safe meaning a boy is going home for the first time since the Top 13, and in a super shocking move that quite frankly pissed me off, Paul McDonald is eliminated tonight. I have no idea why, since he's not my "favorite" but I was very emotional after he was voted off. He has a passion, fire, and spark that draws you in. He made me smile every week, made me feel something, and I actually looked forward to his performances. I've said it before and I'm saying it again: I would go to a Paul McDonald concert right now.
JLo requests Paul sing "Maggie May" as his swan song and I actually got a little misty! I think because it was so obvious what we lost tonight, and there's no reason Paul should be leaving the show this week. Yes, it's a singing competition so I see Stefano staying over Paul if that's your argument but is no one else bored to tears by Stefano? I can take him or leave him, and certainly would not go to a Stefano Langone concert on purpose.
I say America got this one so very wrong but eventually all but one will leave us, I know that. Haley, Stefano, even Jacob should have had their curtain call first. What do you think? Am I wrong to be angry this week when I couldn't care less last week?