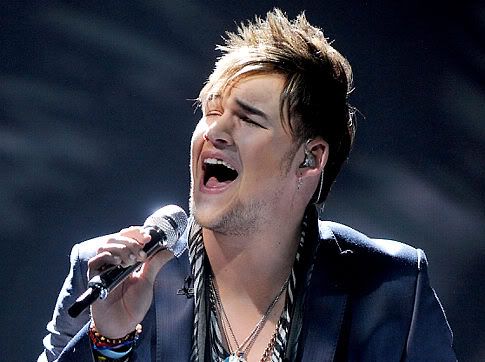 Songs from "Rock and Rock Hall of Fame" night went pretty smoothly and I don't know about you but I wasn't surprised or blown away by anyone however I was moderately entertained throughout. Here's how the night went:
James Durbin sings "While My Guitar Gently Weeps" by George Harrison which I actually saw on YouTube a few weeks back from a performance he did a couple years ago. James is a weird kid, with the hands-down, most versatile voice in this competition. I've said it before and I'll say it again; I would pay to go to a James Durbin concert right now. This performance was full of emotion, passion and proved once again that James is a vocal monster who can sing anything you throw at him. The judges said James is special and his softer tones prove he's a complete package with all the tools he needs to be a great rock singer.
Jacob Lusk goes with his second song choice, Michael Jackson's "Man In The Mirror." I thought it was fabulous as far as being understated and restrained. He's immensely talented, not my cup of tea but has an undeniable voice. Steven Tyler says every time he sings he brings another piece of himself to the party. JLo still looks at him like he's Baby Luther, so she was madly in love with it and Randy said there were "Jacob moments all over the place."
Haley Reinhart of course can't help herself and attempts Janis Joplin's "Another Little Piece Of My Heart." Another case of being compared to someone and this season's contestants take it literally and cover that person. Sounding like someone doesn't mean you need to go and clone yourself into them. She growled through the entire thing- it was ridiculous to me. She has swagger - awkward, she has a big voice - forced. She's just a mess, and trying too hard. JLo says we're off to a strong start and if she keeps going in this direction, she'll be "around for a minute." Randy said she was doing exactly what they wanted her to, and Steven Tyler said she nailed it. I'm convinced they are all deaf, dumb and blind at this point.
Casey Abrams also went with his second song choice, which was "Have You Ever Seen The Rain?" by Creedence Clearwater Revival and it was the smartest song choice he's ever made. I, like a lot of people, was pulling for Paul to do a CCR song but, after hearing Casey's version, I realize what a silly idea that was. Casey was born to do this song, and I loved every second of it. He didn't growl or act a fool. I liked it, a lot. Randy loved it and thought Casey was making the stand up bass sexy, Steven was impressed and JLo said that's where he belongs and she'd pay top-dollar to be in the front row. Which is odd because she's getting paid to be in the front row.
Lauren Alaina is doing Aretha Franklin's "Natural Woman" and this song was just too big for her. She has huge shoes to fill in not only Aretha, but even Idol's very own Kelly Clarkson. It was flat, boring, uninspired and just... small, I didn't even like it for a second. My highlight of her performance was seeing Christian Slater in the audience. Steven Tyler said they've watched Lauren go from little girl to "all growed-ed up" woman. JLo says it's amazing, and Randy said it was "good" not great, and there were versions in past seasons that the conteastants just "laid it out." I like it when Randy agrees with me.
Scotty McCreery is doing Elvis! Thank you, thank you very much! I think we all knew he would do either Elvis Presley or Johnny Cash and he made the right choice for tonight. He filled up every inch of the stage, interacted with the audience and made me fall even more in love with him. Elvis Presley's "That's All Right Mama" was the absolute right choice for him. Randy said "Scotty's in it to win it!" and Steven Tyler said "I agree with Randy, I thought you were all hat and no cattle" then babbled some more and said he did it well. JLo asked if Scotty secretly was watching hip hop or rap videos because she senses that he's got a little flava.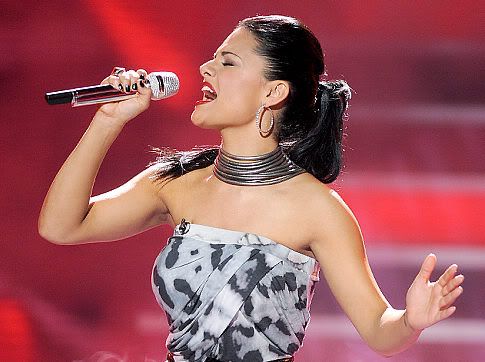 Pia Toscano decides Tina Turner's "River Deep Mountain High" is just what she needs to do to prove she can sing something other than a ballad and it was OK. She's not captivating or dynamic and I feel like at this point I'm just tolerating her, waiting for her to be gone. She brought nothing new to the table, her voice isn't definitive or unique, it's just powerful. The judges can't get enough as usual but, JLo at least this time said she thinks Pia needs to learn to fill the stage more. Steven Tyler called her a murderer because she "killed it."
Stefano Langone tackles Percy Sledge's "When a Man Loves a Woman" which is a huge untertaking, even the producer said it was a polarizing song that you either own, or it owns you. Stefano is the male Pia, there's no other way to say it, he's got pipes and can work a song to death and it's always beautiful. But, I could easily pause Stefano and go make a sandwich, pay some bills, play Wii Sports then some back and watch it. Whereas with someone like Paul or James, I have to watch it now, I can't wait. JLo said it was magical, Randy said it was just OK but he wasn't freaking out or out or anything. ST said Stefano needs to keep playing with the old-timey thing in his voice. Very well then.
Paul McDonald does what I wanted Scotty to do but did it better than I ever imagined: Johnny Cash's "Folsom Prison Blues." He's adorable, nuts, and this song was perfect for him, completely. "I shot a man in Re-no...just to watch. him. die" was the best delivered and most authentic feeling line. Paul is a performer and whether he wins American Idol or not (he won't) he will be on the road and touring for the rest of his life. Randy said "I loved it!" Steven said Paul was a perfect, imperfect boy and JLo sounded like a little league mom, "Good job! Good job!"
There you have it.. .Top Nine performers and not a major misstep in the bunch tonight. My prediction for Bottom Three are: Lauren, Stefano and Haley with Stefano going home. What do you think? How did your favorite do? Were the song choices hits or misses? Check back tomorrow for the results and who is eliminated.