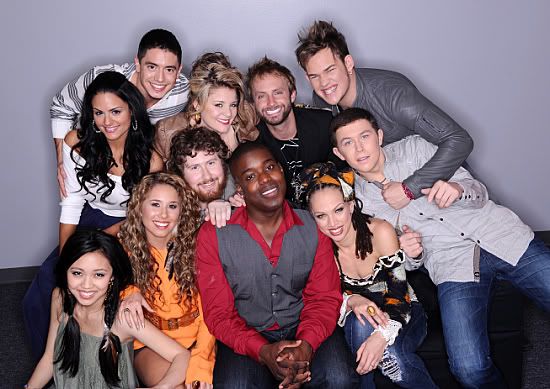 The show opens with a "Born To Be Wild/Born This Way" mashup. I hated it, as I do all group performances on American Idol- they're lip-synched and beyond cheesy. We also see the Ford commercial the contestants filmed and see some interviews of them discussing hidden talents, pets, and other exciting things.
Getting down to business, Ryan calls down Casey, Lauren, and Jacob and goes over the judge's critiques which were mostly positive for all three and tells Jacob to head to the couch, he's safe. Ryan reminds us that Lauren was sick last night and that Randy said she should have a cold every week. She's also safe, leaving Casey alone with Ryan, probably assuming he's in the bottom three. Ryan psyches him out, saying very dramatically, "you are in… the same boat as Lauren and Jacob!" Oh Ryan, such a trickster.
Haley and Paul are next and without much adieu we learn Paul is safe and Hayley is first one in Bottom Three tonight.
LeeDeWyze performs. It was okay but also a little weird and he kept closing his eyes. Did he learn nothing last year?! Eye contact, brother! His performance received something akin to the golf clap from the contestants on the couch.wro
James, Scotty and Pia get called up next: Ryan is going over their critiques as the audience chants, "Scotty, Scotty!" Ryan then says, "after the nationwide vote, you're safe Scotty." Cheers and smiles abound. Pia is next, before Ryan reads her name off, someone in audience shouts, "Safe!" Ryan said they're correct, she is safe, as if anyone had any doubts. James is next. Steven says he sees some of himself in James, Ryan reveals he's safe for another week as well.
Stefano and Naima are next, starting with Stefano's critiques, and Naima reveals she is developing a strong dislike for the word pitchy and by the end of the competition, she and pitch will be in perfect harmony. She has a fighter spirit, I love her. Ryan reveals that Naima is in the bottom, and Stefano is safe.
Karen and Thia are up next. JLo reminds Karen to stick with what showcases her beautiful voice and Thia says if she gets another chance she'll show us who she really is. I'm not sure I care who she is at this point. Ryan reads the results and Karen is in the bottom, so obviously Thia is safe for another week.
So Haley Reinhart, Naima Adedapo and Karen Rodriguez are the Bottom Three. Ryan tells us he's going to reveal who is safe tonight and gets to go back to the couch first. My prediction was wrong, Naima is safe! Ryan reveals that Karen is in danger of leaving tonight and as Haley hugs her before walking back to safety, she tells Karen "sing your heart out." Karen chooses "Hero" by Mariah Carey as her song to try and convince the judges to give her the season's only save. She mixes it up with Spanish of course and we see JLo going from Randy to Steven Tyler, whispering and making their decision. She sang her heart out but it was just a little weak and not spectacular; Randy gives the verdict that it's not unanimous but they're not using save tonight. I'm guessing JLo was the one who didn't vote yes. At the end of her goodbye video package, we see all the judges talking earnestly to her and there's a lot of hugging. Karen Rodriguez is gone and we are down to 11 contestants, vying for your votes. Are you surprised she's gone, or did America get it right?