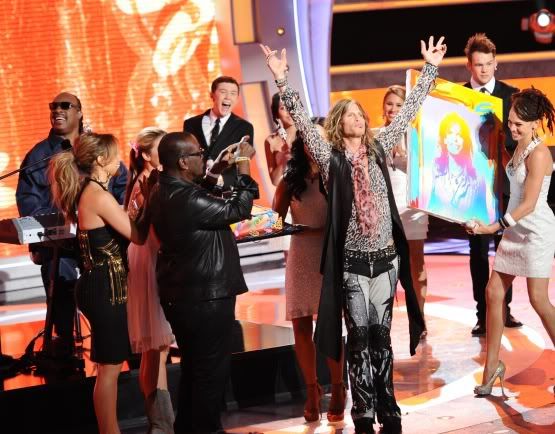 As you all probably know by now, I'm a sucker for a theme and I'm even a bigger sucker for an American Idol theme. They can break the mighty, swallow the meek, and elevate the dark horse. This week, Idol contestants are singing songs by inductees to the Rock and Roll Hall Of Fame (which is located next to a smelly body of water in Cleveland, Ohio but you should still go).
The way this works is; I choose what song or songs I think each contestant should sing and you all agree, disagree and comment and it's a big ole, fun time for all.
Casey Abrams - I'm guessing Casey will run to Ray Charles, Marvin Gaye, Sam Cook, etc. but, I think he should go to something with a rock vibe and some bluesy soul. So, The Doors or Jimi Hendrix would be the best choices - particularly "The Wind Cries Mary," "Hey Joe," or "Fire" and he would dominate on "LA Woman," "Love Her Madly" or "Crystal Ship."
Pia Toscano - I'm not picking an obvious or ballady song for Pia because I'm so bored of her I could almost cry. She's pretty to look at and pleasant to listen to but I can not name you one song she's done after "I'll Stand By You" which is where she peaked. She needs another WOW moment that will bring her back into the conversation. I think doing "This Old Heart Of Mine" by the Isley Brothers or anything by Tina Turner would be a wise move for her. However, If she did "You Don't Bring Me Flowers" by Neil Young I would forgive all her past ballad indiscretions.
Scotty McCreery - My little country boy needs to sing "Ring Of Fire" or Walk The Line" by Johnny Cash and that is that. My gut tells me Mister "I sing out of the side of the mouth and sneer" will run straight for the Elvis catalogue and never look back though.
Paul McDonald - "Have You Ever Seen The Rain?" by Creedence Clearwater Revival... this idea was given to me by a friend earlier and it's perfect. "The Man Who Sold The World" by David Bowie is my other pick for Paul.
James Durbin - Oh James! So many fabulous options for my sweet, twitchy friend but, I hope he runs, not walks, to Metallica and does "Enter Sandman" or "One" and is done with it. He would be outstanding on almost anything but, if he wants to blow our minds and prove he can sing without the screech I'd love to hear him do "Imagine" by John Lennon. Led Zeppelin's "Kashmir" would be jaw-droppingly good, as well.
Stefano Langone - If Stefano could pull off "Heroes" by David Bowie I would vote for him and him alone for the duration of this competition. That being said, I know he'll go for something by Michael Jackson, Marvin Gaye, or someone equally predictable. My pick is "Fire And Rain" or "How Sweet It Is (To Be Loved By You)" by James Taylor.
Jacob Lusk - I think "September" by Earth, Wind, & Fire would be a fun song, still in his wheelhouse but less gospel, screamy-shmeamy. if Jacob sat on a stool and dialed it back 100 notches and just gave a pure, genuine, under-the-top performance I would stand up in my living room and applaud.
Lauren Alaina - I want Lauren to do Blondie...I prefer "Heart Of Glass" but I'm pretty she couldn't pull it off, she could deinitely handle "Call Me."
Haley Reinhart - I think there are only two artists on here Haley would even consider doing... Janis Joplin and Bonnie Raitt, but I would love to hear her do "I'm Sorry" by Brenda Lee.
There you have it...my picks, and this one was hard! I didn't even touch on Simon and Garfunkel, Genesis, Prince, Billy Joel, Madonna...so many great options! I want to hear your thoughts and know your picks! What should they sing?!