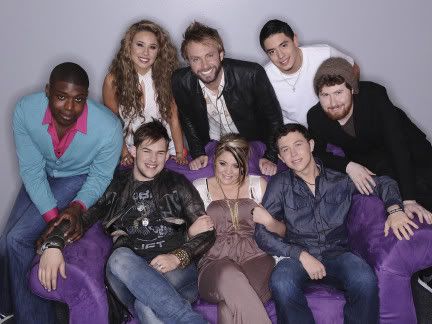 OK people, you've had a few days to get over the shock of Pia's exit (and might I add...if all the people who are crying foul over her elimination had actually voted; I guarantee she would still be here).
This week's theme is: Songs from movies. This gives us a bit more leeway because it doesn't have to specifically be on the soundtrack, if I read correctly.
Here we go:
Haley Reinhart- "It Must Have Been Love" Roxette (Pretty Woman), "How Do I Live" Trish Yearwood (Con Air).
Lauren Alaina- Dolly Parton Jr needs to sing "9 to 5" (from 9 to 5) and that's it. I don't want to hear anything else come out of her mouth.
Jacob Lusk- "Out Here On My Own" Irene Cara (Fame), or anything from Sister Act.
Stefano Langano- "It Had To Be You" Harry Connick Jr. (When Harry Met Sally), "Can't Get Enough Of You Baby" Smash Mouth (Can't Hardly Wait), "End Of The Road" Boys II Men (Boomerang).
Casey Abrams- "Old Time Rock n' Roll" Bob Segar (Risky Business), "Try A Little Tenderness" Otis Redding (Pretty In Pink), "The End" The Doors (Apocalypse Now) - All for obvious reasons, I believe I chose "The End" for Casey for Motown Night, I'm dying to hear his voice on this and the other two have rasp, and soul; I think he could do all three with ease and win back some of those early voters and on-the-fence voters. Or to make me happy and annoy our editor "I Nearly Lost You" Screaming Trees (Singles)
James Durbin- "Bohemian Rhapsody" Queen (Wayne's World) - one of the American Idol staples and I think he could make this his breakout from the pack (a la Lee DeWyze last season with "The Boxer"), "Sunshower" Chris Cornell (Great Expectations), "Open Arms" Journey (Heavy Metal).
Paul McDonald- "Last Train" Ryan Star or "Love You Til The End" The Pogues (both from P.S. I Love You), "In Your Eyes" Peter Gabriel (Say Anything), there's always "Sunday Morning" Maroon 5 "Something's Gotta Give" but I think that's too obvious. Speaking of obvious, I'd also like "Footloose" or "Meet Me Halfway" (Over The Top -the awesome arm wrestling movie with Sly Stallone), both by Kenny Loggins.
Scotty McCreery- Oh Scotty...OK, guessing there's slim pickin's here...Pure Country, Hope Floats, Best Little Whorehouse In Texas...what else is there? I want to hear Scotty sing "I Cross My Heart" George Strait (Pure Country) or "To Make You Feel My Love." He needs to stay far away from "Walk The Line" by Johnny Cash, now.
This was hard because I could go on and on with this theme, Let me know your picks and what you want to hear these final eight contestants sing on Wednesday.