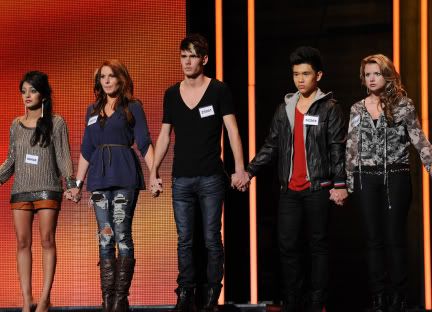 Tonight's American Idol begins the most train wreck part of Hollywood Week: Group round! Where dreams are shattered, egos bruised, and stars are born. Tonight's episode was high on drama and low on immunity and singing. Let's recap, shall we?
Symone Black ended the show last night with a bang, literally and leave it to good ol' American Idol to turn that into a product placement dream for Coke….anyone have a Coke? Coke? Coke! She appears to be okay and is whisked to the hospital to be checked. While she's away the judges decide she's safe along with Jeremy Rosado.
Once groups are set, they have only several hours to learn one of twenty songs, harmonize with three or four others, have a standout moment and learn choreography. Small curveball is that while everyone has only bonded with the people from their day, they must mix together Day One and Day Two contestants. This sounds easy enough but almost derails many of the contestants as they lose their cool.
Amy Brumfield will be forever remembered from her audition as the girl who lives in the woods but had the hot, smoky voice; tonight she will be remembered as the girl who, like Scotty McCreery last year, is having a hard time finding a group to join. As groups are set and they are getting all their parts down, Symone Black returns from the hospital and has to search for an opening, eventually finding a group of takers.
We now find out that Amy Brumfield is sick as a dog and Ryan reports that "everyone she's come in contact with is dropping like flies." Then they proceed to show us one girl barf into a sack. Phillip Phillips get the "WTF" "TMI" and "ROCKSTAR" awards from me for feeling a little sick and hurrying upstairs to pass a couple kidney stones before coming back business as usual.
While he's gone, groupmate Heejun Han has made enemies with an annoying gentleman whom he calls "this cowboy kid" who declares himself as the group's savior because he's taken Music Theory classes and knows all about those pesky chord changes. Note: we know who Phillip Phillips and Heejun Han are and you are referred to as "cowboy kid."
After a long, harrowing night of little to no sleep a group of all girls who calls themselves The Betties are up first and just as they were showing the first member inhaling for her first note the show ends! Ryan promises more drama, sickness and even more fainting when Idol's Hell Week continues next Wednesday for two hours of groups and finding out who's going to Vegas for the Elvis experience.
So there you have it: one hour with more barfing than singing, a passed kidney stone, and the promise of breakdowns and forgotten lyrics on the horizon. Tonight's episode felt like a total waste and I hope the people at Idol make it up to me with one hell of a show next week.