Tonight's the night approximately 20 percent less of you than last year actually care about– the start of American Idol's live performances, which to me is the official start of the season. There's very little lead-in or nonsense for a change and we get right to our first performer, so let's get started and see how they did.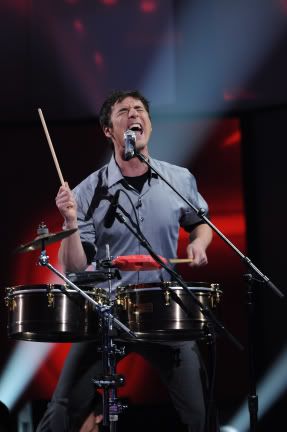 I know everyone's big on comparing Reed Grimm to last season's jazzy, multi-instrumental Casey Abrams but he reminds me more of Paul McDonald from the same season. He's slick, has natural showmanship, always vocally solid and a bit of a lovable weirdo. The Maroon 5/Xtina hit "Moves Like Jagger" was a risky move but a good fit for him. He reminded us once again that he plays drums, with a timbale kit. The judges and audience went nuts for him and Randy Jackson called him Sheila E because of the timbales. Steven Tyler liked his shuffle step and Ryan says to him after "what's up, Energy?" Reed's a talented kid but I'm afraid he's too quirky to last long in this particular vanilla competition show.
Adam Brock wants to further drive home the fact that he thinks he's a large black woman on the inside, the self-dubbed "white chocolate" decides to tackle Aretha Franklin's "Think" and it was karaoke, cheesy, and just plain bad. The judges gushed all over the place and said essentially it was too perfect to critique. In the words of Simon Cowell…"rubbish"! When Randy asked about the scarf-tail thing hanging out of his pants, the Pittsburgh native said it was his Terrible Towel for the home he has "mad love for." Puke.
High School senior Deandre Brackensick gives us a glimpse of his life pre-Idol and we get to meet his little sister who is as cute and hammy as The X Factor's Rachel Crow. Deandre starts off pretty pitchy on Earth Wind and Fire's "Reasons"; he was obviously just waiting to get to his sweet spot, the falsetto. We heard the backing singers more often and more clearly than Deandre, I'm not feeling this at all. But I have mad love for this kid. The judges adore him and Jennifer said his voice was perfect and Randy called him commercial and ready to record right now.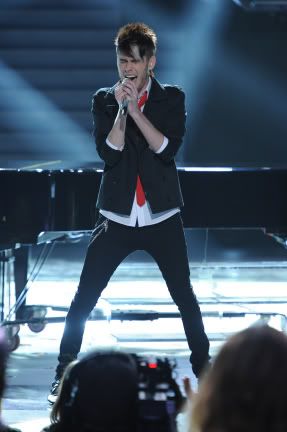 Colton Dixon tells us we're used to seeing him at a piano so tonight he's going to surprise us by… starting off at piano! He's tackling more emo-rock, this time it's Paramore's "Decode." Colton gets up about halfway through and is "rocking out" in that Christian Rock sort of way. Wait, did Colton just throw up devil horns? I'm not even kidding. Oh, now he's "rocking out" on top of the piano. Isnt' he so spontaneous? Good thing those stairs were there.
This is about as rockin' as Idol is going to be this season I'm afraid, kids. I miss James Durbin right now. Colton has a built-in fan base and huge in the Christian market so despite this grating performance, he'll do super well. I think I'm still very hardcore Team Colton but I am definitely sick of his skunky mullet. Randy called him their Indie/Alt-rock darling, JLo loves that he's relevant and ready to record an album now. Steven said despite not getting this far last year, Colton has this whole season to redeem himself. Ryan is my hero tonight as he asks Colton, "So, that performance is what you'd consider high-risk?"
Before tackling the Sara Bareilles tune "Gravity" Jeremy Rosado takes us on a small tour of his home in Florida where everyone tells us he's a lovable teddy bear. He hasn't gotten a lot of air time thus far but, it seems they over-stated how good his voice was because he was all over on this song. It just wasn't the right song for him by a mile. JLo calls him Jer-Bear and says he's just a pure vocalist and Randy blathered on about some mysterious "monster notes" I never heard.
Back from the commercial Steven tells us he's "as confused as a baby in a topless bar" and proceeds to re-enact JLo's nip-slip from Sunday's Oscars show. After all that weirdness, Aaron Marcellus takes the stage looking like Ne-Yo with his jaunty hat and Buddy Holly spectacles. He gives us a smooth, sometimes pitchy take of "Never Can Say Goodbye" that ends in the note to end all notes that might have gotten even higher than Deandre's. Idol's a big fan of the power note and the judges are too as Randy and Jlo declare that "Aaron can sang," and Steven offered weird advice about beating himself next time.
Taking us on a tour of his West Virginia farm, country boy Chase Likens treats us to his other passion- whistling. Who said this season's contestants are dull as dirt? Oh that was me, just now. He pitches all over the place on Hunter Hayes' "Storm Warning." What's that saying, he couldn't carry a tune in a bucket? Ding, ding, ding! When he was done, Steven said "Well, well, well. Welcome to American Idol, cowboy." Artfully dodging saying anything about his god-awful singing, also says "you look like that Brendan Fraser guy from Mummy."
This season's oddball comes to us in the form of Creighton Fraker, who puts his weird voice to its limits on Cyndi Lauper's "True Colors." His voice annoys the hell out of me with its sharpness but there's a nice tone in there somewhere. It really doesn't matter anyway because individuals rarely bust the Top 12 on this show. JLo says she doesn't know how America's going to cut the field by half by Thursday because she wants him to stay.
Georgia's own Phillip Phillips gives us a smoky, dark, WGWG (White Guy With Guitar) special on Phil Collins' "In The Air Tonight" that I actually liked -- a lot -- and really tried not to. I did clear my throat three or four times during his performance hoping he'd take the hint and do the same. When he finishes, JLo is beaming at him and says "Phillip Phillips" about three times before saying last year after auditions they came back talking about three names but only tells us about Scotty McCreery and Lauren Alaina and says this year they came back talking about Phillip Phillips. Randy didn't love the performance but loves him and said once again that he reminds him of Dave Matthews. I love how they don't try to pigeon-hole the contestants on this show.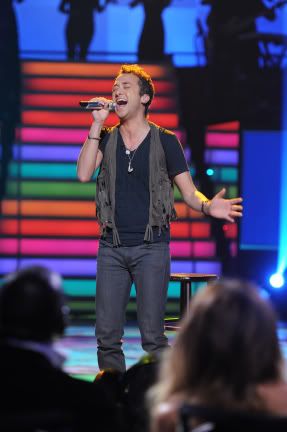 This season's youngest contestant, Eben Frankewitz, shows us the rigors of being a 15 year-old living at home having to do so many chores (insert hair flip) and jumping on trampolines. In the night's weirdest song choice, young Eben gives the weakest performance of Adele's "Set Fire To The Rain" I've ever heard. His voice is far too thin and immature for this big song. I'm sure I actually cringed at least five times; he slightly redeemed himself with a strong-ish finish. Randy Jackson called him "mad young, mad cool, and mad calm, cool, collected" and said while there were problems, he handled himself like a pro. Steven offered some of the only actual constructive criticism of the night by telling him there were pitch problems and to go home and listen to some "real blues records." Which I think translates to "you were singing at us, not to us, and not emotionally connected to the song."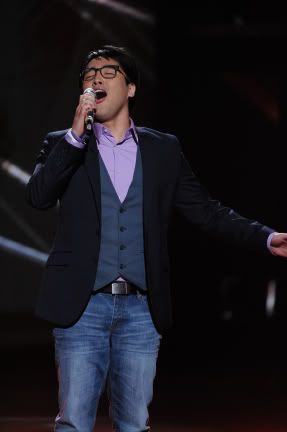 I'm not sure what to make of Heejun Han yet; one moment I adore him, one moment I think his "quirky Asiain" thing is a well-constructed act, one moment I think his Michael Bolton knockoff voice is getting old, and then next thing I know he is singing Robbie Williams' "Angels" and I'm getting goose bumps. Heejun said he's out to prove to America that not only can Asians score high on their SAT's, they can sing well too. There's such a sweetness and earnestness to his voice, he breaks my heart a little. I don't know if there's a market for this kid but I really hope he sticks around for a while, and if his Twitter and Facebook friend count mean anything, then he will. JLo said his voice is smooth as silk and Steven serenaded him with "Heejun…you sure can sing" in the tune of "Hey Jude." All three judges are unanimous in saying Heejun picked the wrong song for his voice but love him all the same. So let me get this straight: slaughter a classic song, or just sing crappily period and the judges stand and applaud…sing the wrong "song" well and the judges will shake their fingers at you.
Just last week, Louisiana's Joshua Ledet was making smoothies at his job back home and this week he's singing Idol alum Jennifer Hudson's "You Pulled Me Through" live in front of America. His voice is gorgeous but, I was bored, so I was glad when they panned to Steven singing the wrong words to the song- that was entertaining. Randy was having a Church Of God moment in his chair and JLo was making that "I smell something bad" face. When he was done, Randy said "Can I get an Amen? Church is starting up in here!" JLo said it was so good, she wanted to punch him in the face. I kind of wish she'd punch me in the face at this point.
Time for the not-surprising "big surprise" also known as the "Melanie Amaro Move" the judges bring back big-boned baritone Jermaine Jones. Now I know this was a stunt because if they wanted this 13th Guy to have a valid shot, they'd have brought back David Leathers Jr. or Johnny Keyser. For his 2nd chance song, Jermaine picks "Dance With My Father" by JLo's beloved Luther Vandross. Kid has a beautifully deep voice but I'm just not sure it's Top 10 good. I feel bad for them to bring him back and he doesn't advance to the next level. Jermaine's so authentically happy and delighted for this second chance and the judges gush all over him with very soft, sincere voices. I also have a weird feeling he's being set up when his voting numbers aren't concurrent with his performance number but is "36" instead. I can see this being his undoing.
That was a fairly weak showing by the guys and I actually am having a hard time picking only three for the night's worst. I'll start with the best: Phillip Phillips, Colton Dixon (did anyone else notice how much better Colton's stage setting was versus anyone else's?), and Heejun Han. The worst being: everyone else. Okay, okay I'll play along and pick Adam Brock, Deandre Brackensick, and Eben Franckewitz.
The votes tonight determine which five guys move on (all the information you need to vote and follow your favorite can be found here) to be a part of the final Top 10 with three "wild card" spots being determined by judges. Wednesday night gives us the Top 12 Girls and we find out our Top 13 on Thursday's results show.