Here we are kids, the time we find out who will be duking out in the American Idol finale next Tuesday, and while any matchup is almost unbearable to think of with these three I greatly prefer any scenario involving Joshua Ledet. Is that happening tonight? Not a snowball's chance in hell, kids.
Now we get to the part of the show where mentor Jimmy Iovine tells us what he really thought of last night's performances. Joshua Ledet is called down first and Jimmy says Joshua had a good night last night but wouldn't have given him a standing ovation on "I'd Rather Go Blind" like the judges panel did. He went on to say Joshua overcompensated with riffs and runs on "Imagine" and feels he maybe gave Joshua not great material in the final song ("No More Drama") and his night was overall lackluster.
Before we get to results we must suffer though long Ice Age promotions and a worthless performance by Lisa Marie Presley, well worthless except that it gives us a glimpse into what Lana Del Rey's future looks like.
Now Ryan calls down Jessica Sanchez about whom Jimmy says, "Everyone needs a shock and awe moment and Jessica didn't have one on this song" ("My All"). Jimmy said he's looking for more than what she delivered on "Don't Wanna Miss A Thing" and think he "kind of messed up on song choice" with "I'll Be There" but thinks she not only deserves to be on the finale but that she could sing the Grammys at this point. but he feels she could sing on the Grammys at this point.
Adam Lambert finished second to Kris Allen but has easily had a more bright and shiny career…Day-Glo even and he brings some of that '80s neon goodness to Idol viewers tonight with a single "Never Closed Our Eyes" fof his album Trespassing that dropped this week. He's good and falsetto-riffic as always, and I swear he's sporting the exact fluorescent yellow dot earrings I rocked in my second grade school pictures.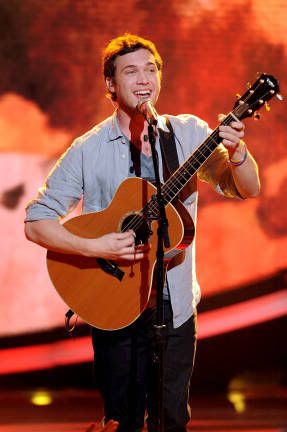 Phillip Phillips is next to come down and hear Sir Jimmy's thoughts and he said "Beggin" was entertaining and fun, he also feels Phillip's sound is becoming more honed and his own and less derivative of other artists. About "Disease," Jimmy thought PP's willing to go down in flames for an experiment but agreed with the judges that this experiment failed. He thought PP won the night hands down with his guitar-less version of Bob Seger's "We've Got Tonight" and agreed with me that it was his finest moment and best voice of the season and loved his breaking down and actual emotion and feeling as well on his hometown visit. The winner, ladies and gentleman.
Getting down to the reason we're watching, finally, and Jessica Sanchez is announced as first safe to the Finals…if memory serves, last tw years Lee DeWyze and Scotty McCreery were announced first and they won. So, conspiracy theories, rev your engines. Now we must say goodbye to Joshua Ledet and while I've struggled with my feelings for him all season he's consistently been the only one who's gotten any emotion out of me all season long. He's got some fine-tuning to do but, kid's just a baby and I see him really being successful. A snoozer of a finale next week (one day earlier on Tuesday) with Jessica Sanchez and Phillip Phillips just wasting two hours of our time until Phillip is crowned victorious on Wednesday.