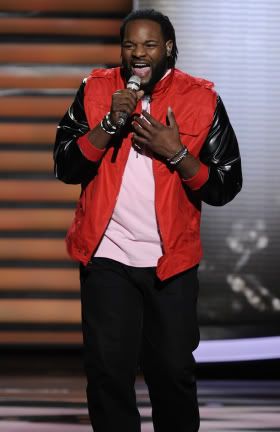 American Idol finally found a way to drum up some ratings for their lackluster season so far and booted a contestant who had hidden a criminal past. Jermaine Jones was confronted and asked to leave on camera, which was so trashy and sensational, obviously meant to be titillating and get us talking. It worked. Tonight they're pressing forward with eliminations as planned. The ten (or eleven like last season) who make it tonight will be guaranteed a spot on the American Idol Summer Tour (barring a hidden criminal past of course).
After a hideous Ford commercial and Tommy Hilfiger being introduced as Idol's new styling mentor, Ryan Seacrest calls down Phillip Phillips, Skylar Laine, Elise Testone, and Joshua Ledet to hear the judge's comments again and Jimmy Iovine's critiques of their song choices and performances with the "Songs From The Year They Were Born" theme. Phillip did the Black Crows' version of "Hard To handle," which the judges and Jimmy loved. Skylar Laine did "Love Sneaking Up On You" much to the judge's delight and Jimmy thinks she has more to offer than her song choice showed us. Elise Testone has my favorite female voice on the show and "Let's Stay Together" was perfect for her; Steven Tyler said he and his Aunt Sonja love her voice, Jimmy thinks she's going far in this competition. In what is probably the best performance of the night, Joshua Ledet sang "When A Man Loves A Woman" like he was born to sing it and I think he might have been. Jimmy said he's the "new" one to watch; he even got the attention of Percy Sledge who emailed the show.
Ryan reveals Joshua to be the first one guaranteed a spot on the Idol Summer Tour, Phillip is next, and Skylar joins them with Elise being the first in the Bottom Three.
Demi Lovato wastes our time with what I'm guessing is her latest single from her latest album before Ryan calls down Colton Dixon, Deandre Brackensick, Shannon Magrane, and Jessica Sanchez. Deandre did "Endless Love" and it was picked for him by Jimmy, the judges disliked the song immensely. Jimmy said it might have been the wrong song after all but Deandre brought crappy songs to the table to begin with. Colton did "Broken Heart" and Steven Tyler greatly disliked this White Lion song from a hair band who was once a contemporary of his. Shannon did "One Sweet Day," which did her a great disservice because she has a good, solid voice and she pushed too hard on this Mariah Carey song. Jessica did Gloria Estefan's "Turn The Beat Around" and was moving too fast and lost her rhythm and breath after some screaming notes. Jimmy says Jessica isn't going anywhere anytime soon and even a subpar performance won't sway her backers. Colton and Jessica are safe and hitting the tour circuit this summer while Shannon and Deandre await their fate. Ryan says one is safe and one is in jeopardy; it's revealed Deandre is safe and Shannon has to await the verdict as part of the Bottom Three.
Now we must suffer through a Daughtry performance, for those who don't know Christ Daughtry was the "shocking elimination of his season, leaving in fourth place but, is inexplicably having a monster-sized career.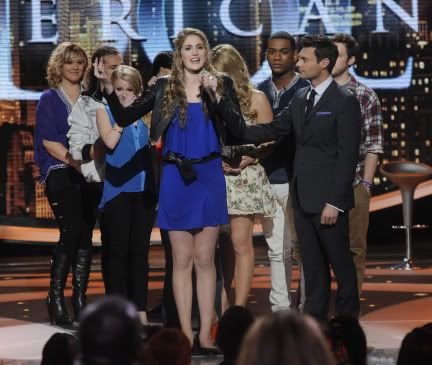 Hollie Cavanagh, Heejun Han, and Erika Van Pelt are called down next and Jimmy says Hollie's performance of "The Power Of Love" gets straight A's from him. Heejun predictably picked "Right Here Waiting" and even after diction classes he had some issues on clarity with the song, but he's so damn lovable! Erika did unspeakable things to Bryan Adams' "Heaven" and Randy and Jimmy agreed she over sang it to death. We learn that Hollie and Heejun are safe with Erika heading to the Bottom Three with Elise and Shannon; I predict the power vocalists are safe and that Shannon and her shaky delivery will go back to Tampa.
Ryan reveals Elise to be safe and either Shannon or Erika will head home just shy of making the tour unless the judges utilize their "save" option. It's a no-brainer that young Shannon is the bottom vote getter and sings "One Sweet Day" again as her "save me" song and while she had pretty runs, and fixed a couple of last night's problems, it's still not enough to persuade the judges to send her on tour with their only save of the season. So now we're down to our Top 10 and have said goodbye to Jermaine and Shannon in two nights. What do you think of these decisions?