Tonight on American Idol the Top 10 finalists celebrate the songs of Billy Joe,l which I feel might be a bit of a disaster with such a young contestant pool but there could also be a few pleasant surprises; let's hope for more of the latter.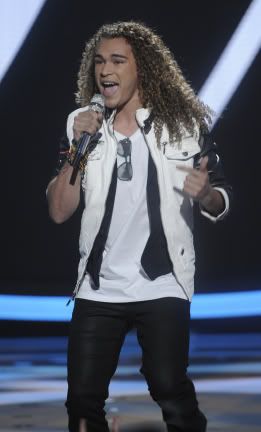 Deandre Brackensick kicks off the show with "Only The Good Die Young" and while it's a good song for him because it allows a lot of movement which Deandre proved is a strength of his during the "Stevie Wonder" theme, this was just campy and like a karaoke performance. Randy Jackson said it didn't show him anything special, Steven Tyler said only the good do die young and that's why he and Randy are still alive and JLo thought it was a good way to start the show. Three throw away "critiques" from judges proving to be increasingly worthless.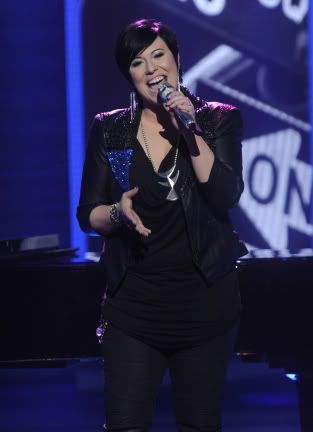 Erika Van Pelt is singing "New York State Of Mind" and guest mentor Puff Daddy (P Diddy, Diddy, Puffy, Sean Combs, Sean John) says act like a New Yawker when singing this, Jimmy Iovine cautions her against over singing which the judges have made the audience sensitive to. Styling mentor Tommy Hilfiger convinces her to chop off her blonde locks and she emerges with a short, black bob a la Victoria Beckham (Posh Spice, Mrs. David Beckham). She caressed and loved this song, her vocals were beautiful and it was the first time I ever really liked anything she's done. Randy said "you can clearly sing the phonebook, wear us out with some big runs." The choreographer in JLo came out and she urged Erika to move on the stage more.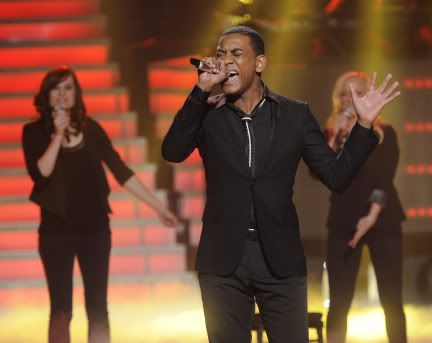 Joshua Ledet is coming off a big night last week with the performance that made Steven Tyler declare Joshua came in "first, second, and third place" with his rendition of "When A Man Loves A Woman" and this week I'm foreseeing a bit of a struggle for Joshua with the Billy Joel Catalogue. Puffy said Joshua was "screamy" in spots on "I Love The Way She Moves" And he was right - Joshua screamed and stayed in this awful high pitch zone that was not pleasing to the ears. JLo said he wasn't connected to the song and was singing it but not singing it. Steven said he "sang the sweat out of that song" and Randy told Joshua to jump in and grab the lyrics and make them his own.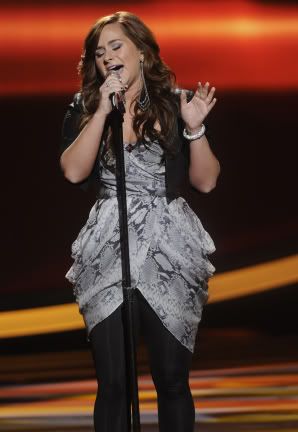 Skylar Laine sings "Shameless," which is the only Billy Joel song any country artist seems to know and she was rough in the low spots, with the big notes and chorus being her strength and by the end she was clearly in her comfort zone. The judges weren't in love with it they said but love her. That sage advice is what they get paid millions of dollars for, kids.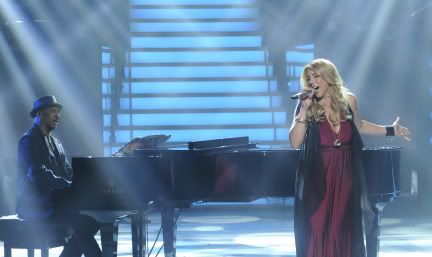 Elise Testone chooses the lesser known "Vienna" and while her mentors were sketchy on it, it was exactly the moment she needed as she scatted, growled and rasped all over this song. It was gorgeous and while it was harsh and raspy it was also soft in all the right spots. The judges gave her a standing ovation. Randy said this was Elise's "moment."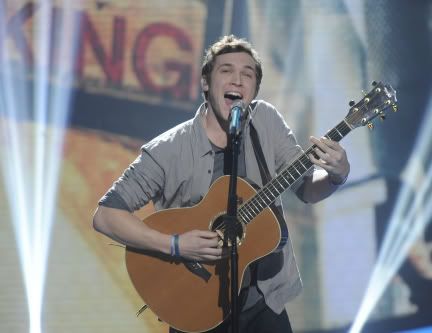 Tommy Hilfiger said Phillip Phillips' style is boring, drab, and will harm his votes. He obviously doesn't know how teenage girls work. Phillip chooses "Movin' Out" and Diddy wanted him to drop the guitar for the rehearsal and encouraged him to move around, which was a definite "no" from the Georgia native. He was weird, sultry, smoldering and most importantly of all he was believable. I like this kid but everything he sings sounds the same. JLo said she felt he took out some of his frustration and anger out on her ex-beau and Jimmy Iovine, and Crazy Uncle Steven said he "Phillip Phillips'd it."
Hollie Cavanagh chose "Honesty," which is a gritty song and as Jimmy says, she looks like she hasn't seen any grit in her life and was "brought in on a bed of roses." While her voice was really big and pretty with this song, she definitely didn't feel connected to it; she sang the hell out of it but was singing at the audience, not to us. The judges looked pleased but not overwhelmed and this was punctuated by Steven saying she was pitchy, JLo said she keeps taking on these big songs but she's not knowing and feeling each note of each song. Randy agreed, adding "come on now, you're better than that."
Puff Daddy said he's not sure what Heejun Han is all about (neither are we, and I love it!), he's not sure if he's a comedian, an actor, a conman, he's not even sure if he's Asian. Heejun also gave Tommy Hilfiger a bit of a hard time with the styling, proving once and for all stylish white men have no sense of humor. Heejun picks "My Life" and it starts off slow and pleasant with the piano accompaniment, then Heejun stops the pianist and says it's much too slow "I want to dance!" then rips off his suit jacket before giving us the best performance I've seen on Idol this season. JLo loved that he brought some fun to the show on a night of ballads, and while he didn't hit the notes he was a lot of fun. Steven called him "Hee-man" and asked if he was glad he "took the piss out of that song" then said the music business will kick his ass, and he needs to be serious. Randy said above all else he was glad to see Heejun finally be himself. I fear this is our last night seeing Heejun do laps on the Idol stage but, he does have the highest Twitter and Facebook following (alongside Colton Dixon and Phillip Phillips) which I do think counts for a lot as far as who's voting.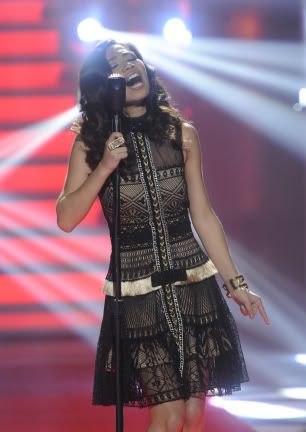 Jessica Sanchez was so shy and star struck when meeting Puffy but that excitement didn't last long after Diddy heard her on "Everybody Has A Dream" and said he didn't believe her. He told her less tricks, more singing, and less vibrato is the way to go and not to over sing it. Jimmy asked her to dial it way back and it was definitely the direction to go in, she heeded their advice and gave a solid performance but, it was still not genuine or heartfelt. Her talent is high but her likability is low and I think that will ultimately hurt her in the competition. The judges stand up for her and Steven said "When God was giving out vocal chords you were so first in line." JLo gushed too and said Billy Joel wrote that song long ago for her to sing tonight and that this song was a defining moment for her.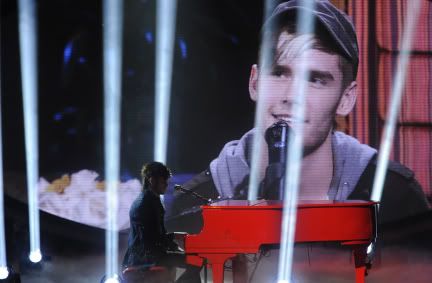 In the "should have seen it coming from a mile away" moment of the night, Colton Dixon sings "Piano Man" while (gasp) at the piano. What I don't get is how they call Phillip's guitar a crutch but, it's okay for this kid to play the piano almost every week. Tommy Hilfiger loved Colton's style but hated his hair, saying it might be time to change it, which upset Colton because his hair is his "baby." Sorry 'bout your ugly, skunky baby. Puffy said after he heard Colton's version of "Piano Man" he wanted to go buy the record and added he must have been so excited when he heard what the theme was because this song is clearly tailored to Colton's music sensibilities. He did a wonderful job and it was heartfelt and pure but his voice is starting to get so annoying to me. JLo accidently called Diddy "Puffy" like I'm sure she did in the old days before saying he paid Colton the highest compliment by saying he'd buy the album and she agrees with him.
When asked who stood out for them the judges picked Jessica Sanchez, Colton Dixon, Elise Testone and Phillip Phillips across the board. I agree with three of these saying Phillip, Elise, and Colton were the night's best with Deandre, Erika, and Joshua being the weakest. However, I think America's Bottom Three will be Elise, Deandre and Heejun with Deandre going home. Check back tomorrow to see who gets the cut, and leave your picks for best and worst, below.